Todd the Golden Retriever Saves Owner from Rattlesnake, Suffers Bite Himself in the Process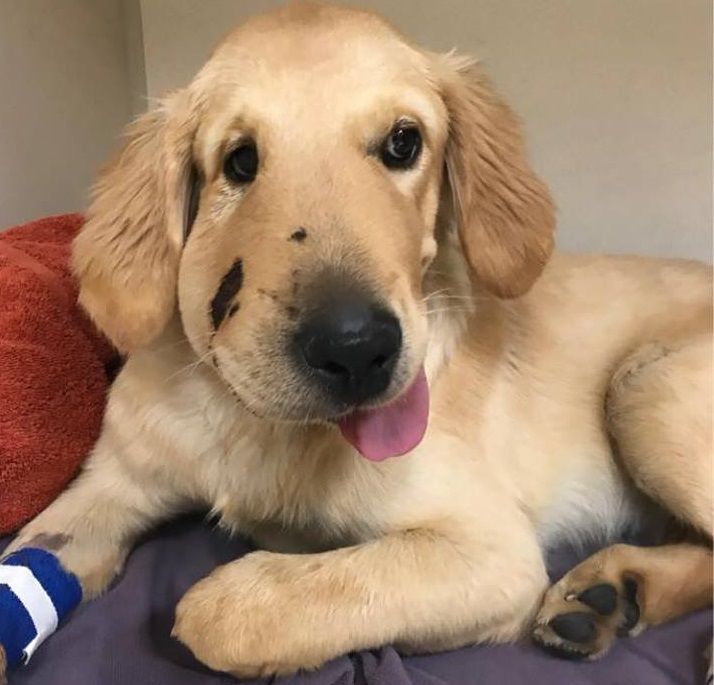 A golden retriever puppy has been hailed as a hero after he came to his owner's rescue by protecting her from a rattlesnake attack.
Paula Godwin, from Anthem, Arizona, described how she was taking her two dogs for a hike on the morning of June 29 when she nearly stepped on a snake.
However, her "hero of a puppy" Todd managed to jump out in front of it to protect her. Unfortunately, the rattlesnake attacked Todd by biting him on his nose and leaving the pup with massive swellings on his face.
Godwin then shared photographs of the injured dog after he was immediately taken for medical treatment.
"So this morning was up bright and early to go on a hike on 7th street carefree," she wrote in a caption accompanying the photos.
"It was a beautiful morning but as we were walking down the hill I literally almost stepped on a MF rattlesnake. But my hero of a puppy Todd saved me. He jumped right in front of my leg were [sic] I surely would have got bit. This is what a hero looks like please say a little prayer for my sweet hero."
News of Todd's heroics spread after Godwin's Facebook post showing his injuries went viral.
Popular Twitter account We Rate Dogs even posted a message praising the pup to its 7 million followers.
"This is Todd. He saved his human from a rattlesnake yesterday. A true h*ckin hero. He's expected to make a full recovery and has been rewarded our fifth ever 15/10," the tweet read.
Elsewhere, a fundraising page set up to pay the medical bills of other dogs which have been attacked has been set up in the wake of Todd's bravery.
"Todd wants to help more puppies that may need help. Donations are not towards Todd's bill but for those in need of help in paying unexpected vet bills," the GoFundMe description page reads.
Posting an update on the dog's recovery, Godwin added: "Todd's doing so well he is a wonder to me how he is healing. Just a thank you to all the support Your kindness and support is truly a blessing."