Toddler Allegedly Told to Choose Which Parent She Wants to Stay With Prior To Separation At Migrant Holding Facility
A family from Honduras is claiming that border patrol agents forced their 3-year-old daughter to choose what parent she wanted to stay with after the group was apprehended and taken to a migrant holding facility in El Paso, Texas.
The question was posed to Sophia, a toddler with a heart condition, who was allegedly told by border agents to pick between her parents as they were going to be separated, Sophia's mother, Tania, told NPR via an interpreter.
"The agent asked her who she wanted to go with, mom or dad," Tania said. "And the girl, because she is more attached to me, she said mom. But when they started to take [my husband] away, the girl started to cry. The officer said, 'You said [you want to go] with mom.'"
Tania and Joseph did not want their last names used in the report while they go through immigration hearings. But Tania told NPR that they pleaded with border agents for two days to not break apart their family. A doctor who examined Sophia, because of her heart condition, stood by the family's plea.
The family had initially been ordered to be sent back across the border to Juarez, a notoriously dangerous town in northern Mexico. Getting moved temporarily back to Mexico is part of the Migrant Protocols Protection (MPP) program, where families and asylum seekers await hearing in the United States.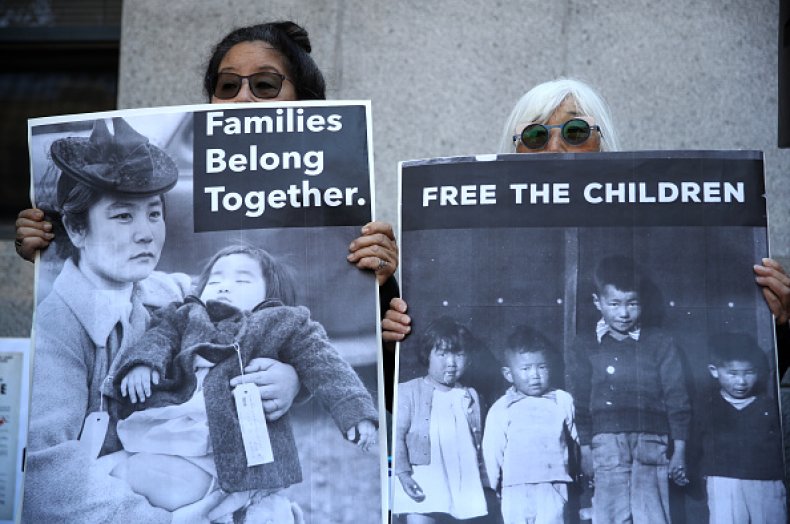 At their hearing last week, Linda Rivas, the family's attorney, asked the judge to allow their removal from MPP because of Sophia's heart condition. Immigration Judge Nathan Herbert saw Sophia's scar from an apparent surgery after a previous heart attack. But he told the family he had no authority to remove families from MPP, so he asked Homeland Security (DHS) for assistance.
The next day, a doctor contracted by DHS examined Sophia, and the doctor noted a serious heart condition, Rivas said.
Afterward, the family was told the parents would go to separate holding areas, and then left the children to decide which one they would follow.
"They spoke to me at around 3 or 3:30 p.m., and they told me: 'Sign here, because we are giving you and your children permission.' And I said, 'I came with the children's father,' and he said, 'Not him. Only you and your children.' And the doctor said it's important for the family to stay [together], and even the doctor said 'They entered as a family and they have to leave as a family,'" Tania said.
The agent then apparently told them of upcoming separation, and that the child must decide. The doctor even tried to interject.
"The doctor told me, don't let them ask her because they don't have the right to ask a minor," she said.
Joseph was instructed to walk away for an escort to a separate area, and the children — the others ages six and nine — hugged their father, not fully understanding the scene, nor if they would see their dad again.
"I was going to be separated from my children and my wife, and I would have to go back to Juárez on my own," Joseph said. "I felt devastated."
They slept in separate cells, separated for the night.
The following morning, the doctor returned and begged that the family reunite and stay together.
"He explained to the other officer that they all have to enter as a family. It was the morning shift officer. He replied, yes, he was going to give him [Joseph] entrance. He also said they were giving us different court dates and the doctor told him, no, that we had entered as a family and that they had to give us the same date to all," Tania said.
The family stayed at a local Airbnb on Saturday, and then flew to the Midwest on Sunday to stay with family.
NPR reported that the family fled Honduras after Tania saw her mother's murder, and then Tania's sister, who also witnessed the killing, be kidnapped and then tortured so she would not testify.
"We cannot go back to Honduras," Tania said. "We hope that the children could study here because in Honduras there are no opportunities for the children to go to school, for them to grow. We are honest people. We don't want to harm anyone. We just want an opportunity."
Meanwhile back at the border, Rep. Veronica Escobar, who represents El Paso and played a part in getting the family back together and removed from MPP, said she is asking Homeland Security to investigate why they would break apart the family.
"It's an outrage, and it's absolutely horrifying that a toddler would be asked to choose between two parents," Escobar said. "It was just stunning to me. It's one thing to read about it; it's another thing to actually hear a parent recounting the story firsthand in their own voice."