Toddler Among 7 Shot in Broad Daylight Outside Philadelphia School
Seven people, including a two-year-old girl, were injured in a Philadelphia shooting on Thursday evening, which took place near a school in the city's Strawberry Mansion neighborhood.
The incident took place close to James G. Blaine School, by the intersection of 31st Street and Norris Street, according to police.
All seven victims were taken to local hospitals, where they are in stable conditions.
The victims were a 31-year-old woman, her two-year-old daughter and five young males, aged 13 to 17.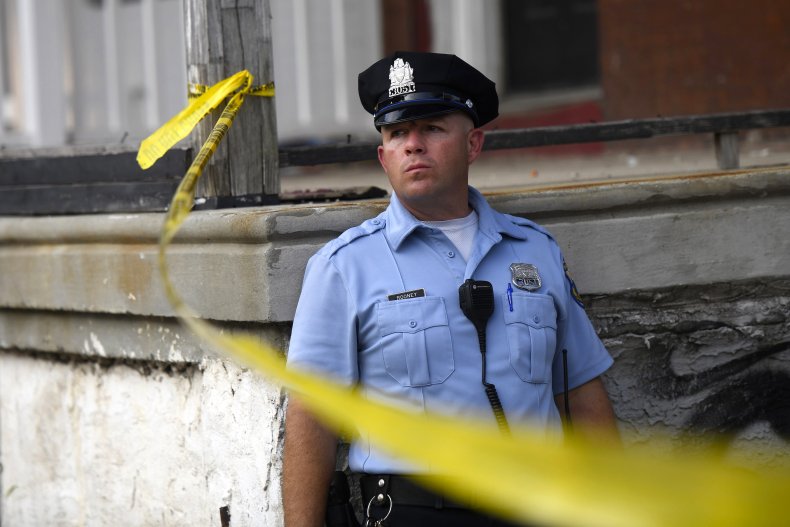 Philadelphia Police Commissioner Danielle Outlaw commented: "This has been a fairly quiet portion of the 22nd district for quite some time now.
"At this point we're piecing everything together to figure out if this is retaliatory, if some of those victims were intended or not, but it's still really early to tell."
Police have yet to make any arrests in connection with the shooting. Officers are searching for three male suspects, who were pictured in a gray 2011-2016 Hyundai Elantra. Photographs released by police show all three suspects brandishing what appear to be firearms, with one having his face completely covered while the other two were wearing hoods.
The two-year-old received a bullet wound in the left thigh, and is being treated at the Children's Hospital of Philadelphia, according to police.
Her 31-year-old mother was shot twice in the thigh, before being transported to Temple University Hospital.
A 13-year-old victim was hit in the hand, and is also being cared for at the Children's Hospital of Philadelphia.
A 15 year old, who was shot twice in the chest, is being treated at Temple University Hospital, as is a 16 year old who was shot in the arm.
Another 16 year old, who received bullet wounds to his right arm and right thigh, was taken to Jefferson University Hospital, along with a 17 year old who received a graze wound to his thigh.
In a statement Jim Kenney, the Philadelphia mayor, said: "Schools and other public spaces must remain safe havens for youth and the community. It's heartbreaking and infuriating to learn of another shooting occurring on or near school grounds. I'm praying for the victims involved."
He urged anyone with information to contact the Philadelphia Police Department, by calling or texting 215-686-TIPS. Information can be given anonymously.
The Philadelphia Police Department has been contacted for comment.
In a separate incident a Temple University police officer was shot dead on Saturday night. Police have arrested an 18-year-old man on suspicion of murdering the father of four.
A GoFundMe page setup to raise money for the officer's widow and children exceeded $160,000 within hours of going live.
In January, a 49-year-old Philadelphia woman was charged with the murder and dismemberment of her parents, at their home in Abington, Pennsylvania.