Toddler Eager to Hold Baby Sister Goes Viral in Adorable Video: 'My Heart'
A toddler, who was extremely eager to hold her baby sister in a reclining baby sleeper, has delighted the internet with the wholesome moment.
The video was shared to the social media platform TikTok by @tra.ellis, or Tracy Ellis, who posts content of her family regularly. The video has been viewed 17.8 million times with 3.4 million likes.
The short 21-second clip was captioned: "When you made a baby for your baby. I just asked if anyone wanted to hold her, and this happened. #fyp #babiesoftiktok #sisters #twoundertwo."
The video featured the TikToker capturing their toddler running eagerly over from across the room to a reclining baby sleeper, getting in it. The mom laughed as her daughter got comfortable, leaning back.
"Do you wanna hold her?" she asked her daughter while laughing, getting up and coming over to her.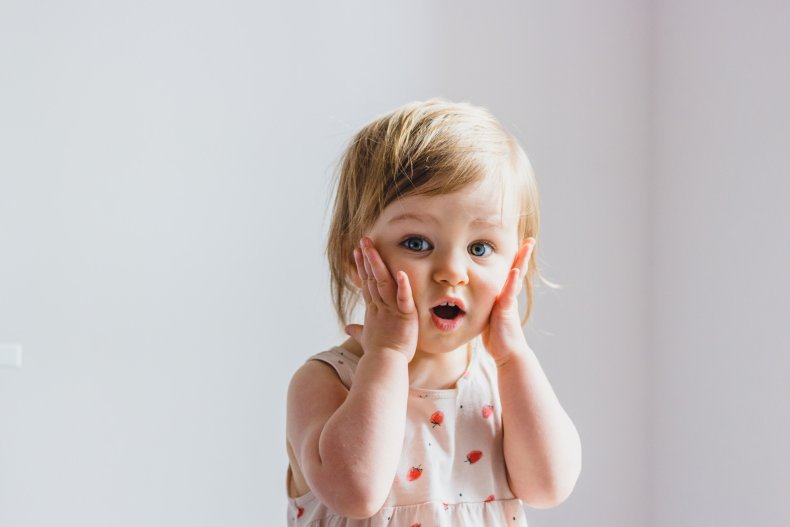 The TikToker asked her again if she wanted to hold her, and her daughter smiled a huge smile. "You want her?" she asked, and her daughter raised her hands to grab the child while smiling, and her mom chuckled, asking again if she wanted her.
The other smaller child, who is in a matching green outfit same as her sister, was held by her mom at the time before the video cut off.
Families with multiple siblings are quite common. According to Statista, there were 12.69 million households with two children as of 2020. There were also about 6.76 million families with three or more children that same year.
The TikToker also shared a few images of the two sisters in the sleeper together in a reply post to a comment. That video went viral as well with 1.1 million likes.
The first viral video, which has garnered 7,900 comments, has delighted many, although a recall of the baby sleeper in the video has been brought up. The creator left a comment admitting the sleeper has been recalled. However, "it's used for safe sibling snuggles" with mom standing there on "guard."
"She knew to run to this because it's where she goes to hold her, w/ me hovering over them," the TikToker continued. "She's a baby holding a baby...I don't look away. At all."
Some defended the mother in the situation. "They were recalled because people don't watch their kids," a TikToker wrote. "Not because it's dangerous. Get the facts people."
One person had their own point about it. "Yes, because two kids in a recalled bed are better than one Lol," a viewer chimed in.
Most people seemed to appreciate the video though. Some wanted to see more of the content. "If you have any pictures of her holding her when she was a newbie please show," a user asked.
A lot of people viewed the content positively, especially in regard to the connection the siblings share. "This is the sweetest thing I've ever seen," a TikToker pointed out. "I hope my son is like this when I have another baby."
Some couldn't get over the eagerness of the toddler to hold their sibling. "It's the excited nosedive into the bassinet for me," a viewer wrote.
One TikToker thought the content is "the sweetest thing," mentioning the two siblings in matching outfits. "How does it get cuter?" they asked. "Oh my gosh! We need a video of the holding."
Other people had comments like, "My heart, she's so excited," and "This was totally the serotonin boost I didn't know I needed."
Newsweek reached out to @tra.ellis for comment.