Toddler Found Stabbed Inside Garbage Bag, Mother Charged With Murder
A Michigan woman has been charged with murder after the body of her toddler daughter was found with stab wounds inside a garbage bag.
Justine Johnson, 22, was charged with a count of felony murder and a count of first-degree child abuse.
Police found the body of the 3-year-old girl, Sutton Mosser, after responding to a residence on Cedar Lake Road in Oscoda Township early on Friday morning, WJRT-TV reported.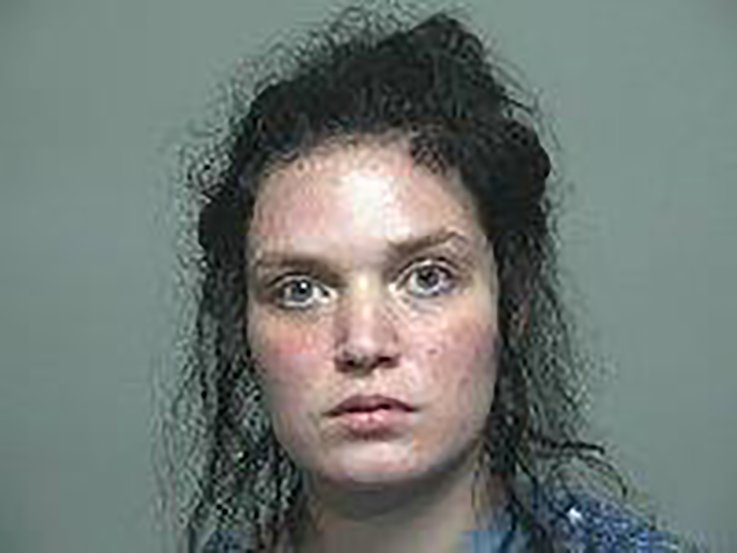 Authorities have charged Johnson with murder after her 3-year-old daughter's body was found with multiple stab wounds inside a garbage bag.
Iosco County Sheriff's Office via AP
Johnson's brother called 911 at around 4 a.m. after he discovered a black garbage bag with a human foot protruding from it at the home, where Sutton lived with her mother and grandmother, according to a probable cause affidavit.
Johnson was not at the residence at the time. Police officers located the woman more than four hours later, walking along railroad tracks.
She told officers she did not want to talk about the death of her daughter, the affidavit said.
The affidavit also states that the discovery was made a day after Johnson's brother had asked her where her child was. She reportedly told him to mind his business.
Iosco County Prosecutor James Bacarella told Newsweek that, if convicted of murder, Johnson could be sentenced to life imprisonment without the possibility of parole. "The felony murder carries a penalty of life without parole and first-degree child abuse carries a penalty of life in prison," he said.
Bacarella described the death of the 3-year-old girl as shocking. "Any time a child dies it is a tragedy, but for a child to pass away in this manner it is incomprehensible," he said.
Sutton's grandmother, Alisa Johnson, told WNEM-TV that she "broke down" when she learned what had happened to the child.
"That baby loved me more than anything," she said, adding that the 3-year-old girl called her "grandmom" and had been "full of life" and "very smart."
Alisa Johnson also said she believes that her daughter is innocent and would never have hurt her child.
"Justine loved Sutton with all her heart," she said. "She'd never let anybody hurt that baby. I want a fair investigation for my child. I want my granddaughter to have the proper justice."
Justine Johnson was arraigned on Monday on the two charges and pleaded not guilty to both. A probable cause conference is scheduled for later this month. She remains at Iosco County Jail, where she is being held without bond.
Newsweek has contacted the Oscoda Township Police Department and the Iosco County Sheriff's Office for comment.
Update 9/22/21, 8:30 a.m. ET: This article was updated with comments from James Bacarella.