A toddler was fatally shot by a police officer during a hostage situation between her father and law enforcement officers after responding to a domestic disturbance call, according to the Kansas Bureau of Investigation (KBI).
The bureau released its preliminary findings Monday on the tense situation, which claimed the lives of 2-year-old Clesslynn Crawford and her parents. The bureau said the investigation showed that the toddler died from a single round that was fired by an officer from the Joplin Police Department after gunfire was exchanged between her father and law enforcement, the KBI said in a press release.
At approximately 7:15 p.m., on March 26, police responded to a call for an ongoing domestic disturbance incident at a camping trailer in Baxter Springs, Kansas. When officers arrived they knocked on the door, which was answered by Eli Crawford, 37, who quickly shut it after seeing it was the police.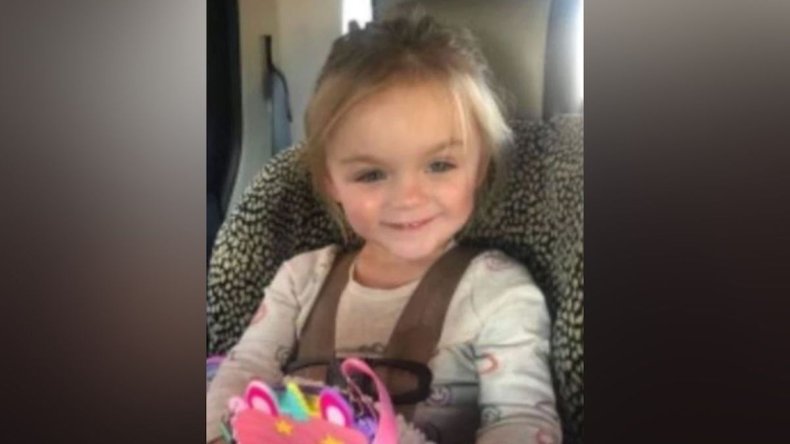 Shortly after, Clesslynn opened the door and ran outside with her mother Taylor Shutte, 27, with Eli following closely behind. Once outside, he shot Shutte multiple times killing her, and then proceeded to fire several rounds at responding officers before heading back inside with his daughter, the KBI said.
The officers did not return fire and moved to a safer distance while Eli was still shooting at them. Authorities called for backup from neighboring agencies including the Kansas Highway Patrol, the KBI, the Joplin SWAT Team, and the Cherokee County Sheriff's Office to assist them.
For a couple hours, Eli continued to fire at law enforcement officers from inside his trailer, with the KBI suspecting that he had used several guns and over 90 rounds of ammunition. At approximately 9:25 p.m., a law enforcement officer was able to return fire and shot one round into the trailer.
Officers then proceeded to approach the trailer and found Eli and Clesslynn deceased inside. According to the KBI's investigation, its believed that the father died from a self-inflicted gunshot wound while Clesslynn died from the bullet that was fired by the officer.
"The investigation is ongoing. We ask the public for patience as KBI agents finish their work. The incident is being thoroughly and independently investigated," the KBI said in a statement.
The officer, who engaged the suspect, has been placed on paid administrative leave, which is standard agency protocol, according to the Cherokee County Sheriff's Office in a statement that was released the day after the incident.
In her obituary, Clesslynn's family said she was full of life and had a very loving, bubbly personality. She also loved to cuddle, dance and could talk for days. She enjoyed her binky, Minnie Mouse and was extremely smart for her age.
"There was never a dull moment around this sweet girl," the obituary read. Her funeral will be on Wednesday, April 6, at 10 a.m. in Joplin, Missouri.
The hostage situation was one of the most recent incidents of domestic violence that gained national attention in recent months. In April, a 57-year-old man got into a verbal altercation with his 49-year-old girlfriend at work and proceeded to shoot her before turning the gun on himself.
In February, a man was sentenced to a minimum of 38 years in prison after pleading guilty to murdering his wife in 2020 and sleeping with her dead body in their home for nearly a week. Meanwhile in January, a pregnant woman was hospitalized after her boyfriend allegedly set her on fire.
Intimate partner gun violence impacts millions of women across the country. Every month, an average of 70 women are shot and killed by their partners and nearly 1 million women have reported being shot or shot at by an intimate partner, according to the nonprofit organization Everytown for Gun Safety Support Fund, which is dedicated to understanding and reducing gun violence in America.
For anonymous, confidential help 24/7, people can contact the National Domestic Violence Hotline at 1-800-799-7233 (SAFE) or 1-800-787-3224, or by visiting the website.
Update 4/04/22, 3:35 p.m. ET: This article was updated with additional information.