Toddler Shoots 12-Year-Old Cousin After Finding Gun On Bed
A toddler accidentally shot his 12-year-old cousin after finding a gun, say police.
The 2-year-old boy, who has not been named, was playing at a house in Octavia Drive South in Alabama, when the incident occurred at around 5:40 p.m. local time on Wednesday.
The little boy is understood to have come across the gun on a bed, picked it up and pulled the trigger, hitting his cousin.
The child was rushed to hospital where he is being treated for non-life threatening injuries, according to WKRG News 5.
The 12-year-old's mother told investigators that the gun belonged to her 19-year-old son and her two-year-old nephew had found it on the bed. Police said the shooting was accidental.
This incident comes less than two weeks after a grandmother was also shot by a young child in an unrelated incident.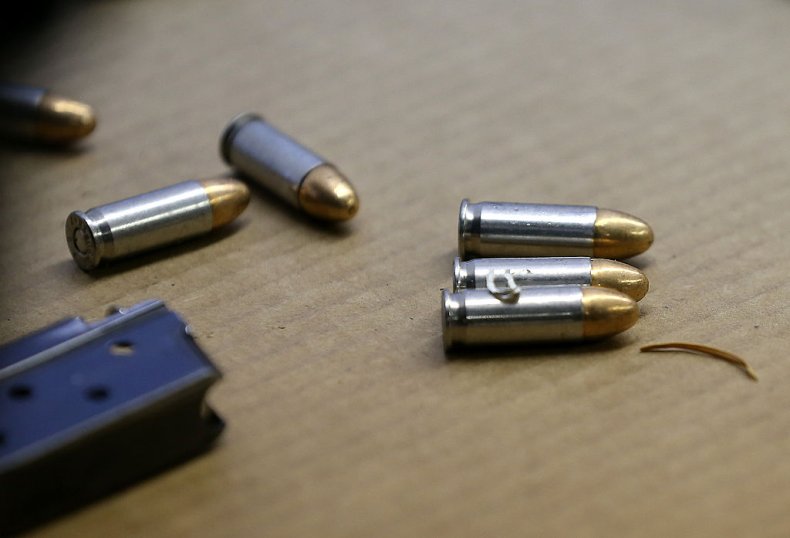 In that instance, a 4-year-old child accidentally shot the woman after finding a gun inside an RV, according to police.
The child's family had been traveling home to Virginia when they stopped at the Carlie C's IGA in Erwin, North Carolina, at around 12 p.m. on September 13, abc11 reported.
The child and their grandmother stayed in the RV while the rest of the family went inside the grocery store.
According to abc11, the child located the handgun in the vehicle and when the grandmother tried to get the weapon, it went off and struck the woman in the abdomen.
Erwin Police chief Jonathan Johnson told the station that the woman was taken to hospital, but is in a stable condition with injuries that are not life-threatening.
Hundreds of American children gain access to firearms and unintentionally shoot themselves or someone else every year, according to Everytown for Gun Safety.
There have been at least 191 unintentional shootings by children so far in 2020, which have resulted in 79 deaths and 119 injuries, according to the group's #NotAnAccident index which tracks such shootings. In more than half of those incidents, the shooter was a child aged five or under.
The group says research shows an estimated 4.6 million children in the U.S. live in homes where there is at least one gun that is loaded and unlocked.
The group and numerous other charities and nonprofit organizations urge gun owners to take extra precautions when children are in the presence of firearms.