Toddler Trapped in Barrel Freed by Workers Wielding Power Tools
Think the stage of early childhood popularly known as the "terrible twos" is a myth? Think again.
Over the weekend, Mount Juliet, Tennessee couple Kelly and Lance Strubing were visiting family when their toddler son, Dorian, somehow became stuck in an antique barrel, according to WSMV. While his head, shoulders, and arms protruded, his torso and legs were hopelessly trapped.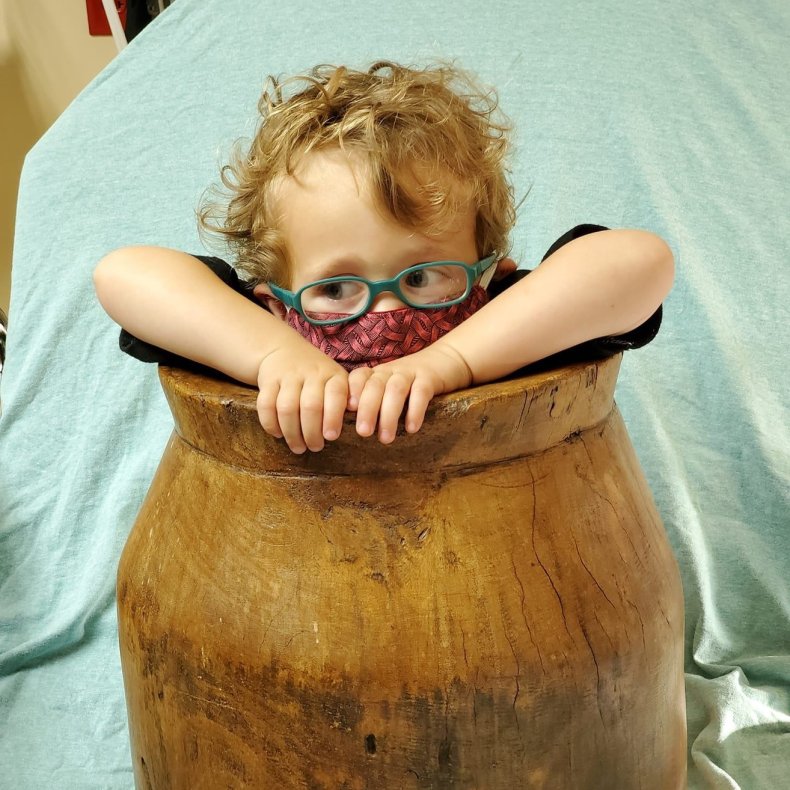 Try as they might, the Strubings couldn't pull him free. Eventually, they drove him to the TriStar Portland emergency room in the hopes that the doctors and nurses on duty might be able to lend a hand, according to WKRN.
One of the photos shared by WKRN depicts Dorian, who has a mop of curly blond hair and wears blue-framed glasses, riding in the backseat of the car, a worried look on his face.
E.R. staff appear to have taken the arrival of a boy in a wooden container in stride. First, they took X-rays to determine the location of Dorian's feet, knees, and hips. Second, they collaborated with Portland Fire Department firefighters and Sumner County Emergency Medical Services technicians to saw through the bottom of the barrel and chip away at the slats.
The tools involved included power saws, screwdrivers, and hammers, according to a Facebook comment by Strubing.
Once Dorian was able to straighten his legs, responders yanked him out easily. Thankfully, the little boy, who clutched a brown teddy bear for comfort throughout the rescue effort, was none the worse for wear. He was even cheerful enough to celebrate his escape with an orange Popsicle, according to WJBF.
"It was certainly nerve-racking [sic], but now that he's safe we all are getting a good laugh from it," Strubing told WKRN.
Strubing asked the workers who helped free her son to sign the barrel—or what remained of it—as a memento of the incident.
"Such a brave boy! You'll go far," one person in the comments wrote.
But the barrel wasn't the only keepsake Strubing took home with her that night. In another Facebook comment, she wrote that Dorian "has been carrying [the teddy bear] everywhere since last night."
This is not the first bizarre incident involving a toddler that has occurred in recent weeks. On April 11, bystanders rushed to the aid of a Staten Island boy whose foot became wedged in a mall escalator during a shopping trip. Thankfully, the toddler, like Dorian, escaped without injury.