Man Sits on Toilet for 116 Hours in Bid for World Record: 'Why am I Doing This? Why Not?'
A Belgian man spent 116 hours sitting on a toilet in hopes of setting a new Guinness World Record for the feat.
Jimmy De Frenne, 48, squatted on a lavatory in front of customers at Filip's Place, a bar-restaurant in Ostend. The toilet was not connected to any plumbing—De Frenne was allowed a five-minute breaks every hour, which he could accumulate over several hours to take naps, stretch his legs or use the real bathroom. (It appears, however, he ate his meals on the can.) "Self-mockery is the best humor there is," De Frenne told Reuters. "Why am I doing this? Why not? There is nothing I like more than people making fun of me, because then I can do the same with them."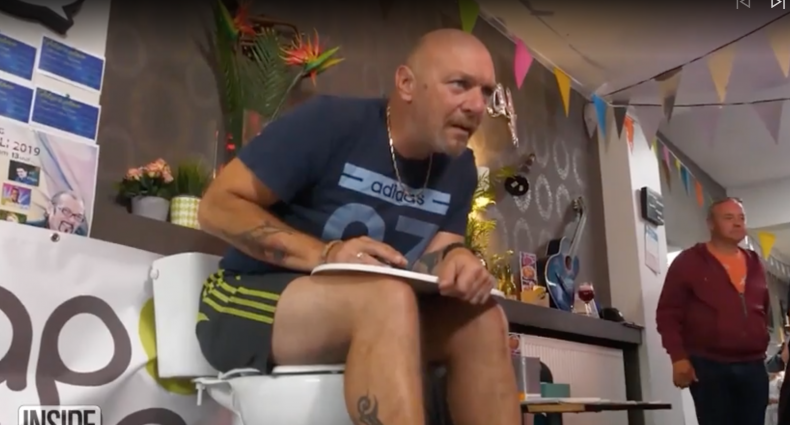 Wearing a t-shirt, shorts and flip flops, he had hoped to stay on the pot for 165 hours. But, after nearly five days, De Frenne gave up Friday morning, claiming he felt fatigued. "I was very tired and my legs hurt but I believe in my success and try to make this record official."
De Frenne said Guinness World Records was aware of the effort and that local officials and witnesses were checking in to validate his attempt. As far as he knew, the previous record for toilet-sitting was 100 hours.
Representatives from Guinness World Records have yet to comment.
Launched in the mid-1950s by brothers Norris and Ross McWhirter, Guinness continues to commend outrageous feats: On June 17, a Marvel superfan set a new record after viewing Avengers: Endgame in theaters a total of 200 times.
"On weekdays I'm going twice a day," Agustin Alanis told Inside Edition. "Saturday and Sunday, the most that I can watch is five."
In all, Alanis gave viewed more than 603 hours of film in hopes of showing people what dedication can do.
"If someone can have the dedication the discipline to do something small like this, imagine what we can reach, what we can achieve if we all had this discipline to help out each other, to love each other," he told IE.
On June 21, Ripley's Believe It or Not! and Madame Tussauds in New York unveiled an attempt to set the record for the world's longest feather boa: A 1.2 mile-long boa held by more than a dozen drag queens.
The feathery appendage, which took two weeks to complete, was made up of more than 1,000 individual boas sewn together as one.