Eat Your Way Through Tokyo With This Walking Food Tour
Come for the katsu, stay for the best miso you'll ever have.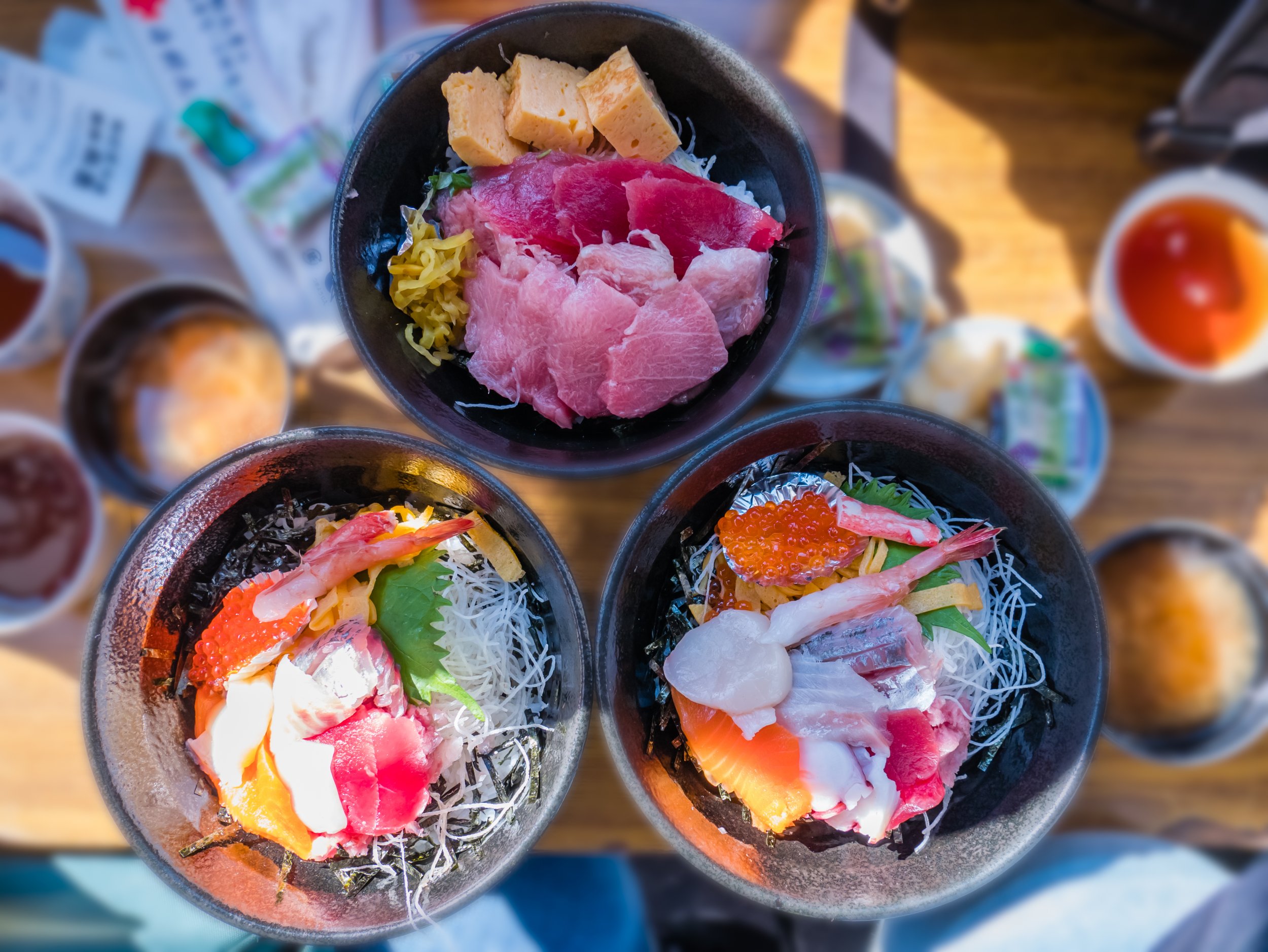 Tokyo is undeniably one of the world's great food cities with two hundred-plus Michelin star restaurants (more than any other city) and 160,000 restaurants in general -- meaning one could theoretically eat at a new place every day for a century. So when I, a husky New Yorker married to a restaurant manager (her place has a Michelin star too, humblebrag), spent a week in Tokyo I knew I had to come hungry. But it's a dizzying prospect. So many places. So many choices. So little understanding of kanji.
Buried in a spam email from hotels.com, a pitch from Arigato Food Tours caught my eye. It promised an "All-Star Food Tour" of Central Tokyo spanning the Yurakucho, Ginza and Shinbashi neighborhoods. A three-hour tour sold for $139, and advertised approximately 20 dishes. My intermittent googling of phrases like "where to eat in Tokyo" didn't inspire much confidence in my ability to navigate the subways and customs of Japan with absolute precision, so I signed up. It ended up being one of the highlights of my trip.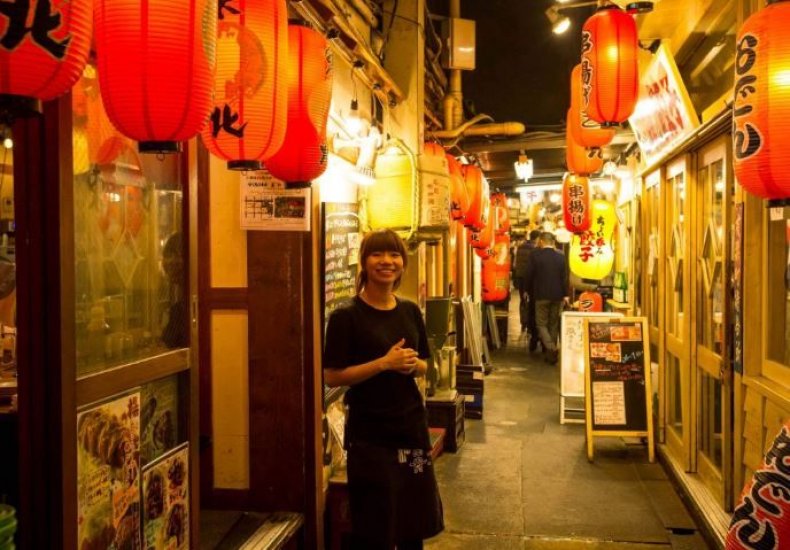 The tour begins with very specific instructions on where to meet. This is huge. Tokyo can be a bit intimidating, especially if you're not already accustomed to living in a huge, bustling city, so providing the pinpoint instructions made it foolproof. Don't be late!
Soon a gaggle of gastro nerds clustered around our tour guide Yasuhiro, a.k.a. Yappy. An affable chap from Osaka, Yappy proudly patted his "ramen belly" to assure us he was a man who knew his foods. After the requisite strangers-on-a-tour pleasantries, we set off.
The first stop, a few blocks away, is an izakaya (think "pub") with a retro feel. The tattered movie posters and long wooden tables full of smoking, murmuring businessmen evoke peak Seijun Suzuki vibes. They also provide a perfect setting for the first bite of the tour: Ham Katsu and Yakitori. Katsu means cutlet (more or less) and while chicken and pork cutlets are quite common in the U.S., I'd never had ham. I will have it again. It's inherent fatty, salty bite lends itself beautifully to a flash fry, and the processed nature ensures that even when lukewarm it remains a marvel within mediocrity. Garnished with a viscous dash of tonkatsu, a rich, brown Worcestershire-style condiment, ham katsu makes a wonderful accompaniment to a cold beer.
So I had one of those, too.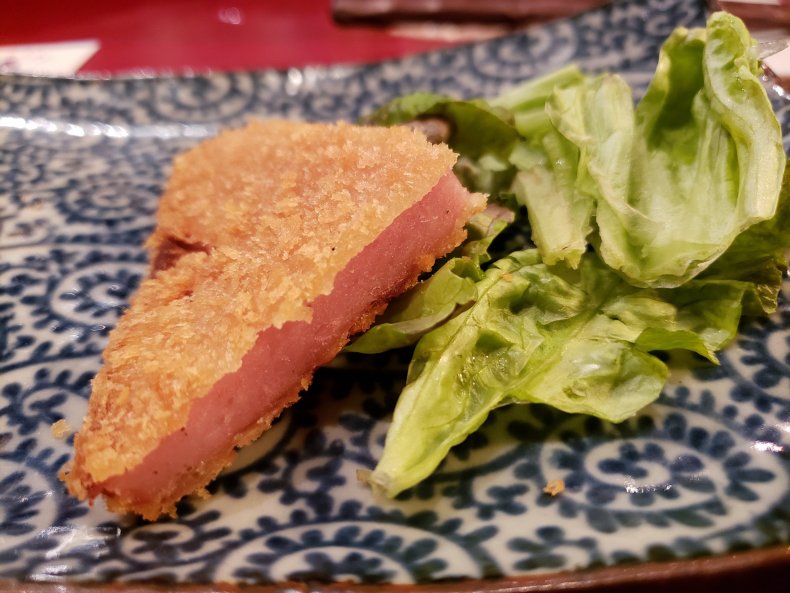 The yakitori was less impressive. Thinly-sliced green onions carry the weight of the grilled chicken underneath. If you've had a mall food court chicken teriyaki sample on a toothpick, you've experienced the breadth of what this yakitori had to offer. Capably edible, but not a standout on a food tour.
Along the way to our next location, Yappy told us a bit of the history of izakayas, like the one we were in, that sit nestled under train tracks. Because of a WWII-earthquake-fire trifecta, much of Tokyo was rebuilt in a short span of time. Local business owners realized the space under the train tracks provided a sturdy shelter. This hardscrabble problem-solving is also why we had a ham katsu, in post-war Japan there weren't a lot of fresh cutlets to be had.
Our next stop could be considered a religious experience, if only for the exterior design resembling the famous Ise Grand Shrine. Inside the cuisine reflects the Mie prefecture, where the shrine is located. The history behind the design is only about 1/10th as interesting as the cuisine inside, where I was served a dish unlike anything I have ever eaten, or will ever eat again.
Torokoten.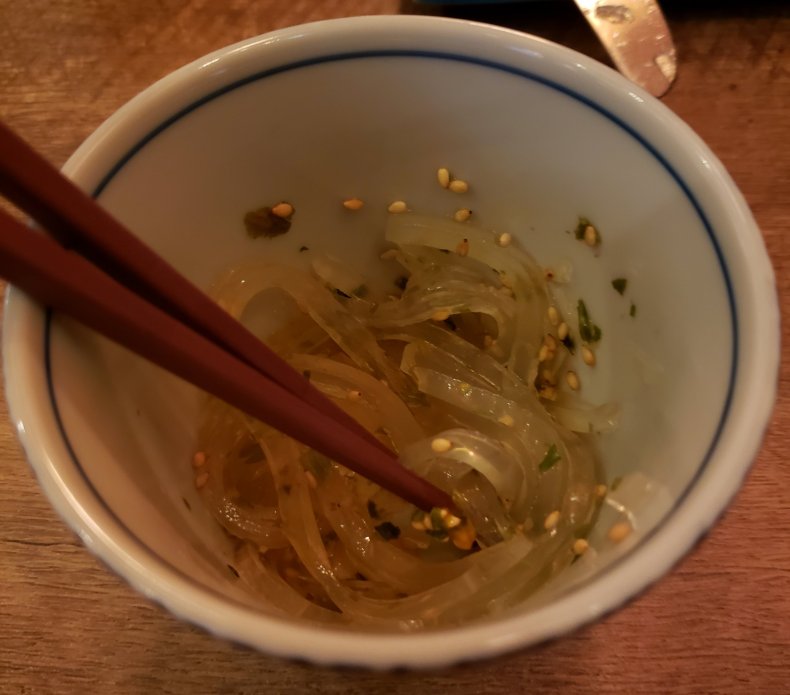 Torokoten, gelatinous noodles made from water and seaweed, are actually quite common. What made this version so unique was the preparation. Usually Torokoten come as noodles already, but at this location they are served as one long rectangular cube of jelly. You have to smush it through a wooden contraption that slices it into the noodles, then season them with soy sauce, sesame seeds, vinegar and dashi flakes. The taste and texture has a slippery, wispy brine that doesn't have the weird flavor you'd expect from a jiggling slime. It's simply a vehicle for condiments, albeit an interesting one.
A more familiar noodle arrived in the form of Ise Udon. Here, the udon is served sans broth. Instead, it's marinated in a thick soy sauce with a touch of dashi. Slurping is encouraged, and comes naturally. The udon are wonderfully soft, with just enough bite to keep you chomping for more. It manages to be simple without being bland.
We were also served a trio of skewers, along with a Satsuma mandarin orange and soju cocktail. A light, refreshing drink, the cocktail celebrates the abundance of Mie's famous citrus delicacy while the skewers toured its proteins. The chicken and tuna were hot, fresh but relatively uninspiring. The beef, however, was fantastic. The skewer used Matsuzaka beef, which Yappy explained was on the same level of quality as the internationally-renowned Wagyu beef but sold almost exclusively inside Japan. Unctuous, with just a touch of sweetness, the tender meat stole the show with just a tiny pinch of salt.
Now came the bulk of the walking portion of the walking food tour. We wound our way through posh Ginza, Tokyo's richest neighborhood, while Yappy threw out startling real estate stats ($40,000 per square foot!) and anecdotes about the Armani school uniforms. We had a bite of Kawara senbei, a wheat cracker I'd liken to a pizzelle, from a 200 year-old shop before wandering over to a vendor that sold $400 gift melons. (The gift-giving customs of Japan are complicated.) Yappy also goaded us into taking a pic honoring Godzilla's attack on Ginza. I had to oblige.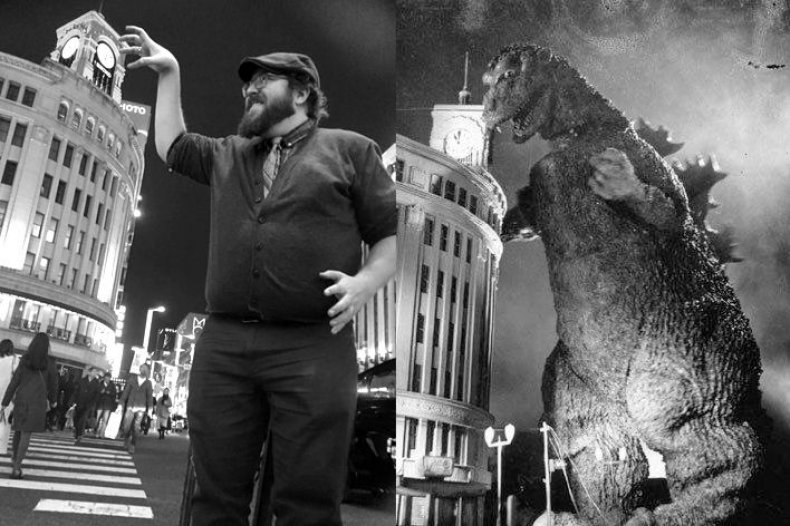 We continue walking through Shinbashi, a bustling area that feels like it has 24/7 rush hour. The neon verticality of Tokyo is in full effect here. You'll actually take appropriate portrait mode pics for once as you capture the grandeur of Shinbashi's massive signs. And you'll be hungry again, which is good. The next stop before dessert is an izakaya that sources ingredients from its own far.
It's also where I fell in love.
No, not romantic love. The kind of love that occurs when you encounter something so perfect, that completes you in such a substantial way you didn't even know you missed it. And that you know is fleeting, a moment to be savored. I am referring to fermented soybean paste. Miso.
I've had miso in a variety of forms, but never had it on this exquisite level: a housemade miso dip, involving some 16 secret ingredients, alongside fresh, stiff leaves of cabbage. The miso/cabbage appetizer is a common one in Tokyo, but this particular incarnation was transcendent. A deep, smoky umami dropping notes of toasted peanut butter and salty soy sauce. Paired with crisp cabbage bites, the intense flavor was forward-facing but quick to recede. I wanted to take a bath in this miso dip, to smear it on my face, put cucumber slices on my eyes, then eat the slices.
There was much more than mind-bending miso at the final stop. The chicken nanban also stood out. Farm-fresh chicken cutlets marinated in vinegar are deep fried and served with a dollop of housemade tartar sauce. Impossibly crisp, juicy without being greasy and then slathered in a sauce that gives you fast-food vibes, chicken nanban would be guilt-inducing if you hadn't spent two hours walking before you had it.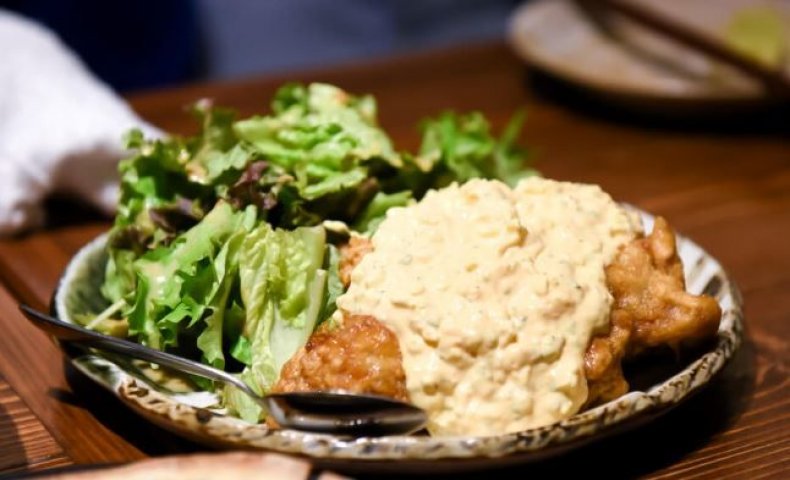 You probably won't notice the miso or the nanban when you sit down though. Your eye will be drawn to the Takigyoza in the center of the table. It's a large pot that houses some dumplings and a pile of what can charitably be described as goop. The goop is a collagen-based broth that will liquefy once the heat is on, giving you and your fellow diners a delicious soup to enjoy. It's accompanied by a number of smaller bites,including yakisoba noodles and Nikumaki, which are pork-wrapped rice balls. Like the first stop, all of these meaty, salty, greasy bites are best experienced with a cold beer. Unlike the first stop, beer costs extra here. But it's worth it.
You've finished dinner. You've walked for hours. You've had a few drinks. There is only one thing that can possibly pull you out of your oncoming food coma: dessert. Specifically, taiyaki, one of Tokyo's most prolific sweets.
You'd be forgiven for passing these on the street and thinking they were anything but a sugary treat. It's a waffle batter poured into an iron that's shaped like a fish. So at a glance you'd think, fish pie? But it's far from the fishy flavor you'd expect. Instead, taiyaki are filled with either a traditional red bean paste or, for the western palate, a rich custard. No matter the filling, the smell is absolutely intoxicating. You'll stand in a haze as you watch the taiyaki being prepared, letting the faint vanilla aroma wafting over you.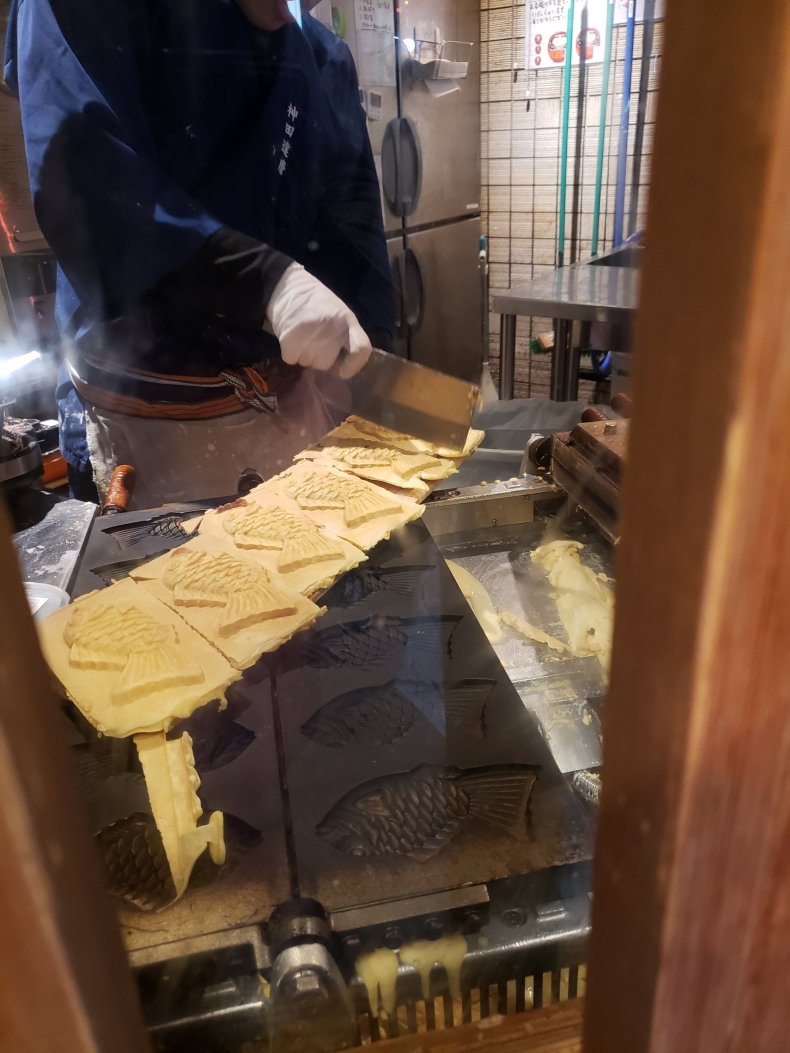 Both options are a fine finish for your Arigato Food Tour, but I went with the red bean filling. It's very sweet, almost cloying, and the mild bean flavor feels off the first few bites if you've never had one. But the warm, crispy waffle-esque shell help even everything out. It's a carb-heavy finish to a food tour, so if you somehow managed to still be hungry after a dozen or so dishes, this sends you off right. And if you're already stuffed, well, there's always room for dessert isn't there?
So does a three-hour tour convey the depth and breadth of one of the world's great food cities? It does, actually, due in large part to how Arigato presents a blend of authentic and popular cuisines with historic and cultural context. You're not simply gorging on good food, you're learning why Tokyo eats what it eats. And if you come hungry, you'll leave happy.