Tokyo Olympics Basketball Gold Medal Game: USA vs. France Time, How to Watch on TV, Stream
Less than two weeks since they met in the opening game of Group A, Team USA and France square off again on Saturday with an Olympic gold medal up for grabs this time.
With a gold medal, Team USA would become the first team to win gold at four consecutive Olympic Games since it won seven in a row from the Berlin Olympics in 1936, when basketball made its debut at the Games, through to the 1968 Olympics in Mexico City.
Team USA may head into the gold medal game as the overwhelming favorite but retaining the gold it won in Rio five years ago may not be as straightforward as bookmakers expect.
On July 25, France rallied late in the game to defeat Team USA 83-76, snapping the defending champions' 25-game winning streak at the Olympics which dated all the way back to the 2004 Games in Athens.
Instead of derailing their bid for gold, the loss to France proved to be a timely wake-up call for Gregg Popovich's team, which dispatched Iran and the Czech Republic in its remaining group games, before overcoming Spain 95-81 in the quarterfinals and delivering a brilliant team performance to beat Australia 97-78 in the semifinals on Thursday.
A spluttering offense—Team USA missed its first 10 attempts from beyond the arc—left the Americans down by as many as 15 points in the first half, before Kevin Durant and Jrue Holiday led the comeback. Durant finished with 23 points and nine rebounds, while Holiday added 11 points, eight assists and eight rebounds.
"There were a lot of guys on this team that had straight faces and were ready to play when we were down 15 [points], strong faces is what Pop [Gregg Popovich] said," Durant told NBC.
"They [Australia] came out and hit us with a nice haymaker, and we were able to get back up and get that lead back."
The Brooklyn Nets star suggested Team USA was well aware of the challenges France could pose in the final.
"When you are a great team and you're playing a team who feels that it's going to be tough to beat us, they're going to come out and play their best brand of basketball," he added.
"They're going to play perfect basketball, and I felt like that's what they did in that first half, and once we went down three going into halftime, I felt like we had the game in hand."
The only team unbeaten left in the tournament, France needed three overtime periods to prevail over Slovenia 90-89 in the semifinals and deny Luka Doncic the chance to play for the gold medal.
"This is why you play the game," Utah Jazz center Rudy Gobert told ESPN.
"This is why you work hard, why you sacrifice time from your families, to come here and try to accomplish something and be part of those moments."
Here's all you need to know about the gold medal match.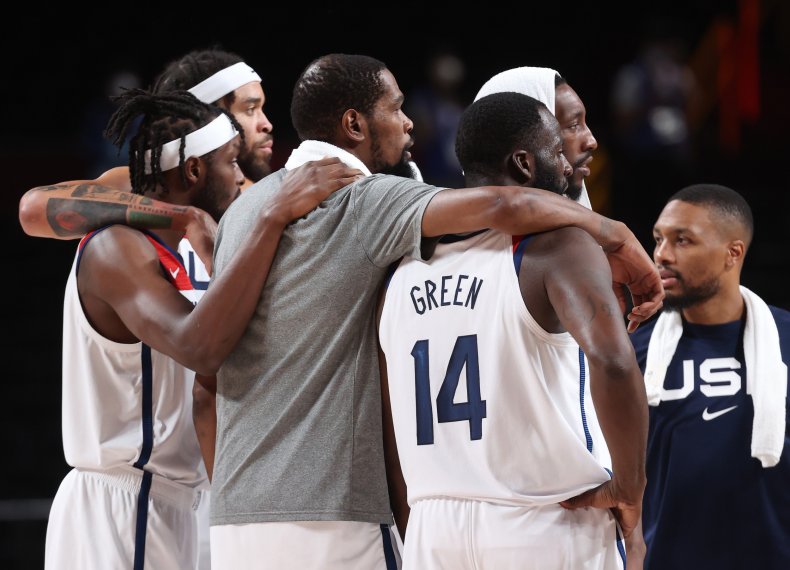 When is USA vs. France?
The USA takes on France on Saturday, August 7 at 11:30 a.m. local time. That means the game will tip off on at 10:30 p.m. ET and 7:30 p.m. PT on Friday night in the U.S.
Where is USA vs. France?
Like all the other games played in the men's and women's basketball tournaments at these Olympics, the gold medal game will be played at the Saitama Super Arena in Saitama, approximately 15 miles north of Tokyo.
How to watch USA vs. France on TV and online
The gold medal game will be carried by NBC, with a stream available on the NBC Sports website and the NBC app. A livestream for the final will also be available via Peacock and fuboTV, which carries NBC channels.
USA vs. France odds
The USA enters the gold medal game as the overwhelming favorite, despite losing to France in their group game. Team USA is a 1-9 favorite with William Hill and DraftKings, while France is a 6-1 outsider with both. In terms of points spread, the USA is a 12.5-point favorite and is 10-11 to cover.