Tokyo Olympics Will Give Out 150,000 Condoms To Athletes Not to Use
Olympic organizers have given condoms to athletes in Olympic villages since the late 1980s as a way to raise awareness for HIV and AIDS. Now, organizers in Tokyo are asking athletes to accept the souvenir condoms in 2021 and not use them because of another medical crisis, which is COVID.
Tokyo organizers plan on distributing about 150,000 condoms at the Summer Games next month, according to a Reuters report. The condoms are, well, just another part of the Tokyo souvenir swag bags.
"The distribution of condoms is not for use at the athletes' village, but to have athletes take them back to their home countries to raise awareness [of HIV and AIDS]," Olympic organizers stated.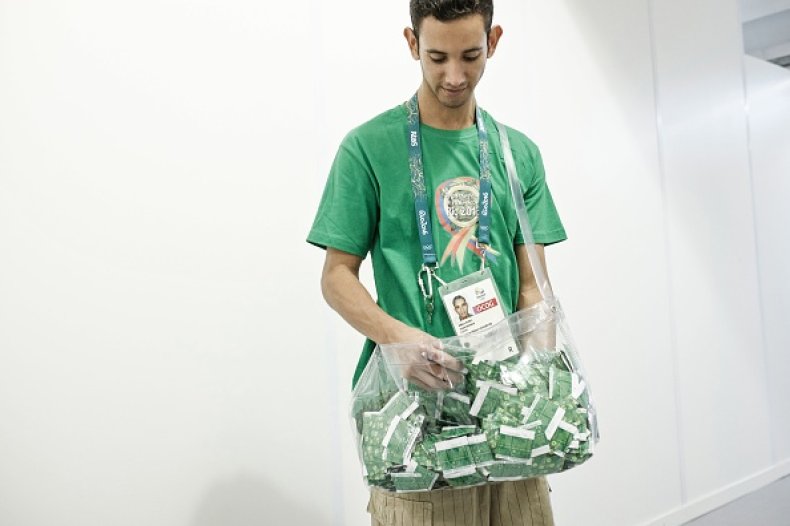 The Tokyo Games that were scheduled for 2020 got postponed exactly a year after the coronavirus pandemic began sweeping the globe last year. Even though cases are on the rise again in Japan and the majority of the country does not want the Olympics to happen at all, the International Olympic Committee (IOC) and participating countries have pressed forward to make it happen.
Neither Tokyo nor Japan can pull the plug on the Olympics since it's an IOC event, but they can control some things surrounding the Games. For example, officials have barred outside spectators from attending events. They set visiting boundaries for athletes and have encouraged social distancing within the athlete village.
They've even asked athletes to dine alone rather than cram into the 4,500-seat dining hall.
"Without the proper measures in place, it will only take one person to bring in the virus and spread it, especially in places like the athlete village," said Nobuhiko Okabe, an infectious disease specialist for the Tokyo Games.
"We have to do what we can to make sure an outbreak doesn't happen, and we really need the cooperation of all the athletes and delegations to make this work."
And part of that cooperation they're asking for is to have athletes accept the commemorative condoms, but keep them in the commemorative wrappers.
Handing out condoms to athletes at the Olympics became commonplace at the 1988 Seoul Summer Olympics as a way to raise awareness for HIV and AIDS, and it's been a longstanding tradition since those Games.
Organizers in Tokyo apparently requested the vast amount of condoms for the upcoming Games, according to Reuters.
The 2020 Tokyo Olympics will begin July 23 with the Opening Ceremony and will conclude August 8. The 2022 Beijing Winter Olympics are scheduled to begin February 4.