Exclusive: Former FIFA Candidate Tokyo Sexwale on Gianni Infantino, Racism in Football, Sepp Blatter and CAF Presidential Election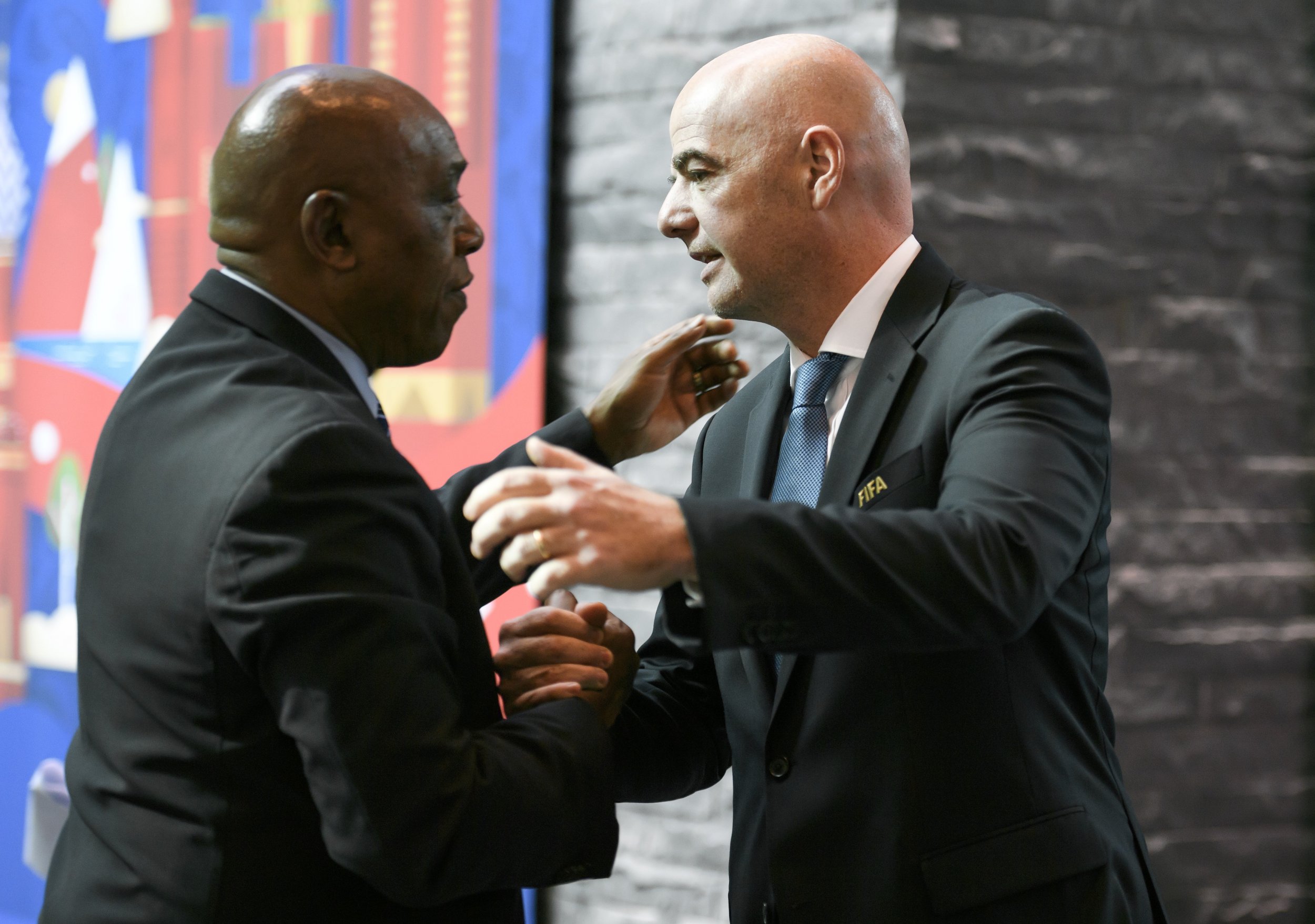 March 16 in Addis Ababa, Ethiopia, could mark a major turning point in the modern history of African football.
Issa Hayatou, the Confederation of African Football (CAF) president since 1988, faces a challenge from Ahmad Ahmad, the head of the Malagasy Football Federation. Hayatou is a powerful voice within FIFA, world football's governing body, while Ahmad has promised multivarious reforms within the African game.
The election has exposed fractures within African football's governance structures. COSAFA, the Council of Southern Africa Football Associations, has backed Ahmad, while CAF said in February that South African President Jacob Zuma supports Hayatou, a claim which was later denied by Zuma. South Africa is one of the most powerful voices in COSAFA.
South African businessman and politician Tokyo Sexwale, of course, knows about contesting football elections. Sexwale, who was imprisoned with Nelson Mandela on Robben Island during South Africa's apartheid era, stood against Gianni Infantino in February 2016 to succeed Sepp Blatter as FIFA president, eventually pulling out before the vote.
Sexwale remains an influential voice within FIFA, where he sits as chairman of the Monitoring Committee on Israel-Palestine, and within African football. Newsweek caught up with him to discuss FIFA president Infantino and the upcoming CAF elections.
What are your memories of the FIFA campaigning process and the election itself? Why did he pull out before the vote?
The sudden departure of the then FIFA President Mr Sepp Blatter, only days after his re-election, triggered the 2016 FIFA Presidential campaign. Thus those of us who became presidential nominees became candidates by default, not by design. FIFA was fragmenting and that was not the time to divide it even further. To resolve the leadership crisis required leadership. My decision to suspend my campaign—which I do not regret—should be seen in the light of assisting to unite FIFA and not to cause further schisms for personal ambition.
How did you feel at the time and now about the Confederation of African Football (CAF's) decision to back Sheikh Salman bin Ibrahim al-Khalifa rather than you, its candidate? Do you understand this decision?
Although the CAF Executive's decision to back a non-African candidate did not succeed, it was a democratic decision which I accepted and respect.
What progress has Mr Infantino made towards promised reforms in his first year as FIFA president?
Many across the world view Mr Infantino's first year positively. FIFA, which was tottering, has been stabilized; the sponsors, some of whom were threatening to ditch FIFA, are largely assured; the promise to increase the number of slots for Africa in the World Cup is in the pipeline; federations are now receiving more grant finance; cost controls have been strengthened; FIFA standing committees have been rationalized and preparations for the 2018 World Cup in Russia are on course. Most importantly Infantino's appointment of Ms Fatma Samoura—the first female and African as FIFA Secretary General in more than 100 years of FIFA—has been hailed as a giant step. Although these achievements are attributable to the entire FIFA Council, they are occurring under his leadership as promised.
In 2016 you described Sepp Blatter as a friend and praised his work and legacy at FIFA. Has your opinion changed at all?
No one as far as I'm concerned at FIFA regards Mr. Blatter as an enemy and many will remember him for the good that he has done for football over many years. Yet nobody should ever glorify his shortcomings for which he is currently in distress. The law had to take its own course. It would be inappropriate to attempt to erase the good he has done, such as bringing the 2010 World Cup to Africa for the first time ever. As I said at the 2016 Congress: Nelson Mandela has taught that it is poor leadership to rejoice at the misfortune of another human being.
In September 2016, FIFA disbanded its Task Force Against Racism and Discrimination, stating it had accomplished its work. How did you feel about this decision? Why was it made? Connected to this, a pledge in your manifesto was to set up FIFA's first anti-racism committee. How important is it that FIFA does establish this committee? How close is it to being established?
A Task Force by definition is temporary. As its members, we had recommended practical measures on how to enforce FIFA's strategic approach against discrimination to foster diversity. The Task Force left behind concrete activities that are now being implemented by FIFA against all forms of discrimination. At the same time, as I stated during my campaign, I had hoped that this subject matter should have a special FIFA committee of its own. However, I trust that within the current FIFA structures the anti-racism campaign shall occupy center stage to fully demonstrate FIFA's unswerving commitment against all forms of discrimination. I therefore welcome FIFA's constant exchanges with different stakeholders including Member Associations, NGOs and experts in this regard to discuss and adjust its approach and initiatives accordingly.
How do you look back on Mr Infantino's recent visit to South Africa? How successful was the "executive summit" meeting in Johannesburg in February? Can you tell Newsweek's readers of any of the details discussed in the meeting? Were African football leaders happy with what they heard from Mr Infantino?
To date within the first year of his office, Infantino has visited about ten African countries. His recent visit to South Africa for the FIFA Executive's Summit was a success. Clearly African football leaders were content with this unprecedented consultative initiative which enabled [Africa's] Association's presidents and secretaries to engage directly with the FIFA President and Secretary General. More such meetings are necessary in order to put associations in real control of the game.
How important is the upcoming CAF Presidential election in determining the direction of African football? Can you say who you thinks is the best man to take CAF forward, Issa Hayatou or Ahmad Ahmad, and why?
The CAF elections, like those of other FIFA Confederations, are important for football democracy in particular and FIFA governance in general. My personal view as to who should be the next CAF President is unimportant. What is vital regarding those elections is that the victor [should create] a more united, much stronger and more developed game of football in Africa.
What is your opinion of Infantino's recent visit to COSAFA chairman and Zimbabwe FA president Dr Philip Chiyangwa, and his subsequent visit to Ghana? Are accusations of "meddling" in African football politics unfair?
Mr Infantino's acceptance of the invitation to Zimbabwe from the new COSAFA President or his visit to Ghana and other African countries, should not be misconstrued. A FIFA President who does not interact with FIFA Associations officially or socially can be seen as aloof. Gianni is correct to travel around world and be on the ground rather than being deskbound.
How do you view the progress that Russia has made towards tackling racism? A few days after the decision to disband FIFA's anti-racism task force in September 2016, a banana was thrown onto the pitch in a Champions League match in Russia. What can FIFA do in the next year to make sure the 2018 World Cup is not blighted by racist incidents?
It is a positive step that Russian football has acknowledged that there is a problem with racism. In this light the Russian Football Union has appointed an inspector against racism. Although much still needs to be done, this is a commendable step. FIFA is maintaining contact with the Russian Football Union and the Russian authorities to ensure that the 2018 World Cup is a success in this regard. My personal experience with Russian authorities is that of intolerance to racism. The actions of hooligans and occasional racists in football should not be used to discredit an entire society; at the same time football and government leaders must always be seen to act resolutely.
You have a prominent position at FIFA as chairman of the FIFA Monitoring Committee Israel-Palestine. What have your visits to the region showed him about what needs to be done to establish peace? How has football been affected by the conflict? Can football play a role in showing the roadmap towards peace, if so how?
In my role as chairman of the FIFA Monitoring Committee and through various travels into the Middle East, I am more convinced that football, in its own humble ways, as it has done in other instances, in other parts of the world, can play a role in bridge-building across the divide and fostering good neighborliness for peace amongst nations. It is disheartening to see tensions and conflicts in certain parts of the world like that between Israelis and Palestinians. The FIFA Monitoring Committee on Israel-Palestine shall be tabling its final report on this question to the FIFA Council before the next Congress in order for FIFA to make a final determination regarding the free playing of the game of football in that part of the world.
What are the biggest challenges Infantino faces in the run-up to the 2018 World Cup in Russia? Do you feel FIFA has regained trust or can regain it in the eyes of the public? And would you consider running again for FIFA president?
The biggest challenge that Mr Infantino faces in the run up to the 2018 World Cup is that this will be his first World Cup as a FIFA president. As he was the top Executive at UEFA over a period, he is well positioned to draw on this testing European Football experience for the organization of the global football event. Having myself been a member of the 2010 FIFA Local Organising Committee, I am aware of the huge burden upon the shoulders of a FIFA president in leading the organization and administration of such a global event. Mr Infantino's fallback shall be the support he receives from his administration, the FIFA Council, the FIFA Organising Committee, Local Organising Committee in Russia itself as well as the Russian government authorities. The question of making myself again available for election to the FIFA presidency at the next congress is of no consequence. Gianni is doing a good job. My commitment lies in continuing to being part of a unified, stabilized and well managed FIFA for the sake of football. The saying goes: If it ain't broken don't fix it!