'Told Her to F**k Off': Man Backed for Leaving Niece 'Stranded' at Airport
Online commenters praised a man who recently left his 19-year-old niece "stranded" at the airport after she purposely missed her flight.
The man, posting under a throwaway account, shared his story in Reddit's "Am I The A**hole?" forum on Friday where it has received more than 6,800 upvotes and over 1,100 comments from supportive Redditors who applauded him for teaching his niece an "important" life lesson.
It also sparked a conversation about student visas.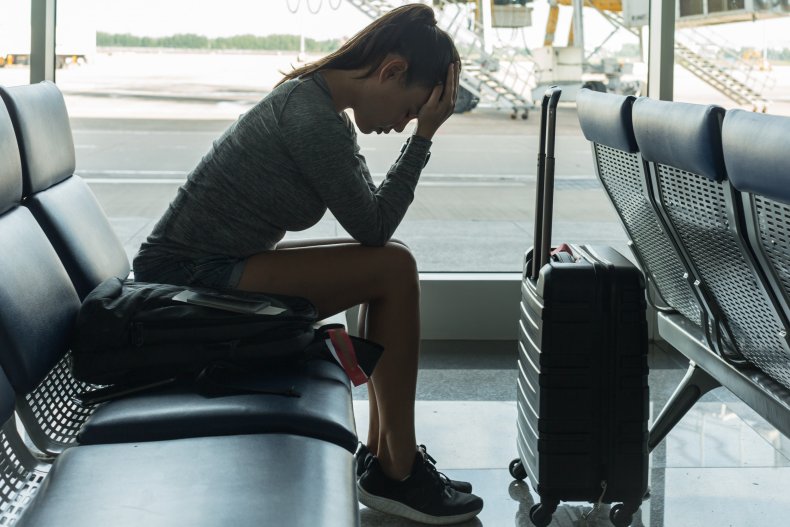 The Post
The man explained that he and his partner Lana moved away from their "home country" five years ago, though he won't disclose where he and Lana currently reside nor where they are originally from.
"Two years ago, my niece Lexie decided to study [at] a university in my city, so I offered to house her so my half-brother wouldn't have to pay extra expenses on top of her tuition, or stress over her living with strangers," he continued.
Lexie's program ended a few weeks ago, but rather than send her home immediately, her uncle let her extend her stay so that she could enjoy the city "without the stress of school." Now, Lexie doesn't want to leave.
"Thing is, [Lana and I] are tired of her. We want her to leave...so we told her that we were sorry, but we couldn't house her anymore," the man explained. "She didn't take this well and offered to pay us for rent, or split the bills, but money was never the issue."
Eventually, they convinced Lexie to go home, so she packed up her things and let her uncle drive her to the airport. A few hours later, however, Lexie called her uncle to let him know she "missed her flight."
"I could tell from her smugness that she missed her flight on purpose, so I asked her and she got defensive and started rambling about how it was my own fault that she was forced to do this and that I should've just let her stay. I told her to f**k off and left her stranded," the man recalled.
Lexie is currently residing in a hotel, and the man's family has asked that he fly back home with her to ensure that she doesn't "miss" her flight again, but he refuses.
"I told them that I've already done more than enough," he said. "AITA?"
Many commenters asked the man about the status of Lexie's visa, saying he could call immigration services to force her out of the country. He told commenters he'd look into her status, but hasn't provided any further updates on the matter.
Student Visas
Even though the man never said where he resides, those in the U.S., however, should note that there are two different types of student visas—F-1 and M-1 visas.
"The F-1 Visa (Academic Student) allows you to enter the United States as a full-time student at an accredited college, university, seminary...or other academic institution or in a language training program," according to the U.S Citizenship and Immigration Services (USCIS).
"You must be enrolled in a program or course of study that culminates in a degree, diploma, or certificate and your school must be authorized by the U.S. government to accept international students," USCIS continued.
M-1 visas, on the other hand, are for those wanting to participate in vocational or other non-academic programs.
Nolo, an online legal encyclopedia, explained that M-1 visa holders must typically leave the country after a year, whereas F-1 visa holders must leave within 60 days of completing their program. Of course, an F-1 holder may stay longer if they are approved for temporary employment.
Those who stay beyond their visa period risk losing their eligibility to change, extend or adjust their visa status.
Reddit's Reaction
Commenters largely agreed that the man was right to leave Lexie stranded and applauded him for teaching her an "important" lesson.
"NTA [not the a**hole]...She chose to miss her flight on purpose. She tried to take advantage of your generosity. After housing her for so long, you deserved better than the way you're being treated. Stand your ground—Lexie made a foolish choice and is now paying the price for it," u/DeterminedArrow wrote.
"NTA, not a child, and telling that grown a** woman to f**k off was hilarious," u/Matt-McCormick said.
u/idiotforcheese added: "NTA—I don't see how any of this is your problem. Seems like this is an important life lesson for your niece."
Newsweek has reached out to Lexie's uncle for comment.
Other Viral 'AITA' Posters
Redditors criticized a father on Friday for being angry about his son's "secret" nose job.
Meanwhile, commenters also panned a bystander on Wednesday for threatening to call the police on a group of women exercising in a "family park."
And on Monday, a woman received widespread support for refusing to take in her younger half-sister, whose parents were killed in a car accident.