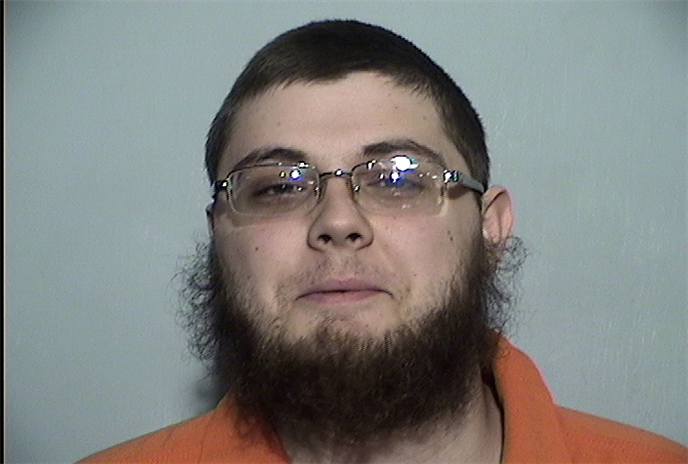 He flirted with martyrdom from the safe confines behind a computer screen, claiming he was on a mission to complete a "virtual jihad." Then the Pittsburgh synagogue shooting happened.
Damon Joseph, 21, of Holland, Ohio, was arrested on Friday by members of the Joint Terrorism Task after allegedly planning to commit jihad by targeting a Toledo, Ohio, synagogue and slay a rabbi and potentially others with AR-15 style rifles, authorities said.
If convicted, Joseph could face up to 20 years in prison for attempting to provide material support to ISIS.
The bust of the alleged ISIS-inspired terrorist dovetailed with the arrest and charging of Toledo woman Elizabeth Lecron, 23, who was hit with bomb-making charges for her desire to attack a farm "that raises pigs or cows."
The woman's case, where an affidavit suggests she pined to commit "upscale mass murder" at a Toledo bar before she was nabbed, claimed she revered Columbine School killers Dylan Klebold and Eric Harris (she even took a field trip to the school's campus).
She also allegedly corresponded with Charleston, South Carolina church mass murderer Dylann Roof.
In one letter, documented in the affidavit, the accused domestic terrorist was asked by Roof, holed up on Death Row in Indiana, asking her to "mail him several books about civil uprisings and the Nazis."
Lecron left a motivated salutation in one letter to Roof back in October writing: "Stay strong, Storm. You have a lot of people that care for you beyond those walls."
Meanwhile, Joseph allegedly landed on the feds' radar when his wandering on the web became steadily more craven.
There were some postings of ISIS-inspired propaganda snaps he allegedly took depicting knives and weapons "on one of his social media accounts," an affidavit reviewed by Newsweek read.
The document goes on to suggest Joseph allegedly uploaded other images of himself sporting a ring with an Arabic screed found on the ISIS flag that translated to "Allah, messenger, Muhammad."
And he also allegedly took selfies; one featuring him donning a private security officer's uniform, and another of him making a "tawheed" or hand gesture "used by ISIS to affirm the Oneness of Allah."
The purported convert to Islam confided in an undercover FBI employee about taking his "allegiance" to Abu Bakr al-Baghdadi, the ISIS leader, and freely admitted he didn't have much love for infidels.
When queried by an undercover employee whether Jespeh felt hate for people in the United States, Joseph replied: 'Oh definitely. The gays, the Christians, the Catholics, the Jews—you name it,'" FBI Acting Special Agent in Charge Jeff Fortunato said during a Monday press conference.
All the while, Joseph's confidence swelled. He allegedly started to confide in an undercover, whom he believed held sway in the ISIS terrorist network ranks.
"I don't believe in the sugarcoated watered down Islam a lot [sic] of Muslims of the West [sic] follow," he wrote, according to the affidavit.
Joseph and the undercover allegedly took their conversations to "alternate social media applications" back in September and forged a closer bond.
They kicked around ways to help ISIS from Ohio.
Joseph proposed supplying the group with his graphic design skills and explained to the undercover that his mission was to get "any jihad we can," and adding that his was a "virtual jihad."
But soon, the leanings to affect change from the cyber world bled fast into the physical one.
Authorities say Joseph batched a few charged videos. One featured a sermon delivered by Anwar al-Awlaki, the Yemeni-American cleric who in 2011, was slain in a drone strike.
Joseph believed his videos, the document suggests, were meant to "inspire and encourage… brothers in the West."
They also were to break a dry spell in ISIS mass murders and to generate greater radicalization.
"I know there hasn't [sic] been an attack here lately I've [sic] been waiting," he allegedly wrote to the undercover of the death lull.
The alleged felon, who the FBI stated he was unable to carry or purchase firearms or ammunition due to a "violent charge in his past" also mentioned he didn't care, and carried protection.
"It's [sic] not safe to be Muslim [sic] in U.S. [sic] either that's why I [sic] make sure I [sic] carry a weapon at all times," he allegedly wrote.
It seemed at first when asked by the undercover if he would go out on a "physical jihad" -- Joseph replied that he wasn't ready.
"I don't think I'm the one for that… at least not at this point in my life," the affidavit states.
Then, October closed out with a rampage inside Pittsburgh's Tree of Life Synagogue back in October, where 11 people died and six others wounded. Robert Bowers, 46, has since been charged in the mass shooting event.
The incident seemed to embolden the young man to adopt a harsher, more gung-ho stance.
"I know in the Quran it says do not attack a place of worship," he allegedly informed the undercover. "My opinion is the Jews are evil and they get what's coming to them."
His fervor to shed the "virtual jihad" and turn to what Fortunato described as "attack planning" became more apparent.
"I'm fantasizing [sic] but i seriously could see myself doing something similar to that," he wrote of the synagogue slaughter.
While he caveated that he was "speculating" Joseph allegedly claimed that the synagogue shooting spree was "what my physical jihad would be."
By November, Joseph was mooning over Bowers' bloodwork.
"I admire what the guy did with the shooting actually," he allegedly explained to the undercover.
Fortunato claimed Joseph "transitioned to attack planning" and he wasn't Joseph any longer but adopted the nom de guerre "Abdullah Ali Yusuf."

The recoiling becoming less and less.
"I can see myself carrying out this type of operation," he wrote. "They wouldn't [sic] even expect it in my area.
"I'm [sic] fantasizing [sic] but i seriously could see myself doing something similar to that."
Authorities say Joseph started to furnish the undercover with a "draft plan which outlined general operational and logistical considerations for an attack" to complete a "solo mission" and attack two synagogues in Toledo, Ohio -- even kicking around the arms he wants to carry it out.
"A pistol is concealable, but a rifle would be convenient . . . I'm pretty knowledgeable on weapons. . . So I know how to handle a firearm and firearm [sic] safety," he allegedly wrote to the undercover.
His motivation?
To take out a Jewish holy man.
"Joseph stated that it would be ideal to attack two synagogues, but probably more realistic to only attack one," the affidavit states, noting that he researched the soft target addresses. "[He] stated that he wanted to kill a rabbi."
What's more, the document states that Joseph solicited for a pair of AR-15s and was determined to unleash the terror on the Jewish Sabbath "so that more people would be present at the synagogue."
In the process of neutralizing Joseph's alleged jihad, authorities point to a numbered list that he allegedly jotted on Dec. 2, titled "Abdullah Ali Yusaf's plan."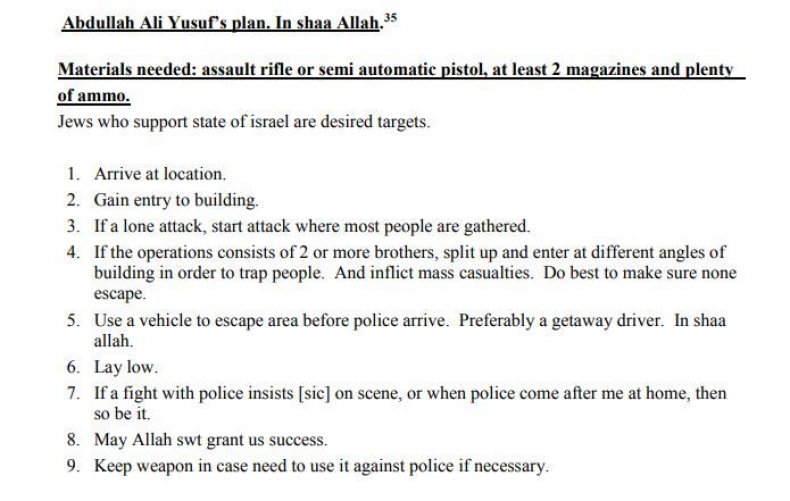 And in Joseph's crosshairs, according to the affidavit: "Jews who support Israel [sic] are desired targets."
The plan was for him to arrive at the location and "if a lone attack, start attack where most people are gathered."
Almost idealistic, Joseph considers that he won't be alone. That if there are two or more joining him in the attack on the synagogue, they should "split up" and "trap people," and "inflict mass casualties."
The plan included a getaway car and to "lay low."
But if authorities engaged or spotted him, Joseph allegedly refused to back down.
"If a fight with police insists [sic] on scene, or when police come after me at home, then so be it… Keep weapon in case need to use it against police if necessary."
Fortunato emphasized that the mass homicide Joseph was allegedly planning in the house of worship was likely to feature a shootout with authorities.
"He would shoot at law enforcement and not surrender," the lawman stated today.
Two days later, Fortunato recalled that on Dec. 4, Joseph explained that the more victims the better. "Which one will have the most people, what time and what day," he allegedly wrote. "Go big or go home."
And with what Fortunato described as a "killing mindset" Joseph planned to "begin the attack in the sanctuary" of the synagogue.
On Dec. 7, the sixth day of the Jewish holy day of Hanukkah, the undercover and Joseph were to meet and once Joseph took hold of a black duffel bag with two AR-15-style rifles (they were actually "demilled" and rendered completely inert before the exchange) was arrested, the document reads.
Once in custody, Joseph allegedly waived his Miranda rights and "provided an oral statement" and "detailed his plans for the attack, and his intent to cause mass casualties in support of ISIS," according to the affidavit.
Joseph appeared in court to be formally charged and the U.S. District Attorney for the North District of Ohio confirmed that they will present evidence to a Grand Jury in the next 30 days.
Meanwhile, Elizabeth Lecron, named the 23-year-old, in a sting for attempting to buy black powder and screws to create a pipe bomb, was charged with one count of transportation of explosives and explosive material for the purposes of harming others and property.
Justin Herdman, United States Attorney for the Northern District of Ohio, called the case against the alleged environmental activist as a deceptive brand of domestic terrorism.
"This defendant bought black powder and hundreds of screws that she expected would be used to make a bomb, "Through her words and actions, she demonstrated that she was committed to seeing death and destruction in order to advance hate."