Tom Arnold Tells Donald Trump He's Filing Charges Against His 'Best Bud' Mark Burnett
Following a reported altercation between Tom Arnold and Mark Burnett at a pre-Emmys party Sunday, Arnold tweeted at President Donald Trump he is filing charges against the Apprentice producer.
"Sitting in West LAPD filing charges against your best bud Apprentice Outtakes Mark Burnett who lost his mind, attacted & chocked me last nite at Katzenberg's Night Before The Emmy's Party," he wrote. "Last fight I got into there was with Harvey Weinstein. Mark Burnett is scared:) #TrumpTapes."
Arnold wrote this in reply to Trump's most recent tweet Monday. "Immediately after Comey's firing Peter Strzok texted to his lover, Lisa Page 'We need to Open the case we've been waiting on now while Andy (McCabe, also fired) is acting," the president wrote. "Page answered, 'We need to lock in (redacted). In a formal chargeable way. Soon.' Wow, a conspiracy caught?"
"Mark Burnett just went apes**t & choked me at this huge Emmy party then he ran away with his torn Pink shirt & missing gold chain," Arnold tweeted Sunday. "I'm waiting for LAPD."
The Los Angeles Police Department knew about the claims of an altercation, The Hollywood Reporter wrote Monday. Burnett "attacked" the actor, Arnold's lawyer, Marty Singer, reportedly told the publication.
Arnold also mentioned filing a police report in reply to a tweet from Burnett's wife, Roma Downey. "Got this bruise tonight when Tom Arnold tried to ambush my husband Mark and me at a charity event," she wrote Sunday. "Is your TV show worth it Tom? Please stop."
"Bulls**t," Arnold tweeted to her. "You lie your crazy husband attacked me you psycho. I'm filing police report & suing you for defamation."
He also called Kevin Bacon "a solid reliable brawl witness" on social media, and Bacon was not the only one to see the altercation. "Walked n2 party behind Tom Arnold and saw him & Mark Burnett get into a fight," actor Alyson Hannigan wrote on Twitter and added she didn't know it wasn't a joke until security became involved.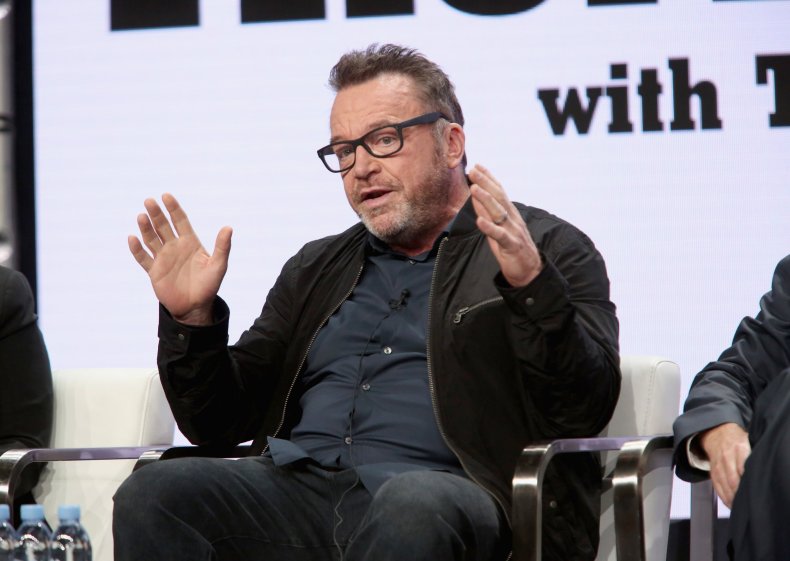 The TV show to which Downey referred is Arnold's The Hunt for the Trump Tapes, premiering Tuesday on Viceland. The series will "follow the search for the truth behind the many rumored and potentially damaging recordings of President Donald Trump," according to its official site. Burnett allegedly has some of those tapes, according to Arnold.
"I would love Mark Burnett, who sits at the prayer breakfast with [Trump], … to stand up and say, 'We had to cut out all the lies, sexual harassment and incompetence," Arnold said, according to THR in July. "He sits next to Donald Trump and gives him cover. He never says one word. Mark Burnett says he's a Christian, and he lets that man do all that bulls**t and he let a sexual harasser work on his show."