Tom Arnold Slams Ex-Wife Roseanne Barr for Tweeting 'Nazi Salute' at Parkland Survivor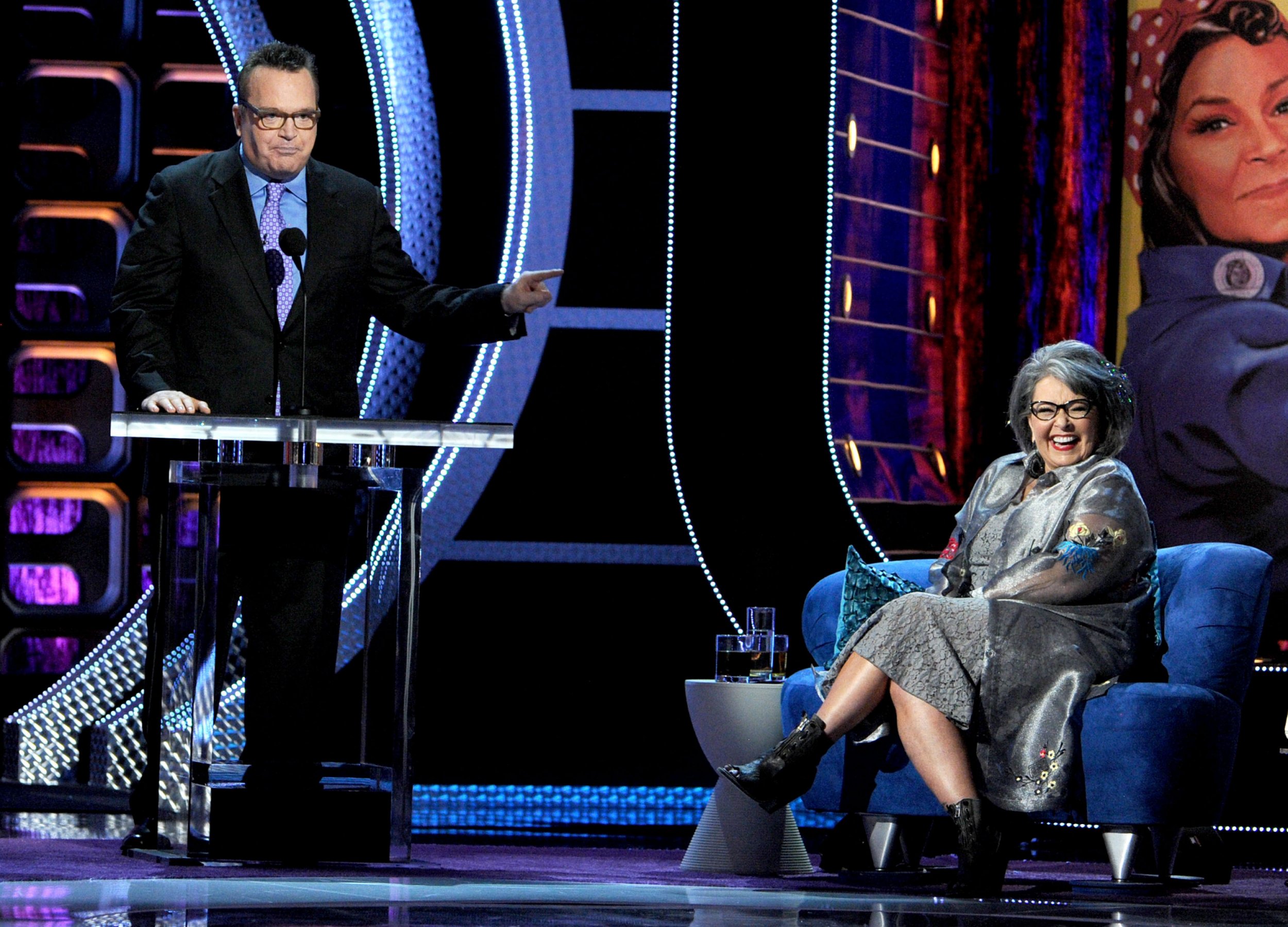 Roseanne Barr's ex-husband has a suggestion for the rebooted Roseanne series: write an episode about "the lies and cruelty" its star represents.
Tom Arnold—a 59-year-old comedian best known for his role opposite Arnold Schwarzenegger in 1994's True Lies—was married to Barr from 1990 to 1994. In a tweet posted Friday, Arnold wasn't so much pitching an episode as he was criticizing Barr's politics, which were evident in the revived ABC series that premiered Tuesday. Despite her former liberal leanings, Barr's titular character revealed in Tuesday's episode that she's a Trump supporter. In real life, Barr is a Trump sympathizer and frequently tweets (then deletes) pro-Trump messages.
Arnold slammed his ex-wife and her new show on Twitter, calling out "the lies and cruelty she and Trump represent." This, according to Arnold, includes the mistreatment of immigrants, mistreatment of transgender people, calling Hillary Clinton a pedophile and a murderer, calling Barack Obama a Kenyan and a Muslim, and accusing survivors of the recent Florida school shooting of being Nazis.
Arnold's mention of the Parkland survivors is a reference to a tweet Barr sent out and then deleted Tuesday, according to a report from BuzzFeed. Barr replied to a tweet about Parkland survivor David Hogg and wrote, "NAZI SALUTE." Barr tagged Hogg in her tweet. She soon deleted the tweet, but followers did screenshots of it.
Barr tweeted out a correction Wednesday on her tweet to Hogg, stating that she'd seen a doctored image of the student altered to make it look as if he was giving the Nazi salute. However, other screenshots of Barr's tweet seem to suggest she replied to the original photo of Hogg, where he is simply raising his fist.
The original photo of Hogg was taken at the March for Our Lives rally on March 24 in Washington, D.C. Millions across the nation participated in similar protests that day to call for an end to gun violence.
Before Barr's tweet and before Roseanne's premiere on ABC, The Hollywood Reporter published a guest review Monday of the rebooted sitcom from Arnold, who was a writer on the original series until he was fired by Barr in 1994, the year the couple divorced. Despite his acknowledged bias, Arnold gave the reboot a positive review, praising the writing and the actors' performances. However, he criticized Barr's decision to make her character a Trump supporter.
"I can forgive Roseanne Conner voting for Trump in 2016," Arnold wrote. "But Roseanne Barr knew Donald Trump personally for 30 years and saw how he treated women.... Roseanne Barr made $200 million off Roseanne Conner, so I'm a little disappointed she doesn't have her back."