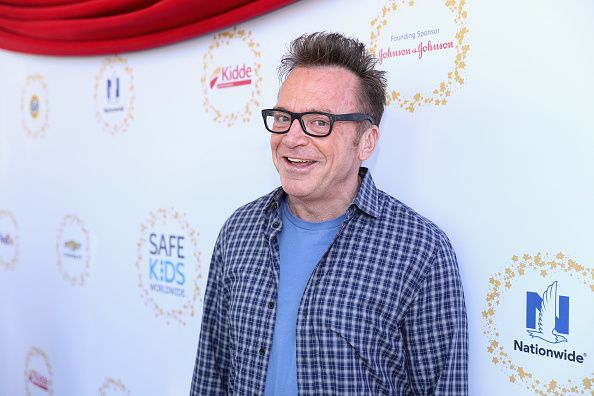 Tom Arnold wasn't kidding around about taking down President Donald Trump. However, his efforts to expose whatever dirt he may have on Trump on his new Viceland show won't include any help from Trump's former personal lawyer Michael Cohen.
In an interview with CNN's Poppy Harlow on Friday, Arnold answered "yes" when asked if he has any tapes of Trump that the public hasn't already seen. "We have lots of things," he said of the tapes expected to be used on his new show, The Hunt For the Trump Tapes.
Arnold didn't detail any specific information that would be revealed about Trump on his show but referenced Trump's behavior on his former reality series, The Apprentice. "If you see, for instance, one full day on the boardroom set of The Apprentice, one full day, and you see how incompetent he was," Arnold said.
The comedian also remained mum when asked about Cohen's cooperation in the current investigation of his financial dealings. After bouts of staring awkwardly into the camera and remaining silent for extended periods of time, Arnold said the subject was "too important to me to f around," and shifted the conversation back to the tapes.
"And we're having fun with these Trump tapes, but this is serious to me and I'm not f-ing around," he continued before staring into the camera again, seemingly addressing the president directly and saying, "I'm spending the weekend hanging out with Michael Cohen, and there's a lot going on."
He added: "You've disrespected him and his family and there's a lot going on
As for Cohen's actual involvement in Arnold's latest venture, the attorney says has no role in it.
Arnold later clarified his comments on Twitter on Friday, writing that Cohen never actually told him they should team up to take down Trump. "Michael has enough Trump on his plate. I'm the crazy person who said Me & Michael Cohen were teaming up to take down Trump of course. I meant it. Michael doesn't get paid by Vice #thehuntforthetrumptapes," he wrote.
Not long after the interview Cohen took to Twitter to deny having anything to do with Arnold's crusade on Trump. "Appreciate @TomArnold kind words about me as a great father, husband and friend. This was a chance, public encounter in the hotel lobby where he asked for a selfie. Not spending the weekend together, did not discuss being on his show nor did we discuss @POTUS. #done #ridiculous," Cohen wrote.
Speculation on Cohen's affiliation with Arnold's show first surfaced after Arnold posted a photo with Cohen on Thursday and later teased their plans to take "Trump down together" while appearing on NBC News on Friday. During the interview, Arnold also claimed Cohen, who is currently under investigation for his financial handlings, had "all the tapes" on Trump.