Comedian Tom Arnold declared he and former personal attorney to President Donald Trump, Michael Cohen, have teamed up to bring down his presidency.
The actor and ex-husband of Roseanne Barr has been on a renegade vendetta against Trump as he's been putting together a Viceland TV series called "The Hunt for the Trump Tapes with Tom Arnold," not set to premiere until September 18. On Tuesday, as Cohen reportedly struck a plea deal with federal prosecutors in New York, Arnold shed more light on a cryptic photo he'd posted in June showing he and Cohen posing together.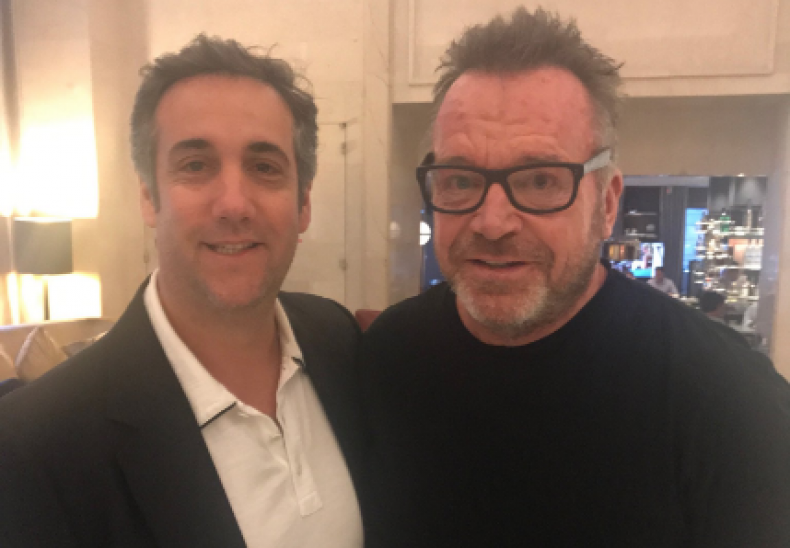 "And today is only the end of Act 1 'Me & Michael Cohen are taking down Donald Trump' @realDonaldTrump," Arnold tweeted Tuesday afternoon. Arnold purports to have the inside story of Cohen's decision to flip on his former boss. In the latest trailer for his upcoming Viceland show, Arnold said he's known Trump for more than 30 years.
It's unclear if Cohen's plea deal regarding campaign finance violations and other charges would oblige him to implicate Trump in the Special Counsel Russia investigation being led by Robert Mueller. But Arnold's arduous search for the "Trump tapes" has repeatedly teased snippets of provocative information, including that Trump can be heard using the n-word "multiple times" on the set of the The Apprentice.
Penn Jillette, who was a contestant on Celebrity Apprentice, confirmed to media outlets that he's heard "racially insensitive" comments from Trump during filming of the TV series. Arnold has also claimed he's seen a tape in which Trump refers to his son Eric as a "retard."
In June, Arnold told NBC News "Cohen has all the tapes...I say to Michael, 'Guess what? We're taking Trump down together, and he's so tired he's like, 'OK,' and his wife is like, 'OK, f*** Trump.'" In addition to Cohen, trailers for his upcoming Viceland show appear to have him sitting down with former White House Director of Communications, Anthony Scaramucci.