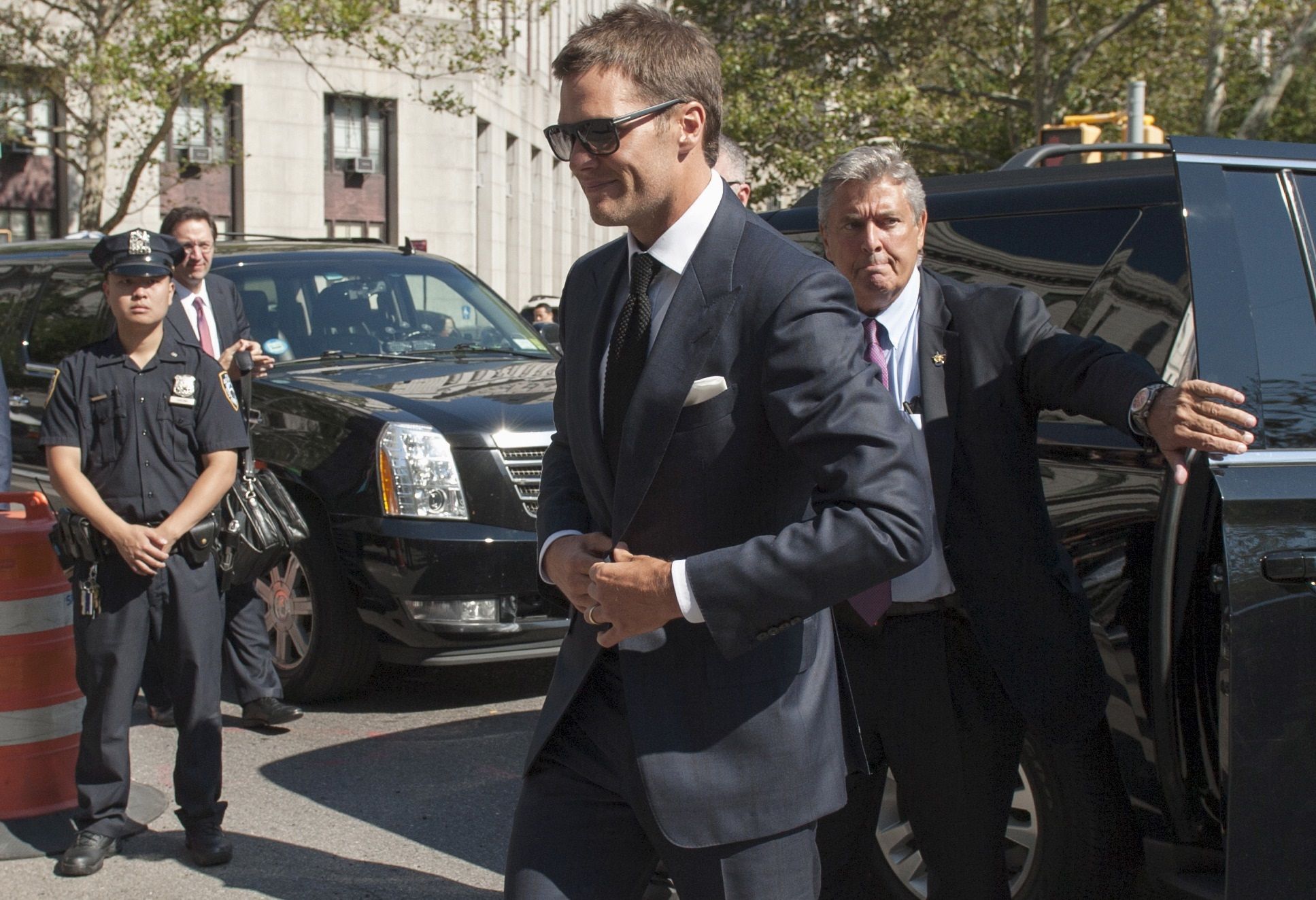 Deflategate has reached federal court.
NFL Commissioner Roger Goodell and New England Patriots quarterback Tom Brady met in a New York City courtroom on Wednesday for the first hearing of the star player's lawsuit related to Deflategate.
With support from the National Football League Players Association, Brady filed legal action against Goodell and the NFL for the four-game suspension he received for his involvement in the deflation of footballs during a playoff game in January. The NFL had determined that Brady was aware of team staffers releasing air from their game balls in their win over the Indianapolis Colts, a key game which sent them to the Super Bowl. But the suit claims Brady's punishment wasn't fair and consistent.
In court, U.S. District Judge Richard Berman said there are varying strengths and weaknesses to both sides, the Associated Press reported. Berman had urged them to reach a settlement before Wednesday. He mentioned that similar civil cases usually don't go to trial because they are settled or a judge rules.
As he gave both sides a chance to state their cases, Berman pressed NFL lawyer Daniel Nash for direct evidence linking Brady to deflating footballs.
By the early afternoon, Berman declared the end of the public part of the hour-long hearing. He then was scheduled to meet privately with Brady and Goodell to continue the discussion.
An expedited process could resolve the issue as early as September 4.
About the writer
Michele Gorman is a Newsweek political reporter, with a focus on gun policy. She previously worked at msnbc.com, where she independently produced the MSNBC original franchise, "Too Young to Die." Michele's work also has appeared in The Boston Globe and Williamsburg Greenpoint News+Arts, and on Boston.com. She was a production coordinator for NBC News's Decision 2012 coverage. Michele graduated from Northeastern University with a bachelor of arts degree in journalism. A native of Massachusetts, she roots for the Boston Red Sox and now lives in enemy territory.