Tom Brady Broke Another NFL Record for Patriots Against Bills
Tom Brady didn't need to be at his best to set an NFL record.
Brady went 21-of-30 passing for 258 yards en route to his 27th career victory over the Buffalo Bills as the New England Patriots won 23-3 on Sunday for their eighth straight victory.
Brady, whose lone blip on the day was an interception, broke Brett Favre's NFL record for most wins against a single opponent. Brady has won 14 of those games in Buffalo, tying former teammate Drew Bledsoe for the most by a quarterback at New Era Field (formerly Ralph Wilson Stadium) since 2001. He now owns 12 different NFL records, according to SBNation.com.
Brady also joined Favre, Peyton Manning and Drew Brees as the only NFL quarterbacks with at least 65,000 career passing yards.
The Patriots (10-2) gained 191 of their 435 yards on the ground in reaching double-digit victories for the 15th straight season.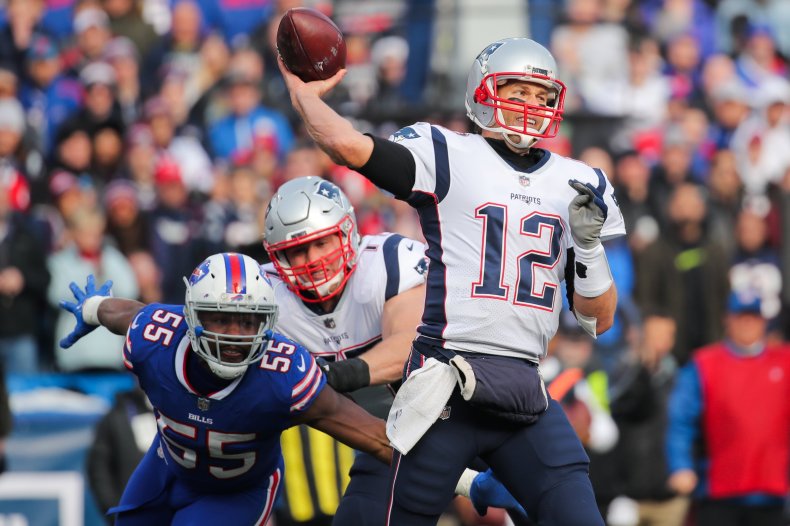 "We were just focused on winning this game," Patriots head coach Bill Belichick said. "All the rest of it, all the historical stuff, doesn't really matter right now. It's about this season, about this game and about getting ready to go down and play Miami on Monday night. We'll reflect on that some other time."
Rex Burkhead rushed for 78 yards and two touchdowns and Dion Lewis rushed for 92 yards. Tight end Rob Gronkowski, whose late hit on Bills cornerback Tre'Davious White with the game well in hand in the fourth quarter may net him a fine or suspension, caught nine passes for 147 yards.
New England did not score a touchdown in the first half for the first time this season and Brady showed his frustration by shouting at offensive coordinator Josh McDaniels after the Patriots' first field goal.
"It's just football," Brady said. "We've been around each other a lot. I love Josh."
The Bills (6-6) lost for the fourth time in five weeks and now trail the Patriots by four games in the AFC East standings. Buffalo also lost ground in the wild-card race as it tries to end the longest postseason drought in North American sports at 17 seasons.
Bills quarterback Tyrod Taylor was carted to the locker room with a knee injury early in the fourth quarter and did not return. Taylor completed 9-of-18 passes for 65 yards and an interception. He ran for 32 yards on three carries and was sacked three times.
Buffalo's last two first-round draft picks, White and defensive end Shaq Lawson, also left the game and did not return. Lawson was carted to the locker room in the third quarter with a knee injury.
White was evaluated for a head injury after intercepting Brady late in the fourth quarter. Gronkowski drove his shoulder into White as he lay face down on the turf after the whistle and was penalized for unnecessary roughness.
"I understand flames are going, heat of the battle, but there is no room in this league for that type of crap," Bills safety Jordan Poyer said. "To me, it was blatant. He WWE'd him. It's like he was in the wrestling arena again."
Gronkowski apologized to White in his postgame remarks.
"I was just really frustrated at that moment," Gronkowski said. "I don't really believe in those type of shots."
Rookie Nathan Peterman replaced Taylor and led the Bills to the 1-yard-line on his first series before turning the ball over on downs. Peterman finished 6 of 15 for 50 yards in three series.
Bills head coach Sean McDermott said Taylor got hurt on the first play of the game, but continued to play. His status going forward is uncertain.
"He was in pain," running back LeSean McCoy said. "You could see it on his face. It shows you a true warrior."
McCoy had 93 of the Bills' 183 rushing yards.