Tom Brady Claps Back Over 'Old Man' Comment After Slipping During Game
Tampa Bay Buccaneers quarterback Tom Brady has clapped back at a comment made on social media that suggested he was "too old" to be playing in the NFL.
The 45-year-old was in the process of leading the Bucs to victory against the Seattle Seahawks when he slipped while running a route as a wide receiver.
The Bucs playing the Seahawks at a packed Allianz Arena in Munich for the first-ever NFL regular season game in Germany.
With the Bucs leading 14-3 in the third quarter, Brady lined up as a wide receiver and almost caught a pass from running back Leonard Fournette, when he slipped onto his back. which led to an interception by Seahawks cornerback Tariq Woolen.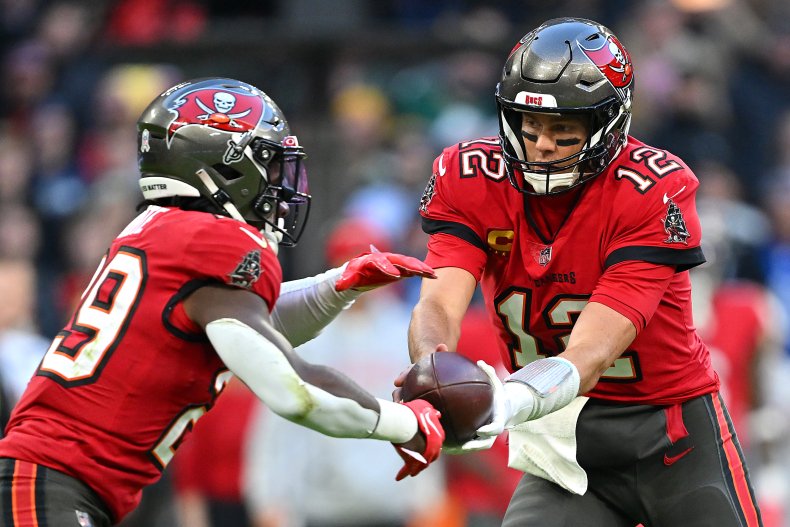 This led the Twitter account of Barstool Sports to share a video of the interception with its 4.5 million followers along with the comment: "Prob not a good idea to let a 45 year old man play WR."
Brady was not going to take this lying down, so to speak, and he shared the tweet, adding: "If I don't slip that's Randy over the top for 6..."
Of course, many people that had their views on what happened, and one referenced the problems of the cryptocurrency exchange that Brady promoted and invested in that collapsed at the end of last week.
They tweeted: "Man fell just as fast as FTX"
Another suggested that Brady would not have called out the tweet if the Bucs had slipped to defeat: "If you don't win, you don't tweet this lol."
A third was not upset that Brady tried the play but feels there needs to be a winning cushion before it is tried again.
They tweeted: "Brady I want to see you pull this off but make sure you have at least a 3 score lead just in case."
Meanwhile, a fourth pointed out that there would probably been a jump ball with the cornerback which would be a real mismatch.
They wrote: "Yea, no way Brady wins that jump ball anyways."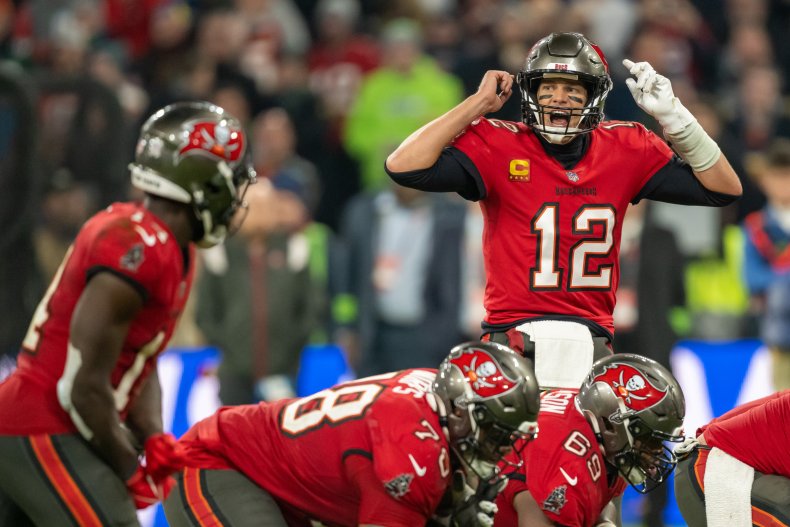 With the win, their second in a row after a horrible start to the season, the Bucs are 5-5.
Brady remains undefeated after games in the International Series after winning twice before, in London and Mexico City.
After the win in Munich, Brady was full of praise for the fans and the whole event.
He said: "It was a great atmosphere. It felt like a hyped-up game when we came out for warm-ups, so it was pretty electric.
"I hope the German fans got what they wanted."
It was one of Brady's better games this season, throwing for 258 yards and two touchdowns as the Bucs won 21-16 against the Seahawks.
Do you have a tip on a sports story that Newsweek should be covering? Do you have a question about the World Cup? Let us know via entertainment@newsweek.com.