Tom Brady's Daughter's Science Trick Impresses NFL Star: 'Don't Believe It'
Tom Brady has been impressed with a science-based "trick" that his 10-year-old daughter Vivian showed him while they were on a winter getaway.
The 45-year-old former NFL legend, who retired for the second time after the end of the recent season, is spending some downtime with his three children, whisking them away on a snowy vacation.
Brady shares Vivian and Benjamin, 13, with ex-wife Gisele Bündchen, whom he divorced in October after 13 years of marriage, as well as Jack, 15, his first-born son with ex-girlfriend Bridget Moynahan.
The former quarterback has shared a number of videos of his family time away on his Instagram Story, including an experiment by Vivian, who showed him how steaming water could quickly turn to ice when it meets the wintry conditions outside.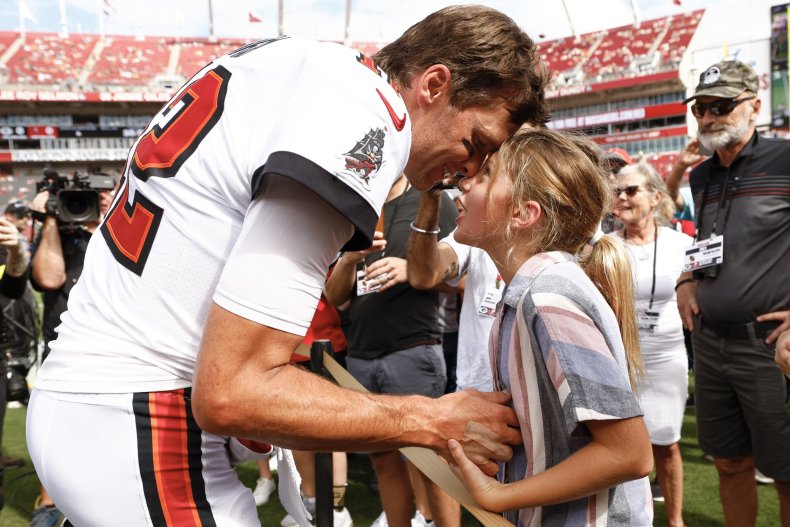 Brady admitted that he was impressed by the "trick."
The clip starts with Vivian by the door with a cup of hot water and Brady asking: "Viv, what do we got?"
Vivian replied: "This will turn into ice when I throw it up in the air."
Brady responded: "I don't believe it."
He had to believe it, though, and he sounded impressed with the results.
The seven-time Super Bowl champion then captioned a second video of Vivian performing the experiment, captioning it: "Science is fun."
Brady seems to have had a fun time with his kids as he posted clips of them sledding down snowy hills as he enjoys the first weeks of his retirement.
The break came at a good time for Brady, who was feeling some heat on social media following his comments about Janet Jackson's wardrobe malfunction during the halftime show in the 2004 Super Bowl.
Brady reflected on the incident on his Let's Go podcast alongside Larry Fitzgerald and Jim Gray, saying that the infamous moment Justin Timberlake ripped off a piece of material from Jackson's clothing that exposed part of her breast was good for the NFL.
The game saw Brady's New England Patriots beat the Carolina Panthers 32-29 to give him his second Super Bowl win.
He admitted to not watching the halftime shows when he was involved in a game but said about that day: "We came off the field and that was when we had the wardrobe malfunction with Justin Timberlake and Janet Jackson. [The media was] asking me about that. I couldn't even understand what they were telling me about. They said, 'Did you see the halftime show?' and I said, 'I didn't see anything.' I was thinking about the game.
"It took awhile for us to figure out exactly what had gone on.[...]I think in the end, it was probably a good thing for the NFL because everyone got to talk about it, and it was just more publicity and more publicity for halftime shows. Is any publicity bad publicity? That's what they say, so, who knows?"
Brady was slammed by many online for not appreciating Jackson's plight, with the singer saying previously that the incident adversely affected her career.
Do you have a tip on a sports story that Newsweek should be covering? Do you have a question about the NFL? Let us know via entertainment@newsweek.com.