Tom Brady Gushes Over Julian Edelman Connection as Edelman Retires From NFL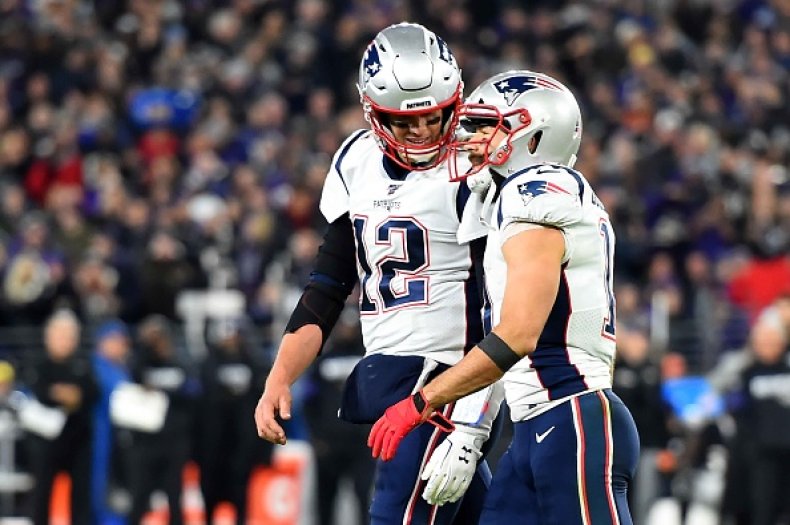 The greatest quarterback of all-time wasted no time congratulating one of his best-ever targets who announced his retirement Monday afternoon. Tom Brady and Julian Edelman connected a boatload of passes both in regular season and the playoffs, and they won three Super Bowls together while teammates for the New England Patriots.
Edelman announced his retirement Monday evening, and Brady thanked him.
"On the biggest stage and in the biggest moments, you always came through," Brady wrote on Instagram. "I was a witness to so much of the journey and am so proud of you and how you grew from 7th round underdog to an older 7th round underdog. The truth is, you never really grew up.
"You had an amazing football journey, an amazing life journey in New England, and I have no doubt you will succeed in anything you choose to do next."
Brady and Edelman connected for 530 passes in the regular season during their stretch of 2013-19, and they pass and caught for 111 more playoff tosses. Edelman, who had 36 receiving touchdowns with the Patriots, announced his retirement Monday night through a video.
"Nothing in my career has ever come easy," Edelman said on Twitter. "And no surprise, this isn't going to be easy either. I've always said, 'I'm a go until the wheels come off.' And they finally have fallen off.
"Due to an injury last year, I'll be making an official announcement of my retirement from football. It was a hard decision, but the right decision for me and my family. I'm honored and so proud to be retiring a Patriot."
Edelman's three Super Bowl rings in New England match just half of what Brady won with the Patriots. Last year, Brady went into free agency after 20 years and six Super Bowl championships with the Patriots. Brady signed with the Tampa Bay Buccaneers, and two months ago he led the Bucs to a title in their home stadium—the first team to ever do so.
Edelman played all 11 of his NFL seasons with the Patriots, most recently winning Super Bowl LIII MVP honors for his 10 receptions for 141 receiving yards in their win over the Los Angeles Rams.
Edelman, who is just 34, was drafted in the seventh round from Kent State. The former quarterback went on to become one of the most prolific players in Patriots history. He was never selected to an NFL Pro Bowl, but he still holds notable NFL marks like: second in postseason receiving yards (1,442) and receptions (118), Super Bowl records for punt returns (8) and first-half receptions in a single game (7).