Tom Brady will start the AFC Championship game against the Jacksonville Jaguars, despite a hand injury that limited his practice time for the Patriots on Wednesday.
How much that injury will affect Brady on Sunday against the Jaguars' AFC-best defense remains to be seen.
ESPN quoted an unnamed source "close to Brady" on Thursday morning who told them the quarterback, "could be affected slightly" during the game at Gillette Stadium. The 40-year-old was involved in a "minor collision" that hurt his right—throwing—hand on Wednesday, the website reported.
The Boston Herald first reported the story on Wednesday. "The hand injury that landed Patriots quarterback Tom Brady on the injury report is a new one," Karen Guregian wrote. Guregian said a teammate ran into Brady and "jammed" his throwing hand. Guregian published an update on Thursday morning, reporting that Brady had undergone an X-ray, revealing no structural damage.
Brady, like any NFL starter, is used to playing through knocks and soreness. The Jaguars, though, are built to exploit any kind of physical fallibility in a quarterback. ESPN noted back in November, when Jacksonville was still 4-3, how their pass rush is scary without the need to blitz. If Brady's throwing motion is affected at all, Jalen Ramsey and AJ Bouye lurk in the secondary as the NFL's most effective combination of ball-hawking cornerbacks.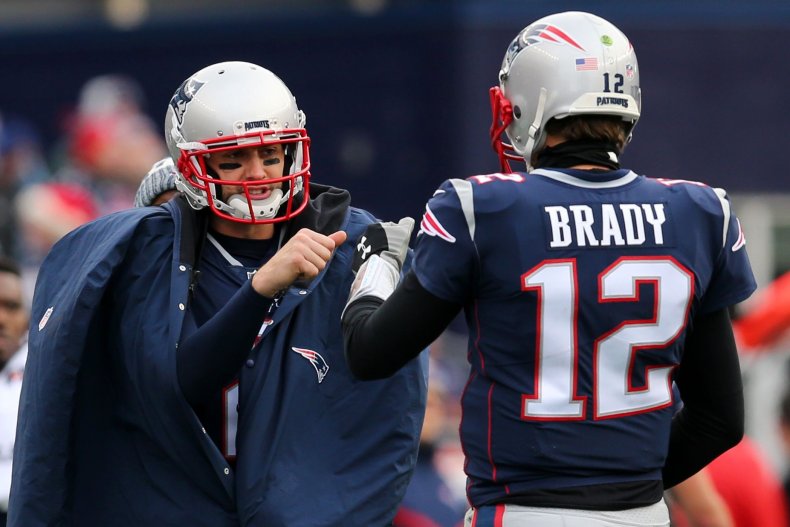 The Patriots are all-in on Brady, of course, since they traded Jimmy Garoppolo to the San Francisco 49ers at the start of November. Brady's backup is Brian Hoyer, the 32-year-old veteran who has appeared in one playoff game in his career, for the Texans against the Chiefs in a wild-card game on January 9, 2016.
"Houston's brief and hideous playoff run is curtains—with one man to blame: Brian Hoyer," began one of the more brutal NFL.com game reports of all time. "The Texans quarterback single-handedly sunk the ship in Saturday's 30-0 wild card loss to the Chiefs with a collage of unforgivable gaffes that deep-sixed one drive after the next for Bill O'Brien's lackluster offense."
The Niners Nation blog cackled with schadenfreude on Wednesday, imagining Hoyer starting a Conference Title game. "I realize this is all hypothetical land where it will not actually happen," David Fucillo wrote. "But the thought of breathless discussion on pre-game shows about the Patriots mistake in trading Garoppolo cracks me up anyway."
Brady will play. He'd better play, or the Jaguars could be headed to Super Bowl 52.
Uncommon Knowledge
Newsweek is committed to challenging conventional wisdom and finding connections in the search for common ground.
Newsweek is committed to challenging conventional wisdom and finding connections in the search for common ground.
About the writer
Sportswriter at Newsweek.