Tom Brady Slammed for Saying Janet Jackson Super Bowl Was Good for NFL
Recently retired sporting legend Tom Brady has been criticized for suggesting Janet Jackson's wardrobe malfunction in 2004 was "a good thing for the NFL."
The quarterback, who has been to his fair share of Super Bowls over the years, reflected on the incident on his Let's Go podcast alongside Larry Fitzgerald and Jim Gray.
In the now infamous moment, Justin Timberlake ripped off a piece of material from Jackson's clothing which exposed part of her breast. Broadcaster CBS was fined by the FCC for the incident, and Jackson and Timberlake both apologized for what was often referred to as "Nipplegate."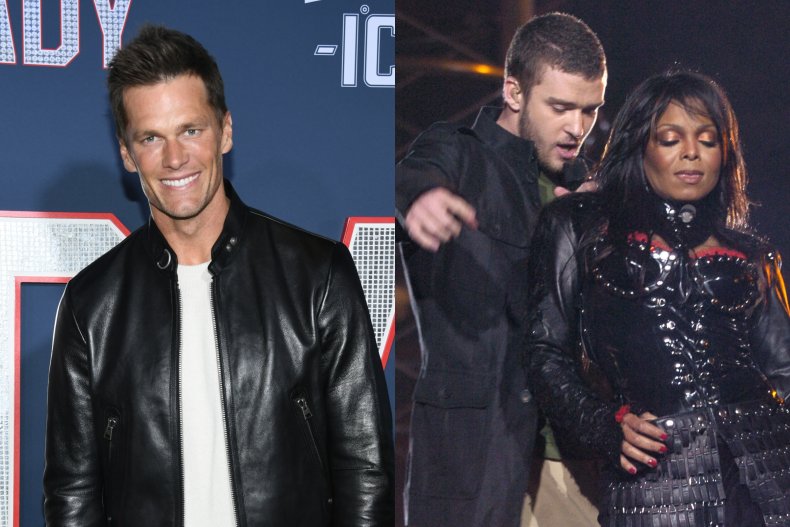 After voicing his opinion on the recent episode of Let's Go, Brady was widely criticized on social media for being so flippant about the effect the incident had on Jackson's career.
"I don't think he understands the amount of s*** she went through after that backlash," Twitter user @StevieDwayne wrote, deeming Brady's comment "too superficial and shallow."
The 2004 halftime show came in Super Bowl XXXVIII which featured the Carolina Panthers and New England Patriots. Brady won his second Super Bowl that day, leading his team to a 32-29 victory.
Admitting he didn't watch the halftime shows when he was involved in a game, Brady reflected on his experience from that day. "We came off the field and that was when we had the wardrobe malfunction with Justin Timberlake and Janet Jackson. [The media was] asking me about that. I couldn't even understand what they were telling me about. They said, 'Did you see the halftime show?' and I said, 'I didn't see anything.' I was thinking about the game," he said.
He continued, "It took a while for us to figure out exactly what had gone on [...] I think in the end, it was probably a good thing for the NFL because everyone got to talk about it, and it was just more publicity and more publicity for halftime shows. Is any publicity bad publicity? That's what they say, so, who knows?"
While the adage does go, there's no such thing as bad publicity, that may not have been the case for Jackson who has previously spoken at length about the effect the fallout had on her career.
Brady was slammed by many online for not appreciating Jackson's plight.
"It wasn't a good thing for Janet Jackson. She went thru a lot of bull.... After this...." wrote sports reporter Maliika Walker.
"Janet faced racism, misogyny, and ageism for this 'incident' and was blacklisted from everywhere and this dumb b**** is saying it was 'good??'" @Soundovision wrote on Twitter in response. Many people commenting on Brady's comments brought up the racism Jackson suffered as a result, and mentioned how it "stalled" her career from then on.
While another Twitter user, @hersi_naeema, suggested Brady had a point. "He didn't lie. The NFL benefited from that whole ordeal. I don't understand the backlash he's getting. He's right it was just more publicity for the halftime show and the NFL probably loved all the attention," they wrote.