A rarity has occurred this NFL season as two of the all-time career quarterbacks, statistically-speaking, are both free agents. Drew Brees of the New Orleans Saints made it known he intends to play another year, and the Saints have acknowledged they want him back.
Then there's Tom Brady, who has taken the New England Patriots to nine Super Bowls—including six titles. Brady has indicated he's open to playing for a team other than the Patriots.
Free agency is wide open this offseason, and the incoming crop of college quarterbacks has drawn interest from top-drafting NFL clubs. Then there are NFL clubs who consider QB a top priority this offseason. With the combination of quarterbacks who are draft-eligible, combined with those in free agency, the carousel has never seemed merrier.
Former NFL quarterback David Carr, who's an analyst for the NFL Network, listed his 10 top quarterbacks, in order, in which he believes are the most sought-after players for signal-callers with the 2020 season, and upcoming NFL Draft, looming.
Of the 10, four of them are coming from college while the other six are names already quite known among NFL fans. Here are the top 10, in David Carr's order:
Tua Tagovailoa, Alabama
Dak Prescott, Dallas Cowboys
Joe Burrow, LSU
Teddy Bridgewater, New Orleans Saints
Tom Brady, New England Patriots
Jordan Love, Utah State
Justin Herbert, Oregon
Marcus Mariota, Tennessee Titans
Ryan Tannehill, Tennessee Titans
Phillip Rivers, Los Angeles Chargers
NFL Network analysts Kyle Long and NFL Hall of Famer LaDainian Tomlinson thought Nos. 1 and 2 on the list were solid—but in a different order—and each weighed in to say why they thought Tua or Dak was the best quarterback prospect in this year's market.
Long said Tua could be the best long-term prospect if his history of injuries are, well, history.
"I think there's a lot of stuff that needs to be said about the injuries," Long said. "As a guy who played in the league and dealt with injuries, it can go one of two ways ... if Tua can find a way to get healthy, for the long term he can be a tremendous quarterback in this league. That remains to be seen."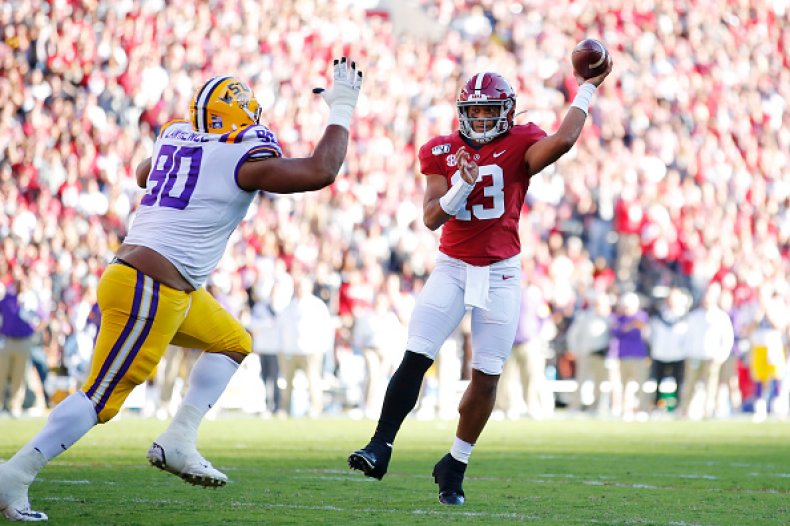 Tomlinson said Tua has "too many question marks" because of multiple injuries in college.
"We don't know if he's gonna be able to stay healthy, you don't even know what kind of quarterback he's gonna be in the National Football League, or what type of offense is gonna be built around this young man," Tomlinson said. "For me, I'm going to take the known fact. I'm gonna take Dak Prescott because I know what he's giving me."
Tomlinson said Prescott has already played the best football of his career in the 2019 season—when he was just shy of the Cowboys' single-season passing yards mark.
"All the question marks honestly we had about Dak, he answered them last year," Tomlinson said.
Bridgewater was the No. 2 quarterback for the Saints who went 5-0 as a starter after Brees was sidelined with a thumb injury last season. Bridgewater became a fan favorite in New Orleans for his efforts.
Ironically, the 7-9 spots on the list have some relevance, with Marcus Mariota playing roles in both scenarios. Justin Herbert played at Oregon, where Mariota won the Heisman Trophy in 2014. Last season, Mariota lost his starting job to Tannehill, who led the Titans to the AFC Championship game.
About the writer
Scott McDonald is a Newsweek deputy night editor based in Cape Coral, Florida. His focus is assigning and writing stories across all topics, from news to politics, business, weather, sports and international news. Scott joined Newsweek in 2018 after a lengthy career of print journalism in Texas, including The Dallas Morning News, where he was a sportswriter, and he's a voter for the Heisman Trophy. He has been a newspaper editor-in-chief and also a newspaper publisher. He is a graduate of The University of Texas at Austin. You can get in touch with Scott by emailing s.mcdonald@newsweek.com. Languages: English