Tom Brady Loses Track of Downs, Which Leads to Losing Against Bears Thursday Night
Tom Brady has almost 50 comeback wins during his lifetime as a professional quarterback. So when he found his Tampa Bay Buccaneers down by one point and little more than a minute to play Thursday night, it seemed like the perfect situation for Brady.
But even Brady can be imperfect. After throwing an incompletion on fourth down to turn the ball over to the Chicago Bears, Brady held up four fingers—as if he were telling his teammates and coaches that it's fourth down and they needed enough yards to gain a first down.
Brady was wrong. He apparently lost track of downs, and the Bears clung to a 20-19 victory. Again, Brady lost track of downs in a winnable situation.
Hello, 2020.
The Buccaneers (3-2) jumped out to a quick 13-0 lead Thursday night at Soldier Field in Chicago. Brady threw a 2-yard touchdown pass to Mike Evans, sandwiched between a pair of Ryan Succop field goals.
The Bears (4-1) took a 14-13 lead after a touchdown run by David Montgomery and then a one-handed scoring grab by Jimmy Graham on a pass from Nick Foles.
It turned into a field goal battle after that. Chicago took its final lead after Cairo Santos hit his second field goal of the game, this one a 38-yard boot with 1:13 remaining.
Brady, 43, looked calm on the sideline before taking the field. He tossed a 12-yard pass to Evans for a first down at the Tampa Bay 37. Then, there was this sequence of plays:
1st and 10 — Brady threw an incomplete pass towards Evans
2nd and 10 — Brady competed a 4-yard pass to Ke'Shawn Vaughn
3rd and 6— Brady threw an incomplete at Rob Gronkowski
4th and 6 — Brady threw an incomplete pass short toward Cameron Brate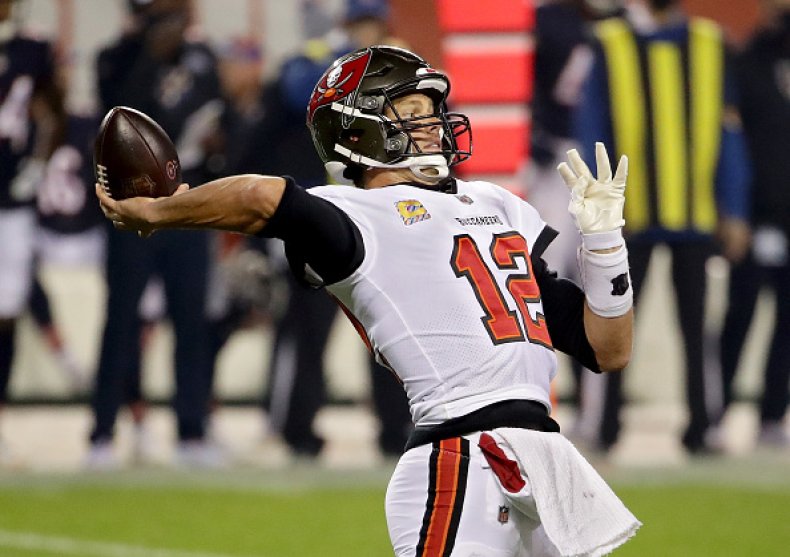 While the Bears defense celebrated, Brady held up four fingers to his teammates, and he looked confused as the teams shuffled on and off the field for the change of possession with 33 seconds left in the game.
The Bears took a knee on the game's final play to run out the clock.
Afterwards, Brady was seen sitting on the bench and tossing a Microsoft Surface tablet in frustration.
Brady led the game in passing with 253 yards on 25-of-41 passing and one touchdown.
Brady spent the previous 20 seasons with the New England Patriots, for whom he led to six Super Bowl titles and three other runner-up finishes. He signed with the Buccaneers during the offseason, hoping to resurrect the team and perhaps lead them to this season's Super Bowl, which is in Tampa.