Tom Brady Mourns Late Teammate Demaryius Thomas: 'We Were All Blessed With His Humility'
NFL star Tom Brady eulogized the late Demaryius Thomas on Twitter Friday, calling his former teammate "a source of light."
Brady, the quarterback for the Tampa Bay Buccaneers and a seven-time Super Bowl champion, played with Thomas on the New England Patriots during the 2019 season.
"We were all blessed with his humility and positive spirit," Brady wrote of Thomas.
Thomas was found dead in his home in Roswell, Georgia, on Thursday. He was 33 years old. Thomas played 10 seasons in the NFL as a wide receiver and enjoyed his greatest success as a member of the Denver Broncos.
Though Brady and Thomas didn't play on the same team together long, Brady's tweet indicated the two men had bonded off the field and had spent time together recently.
"I'm so sad to wake up this morning to hear about the passing of my friend Demaryius Thomas," Brady wrote. "We were all blessed with his humility and positive spirit, and we will all miss him. This photo is from the Hall of Fame this past August, a source of light as always."
LaTonya Bonseigneur, Thomas' cousin, told the Associated Press on Friday that Thomas' family believed his death resulted from medical issues he had been experiencing for more than a year.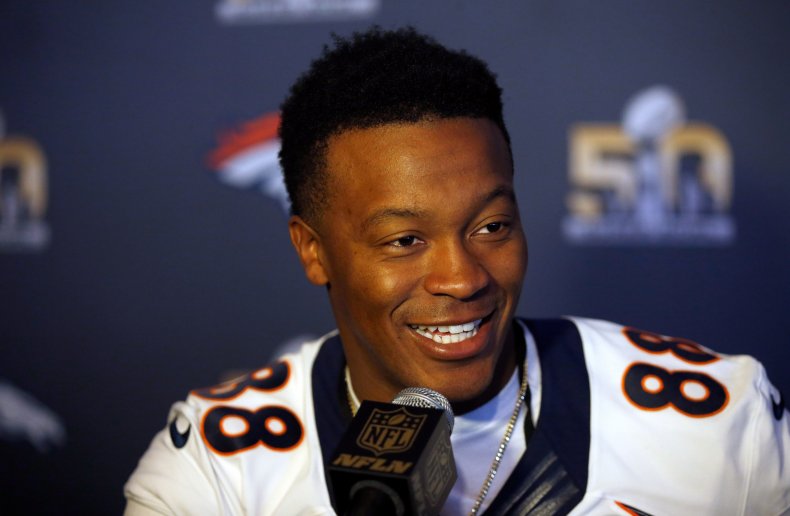 "He had been suffering from seizures for over a year, and we believe he had a seizure when he was showering," Bonseigneur told the news agency.
"We're not sure when he died. We just spoke with him yesterday (Wednesday)," she added. "He was alone and a friend couldn't get hold of him, so he called his driver, who has a key because of these seizures, and he went into his home and found him in the shower."
During his career, Thomas played for the Broncos, the Houston Texans, the New England Patriots and the New York Jets. He caught 724 passes and made 63 touchdowns.
He was a four-time Pro Bowl selection and won two AFC championships with the Broncos. In 2016, he was a key part of the team's Super Bowl victory.
Thomas returned to the Denver Broncos in June 2021, to officially retire as a member of the team.
"We are devastated and completely heartbroken," the Broncos said in a statement. "Demaryius' humility, warmth, kindness and infectious smile will always be remembered by those who knew him and loved him."
The NFL also issued a statement about Thomas' passing. It read: "The NFL family mourns the tragic loss of Demaryius Thomas and we extend our deepest condolences to his family and loved ones."