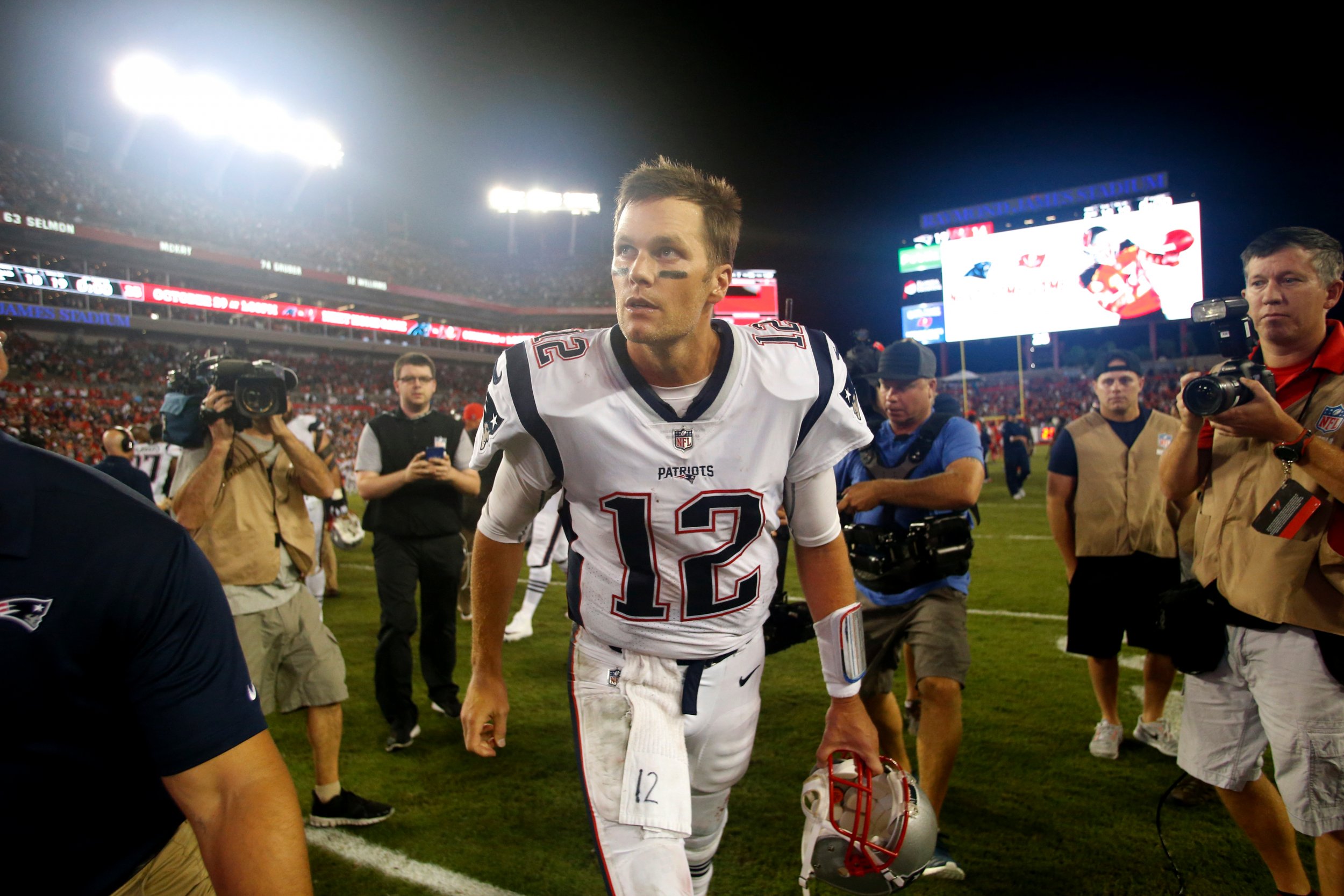 The New England Patriots just about squeezed past the Tampa Bay Buccaneers on Thursday night on the strength of a previously pilloried defense.
That doesn't mean their worries are over.
The Buccaneers got to Tom Brady repeatedly at Raymond James Stadium, sacking him twice and forcing one fumble. That's the same defense that came into the game with one sack in three games on the season so far, as reported by WEEI Radio, which covers Bill Belichick's team.
"Just football," the quarterback said when asked about the hits, quoted by Yahoo Sports. "Just football. I'll be there next Sunday."
The phlegmatism is very Brady, very Patriots, very NFL. You take the licks, you struggle back up, you go again next Sunday.
Or do you, if you're past the age of 40? We're still less than a year removed from that strange controversy in the spring, when Gisele Bundchen let slip that her husband is not as immune to the stresses and strains and brutality of football as he might appear. "He had a concussion last year. He has concussions pretty much every... I mean, we don't talk about it. He does have concussions," Bundchen told CBS in May.
The NFL could find no record of a Brady concussion in the 2016 season. But the cloak of immunity was lifted, partially, at that point. It was easy, before that, to imagine Brady as he appears on the field, a kind of constantly exhorting cyborg fashioned to play the quarterback position as well as it has ever been played. Now? There's a vulnerability creeping in. Brady has been sacked 15 times in five games of the 2017 season, according to Yahoo Sports. He is well on pace to break his record for sacks taken in a season, set in 2001.
It's not too difficult to work out why Brady is getting hit so often. A pocket quarterback not known for his mobility, and now on the wrong side of 40, he needs to be releasing the ball quickly. But the Patriots' chronic injury problems at wide receiver mean New England lacks downfield threats. Brady is having to hang around in the pocket, and he doesn't even have a dominant run game to fall back on and hand the ball off to. He threw the ball 40 times against the Buccaneers; six times fewer than his counterpart Jameis Winston, sure, but still probably too many. Worst of all, Brady is playing behind a struggling offensive line. "There are always things you can fix," left guard Joe Thuney told the Boston Herald after Brady had been harried against the Houston Texans. "It's all about execution, little details here and there. There's always room for improvement." It's one thing taking sacks from the Texans' fearsome defense, though, and quite another allowing pressure from the Buccaneers.
The Patriots are struggling to win with Brady; had Buccaneers kicker Nick Folk not missed three field goals on Thursday night, they would have dropped to 2-3. Without Brady—if they keep letting a 40-year-old man get hammered to the turf—a season that promised dominance for Belichick and Co. is going to go south, fast.
Uncommon Knowledge
Newsweek is committed to challenging conventional wisdom and finding connections in the search for common ground.
Newsweek is committed to challenging conventional wisdom and finding connections in the search for common ground.
About the writer
Sportswriter at Newsweek.