Patriots: Tom Brady Is Now the Best Old Quarterback Ever
Tom Brady grew up in the Bay Area as a fan of the San Francisco 49ers, a team that ran up 16 straight winning seasons starting when he was just 6 years old.
Now, as a 40-year-old with all kinds of NFL records and five titles, Brady can also claim to be the leader of the team that past that 49ers' total. Dallas is the all-time leader with 20.
"I was a kid growing up in San Mateo when the Niners were doing that, too," Brady said after his four touchdown passes led New England to a 35-17 rout of the Miami Dolphins on Sunday that ensured the Patriots' 17th straight winning season.
"It's pretty cool," Brady said. "The expectations are really high because of what teams in the past have done and I think (the media) look up at Coach (Bill) Belichick and understand kind of what we're playing for and the history of the team and the expectations. They understand that.
"Winning seasons are great. Obviously, we're trying to win every game we play. We started 2-2 and to be 9-2 with seven straight wins is pretty good, but we know our biggest games are ahead of us."
The Patriots have five games left, four against their own division, two of those against the Buffalo Bills.
Brady took some shots from an aggressive defense and also suffered a cut on his left elbow trying to retrieve a loose ball. Despite the physical play, Brady threw two touchdown passes to tight ene Rob Gronkowski and one each to running back Rex Burkhead and Brandin Cooks. Burkhead also ran for a score as New England went 5-for-5 inside the red zone.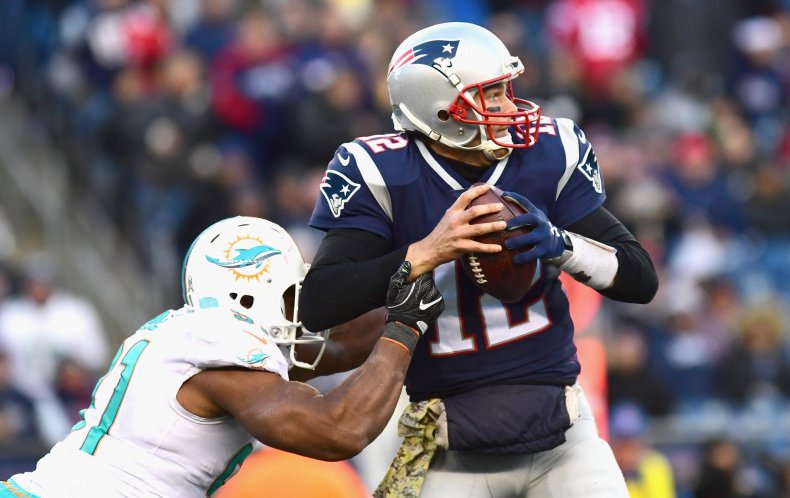 Miami (4-7) lost its fifth in a row and has dropped nine straight at Gillette Stadium.
"Losing (stinks) and if anybody likes losing this is the wrong sport to be in, because it is tough," Miami center Mike Pouncey said.
Brady had a string of 189 straight passes without an interception snapped, but went on to complete his 83rd game with at least three touchdown passes.
He has thrown 54 touchdown passes and five interceptions in 23 games since returning from his Deflategate suspension. He has 26 touchdown passes this season, a record for quarterbacks in a season after turning 40. It was also his 28th game with at least four touchdown passes, third-most all-time, and he has 482 touchdown passes.
"All the good teams are going to start playing really very well and we've got to be one of those teams," Brady said.
Brady finished 18 of 28 for 227 yards.
Gronkowski, who caught five passes for 82 yards, notched his 16th game with multi-touchdown catches, breaking Randy Moss' club record. Cooks, who scored on a shovel pass from the Miami 5, recorded six catches for 83 yards.
Dion Lewis ran for 112 yards on 15 carries, the first 100-yard game of his career -- as the Patriots ran for 196 yards.
The 17 Miami points matched the highest total against the Patriots during their winning streak. They have outscored the opposition 196-92 during the streak
Safety Reshad Jones ran 14 yards with a botched New England snap (from backup center Ted Karras) and running back Kenyan Drake caught an 8-yard touchdown pass for the Miami touchdowns. Cody Parkey also kicked a 28-yard field goal.
Matt Moore, making his second start of the season with Jay Cutler out with a concussion, was 23 of 34 for 215 yards and two interceptions, and was sacked seven times.
Patriots special teamer Nate Ebner, who ran 14 yards with a direct-snap fake punt to keep the opening drive of the game going, suffered a knee injury on the play and was ruled out for the rest of the game.
The Dolphins then lost tailbacks Damien Williams (shoulder, carted off) and Senorise Perry (concussion) to injury in the second half. Cornerback Bobby McCain was lost to the Miami defense after throwing a punch at wide receiver Danny Amendola in the second half.
New England linebacker Trevor Reilly was injured in the collision with Perry and missed the rest of the game, while numerous players from both sides left the field after timeouts for injury.
Cornerback Stephon Gilmore's interception in the end zone in the final seconds of the first half kept the Patriots perfect on the season -- they have not allowed a point in the final two minutes of a first half.
The teams play again in Miami on Dec. 11.
"It is not a good feeling right now being in this situation once again," said Pouncey.