Tom Brady Mouth-Kisses His Relatives and Steps Into an Uncomfortable Conversation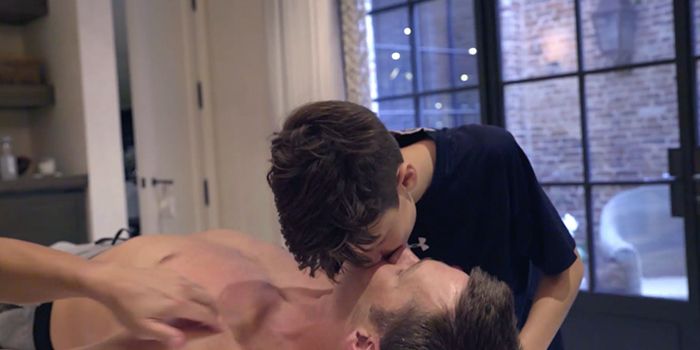 It was the father-son smooch seen round the world.
During an episode of his new Facebook Watch docuseries, Tom vs Time, New England Patriots quarterback Tom Brady is seen kissing his 11-year-old son on the mouth. That in and of itself isn't a revelation—the 40-year-old NFL star was photographed last February kissing his father on the mouth during a celebration. But this kiss comes with context that makes it feel even weirder.
In the episode, Brady is pictured getting a massage in his Brookline, Massachusetts, home. Jack, his son with ex-girlfriend Bridget Moynahan, enters the room and asks his father to let him check his fantasy football scores. Brady laughingly asks what he'll get in return if he lets Jack use the computer, and Jack kisses him and tries to walk away.
"That was, like, a peck," Brady says from the massage table. Jack turns around and kisses him again, this time on his mouth. He stays in place for about three seconds before standing up straight and walking out again while wiping his mouth with his T-shirt.
Now, it's entirely possible that the kiss felt normal to both people involved. But on camera, the exchange feels entirely too long. It doesn't help that it's also kind of reminiscent of the second beat of Saturday Night Live's "Kissing Family" sketch, the one that happens between father and son just when the audience is beginning to realize something weird is afoot.
Bizarrely enough, kissing one's kids on the mouth (and in view of cameras) seems to run in the Patriots family. In 2015, Brady's coach, Bill Belichick, gave his adult daughter a very public kiss that also met with some controversy.
Part of the reason that kisses like these stir up uncomfortable conversations is that Americans haven't really decided what's a normal amount of affection between parents and children.
In 2010, the Associate Clinical Professor of Psychology at UCLA told parenting website CafeMom that allowing one's kids to kiss you on the mouth is a dangerous road. "As a child gets to 4 or 5 or 6 and their sexual awareness comes about (and some kids have an awareness earlier—as when we notice they start masturbating at 2 or 3 sometimes—they just discover their private parts and it feels good)," Dr. Reznick explained, "the kiss on the lips can be stimulating to them."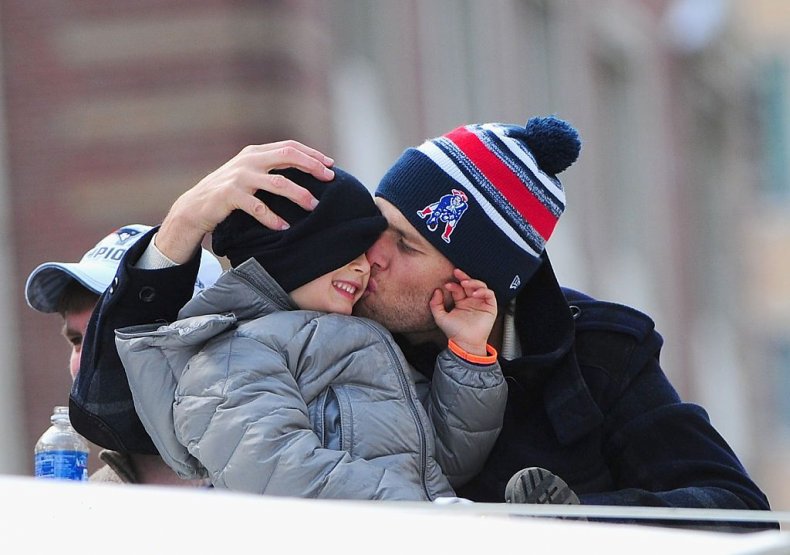 But parenting blogs have published op-eds on both sides of the kissing controversy.
"Parents do loads of things with kids that sexual partners will later do, e.g. backrub, bath, hugging, laying with them in their bed, holding them close and cuddling, and, yes, kissing them on the lips," Dr. Psych Mom wrote in 2014. "Why is a backrub or a bath or a cuddle okay and a kiss is not?"
Arguing for the other side, a columnist for The New York Post's living section wrote in 2017, "One of my friends tells her son that no one in the world will ever love him more than she does. She thinks it's sweet; I think it's a terrifying worldview for her son to have."
A great many Reddit threads have explored the concept too, and people on opposite sides of the argument tend to cite the same feelings.
To people who kiss their children on their mouths, the move is cultural, and it's just a sign that their family is a little more comfortable with physical intimacy than others. To parents who find a kiss like Brady and his son's bizarre, avoiding mouth kisses is a way for them to discuss romantic and familial affection, and boundaries, with their children. Some think mouth-kissing should stop once a kid reaches a certain age, while others believe the act should stay between parents and children of the same gender.
It's clear a consensus opinion on kissing one's kids on their mouth is not at hand. But regardless of what you believe, we can probably all agree that this particular kiss looks pretty unusual.