Tom Brady Posts Video of Insane Throwing Accuracy, Social Media Debunks It
Professional football's Florida Man is at it again. Tampa Bay Buccaneers quarterback Tom Brady, jut two days after posting a photo of his seven Super Bowl rings, showed a video of what looked like unbelievable throwing accuracy.
The video shows Brady about 12 yards away from a football passing machine known as JUGS, which tosses perfect passes to receivers for practice, and can also launch balls to simulate punts and kickoffs. Brady takes a football, hops in place and then launches a ball right between the spinning wheels, which tosses it back to him. He does it again, and then backs up a little more and fires an even harder pass, which knocks over the machine.
Or so it seems.
The quarterback posted the video on social media, which was divided on whether or not the video was real at the UCLA training facility.
First, here is the video Brady posted to Twitter with him writing, "Training camp starts this week. I'm looking forward to having some actual receivers again..."
Though many of his Twitter followers were in awe of the feat, others pointed out that Brady may have used a videographer and director to create a smoke-and-mirrors effect similar to trick shots in basketball or card tricks.
He's got more than 2 million followers, so it didn't take long for folks to respond.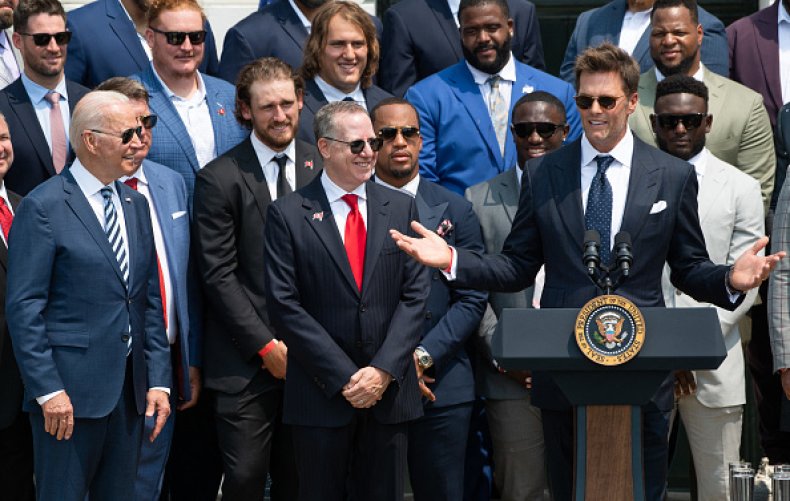 Of course, the Buccaneers were supportive of their quarterback, saying, "That's our QB."
"I can't tell if this is real or nah," said Becca.
"Tom, with all due respect, a REAL quarterback (like Kirk Cousins) would do that from an actually challenging distance," wrote Cooper.
"Notice how the yard lines near the machine are off by a bit?," wrote The Bolted One.
"the video is reversed," another wrote.
"Is that fully inflated?" reporter Andrew Feinberg questioned.
This comes one day he showed off his new Super Bowl ring from last year with the Buccaneers to go along with the six rings he won with the New England Patriots in his first 20 years in the league.
Brady signed with the Buccaneers in the 2020 offseason and took them to the playoffs in his first season in South Florida. He led the Bucs to three road playoff wins, and then they became the first team to win a Super Bowl in their home stadium, which happened almost six months ago.
During the Super Bowl celebration flotilla, Brady appeared drunk while tossing the Lombardi Trophy from one boat to another on the river.
Since arriving in Tampa, he entered the wrong house while trying to find his offensive coordinator and was also stopped by the police for working out in a city park when COVID restrictions were in place. You know, the typical "Florida Man" story.
Whether the video is real or not, his record as an NFL quarterback is legit. He's got more wins and playoff wins than anybody else, more Super Bowl appearances, more Super Bowl titles and is among the top passers in every major career stat.
And he'll be back for more in 2021.