Tom Brady Still Relives '08 Giants Super Bowl Loss, Watching Game Film and Lamenting Failure in New Documentary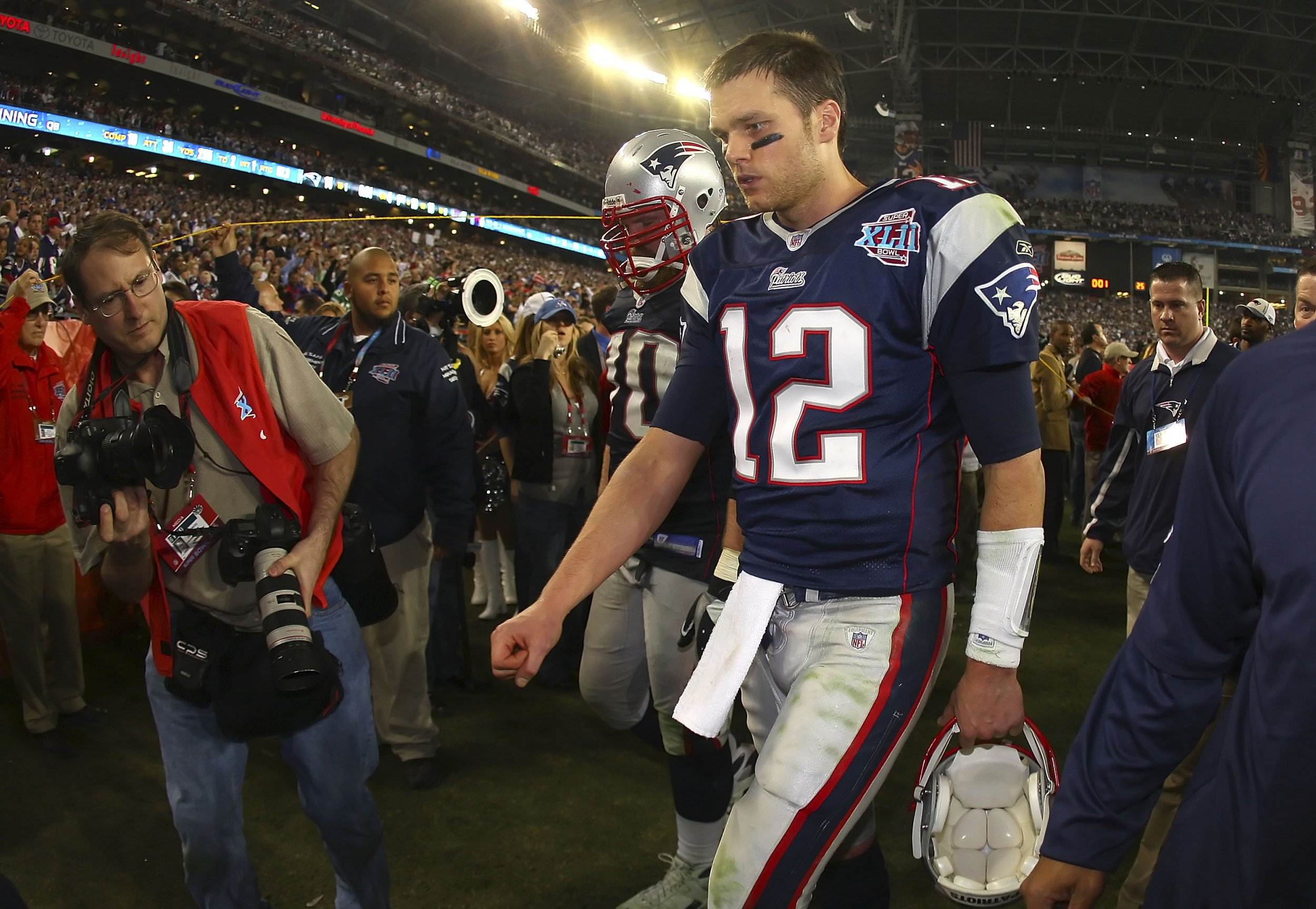 By many NFL experts' assessment, the New England Patriots' Tom Brady is the greatest quarterback of all time. He has won two MVP awards, been to a dozen Pro Bowls and, of course, earned five Super Bowl wins.
But even with that success, Brady is still nagged by the shocking Super Bowl loss his team suffered in 2008, when the Pats lost to the New York Giants. The New York Times published a report on Tuesday about a documentary series, Tom vs. Time, that details Brady's fight against aging, the infamous Super Bowl loss and more.
The Times story refrenced a scene in which Brady studies film tape, not of the prior week's game, but the 2008 Super Bowl in which the Giants—with the help of a notorious "helmet catch"—spoiled the Patriots historic perfect season. The article, written by Mark Leibovich, describes the 40-year-old quarterback watching a computer screen, poring over the minute details of multiple football games, but he begins with the hardest loss he ever suffered. "You're becoming a failure in front of everybody else," Brady said in the documentary, his tone, according to Leibovich, notably sullen. "It's a talent show you did when you were a kid. And you're a failure."
Brady's candid response is unusual; he generally avoids sharing his feelings, focusing solely on the details of the game. That began to change with the marketing of his health and exercise program—the so-called TB12 Method—alongside his controversial trainer and friend, Alex Guerrero, who previously ran into trouble with federal regulators over claims he made about supplements.
The documentary series, Tom vs. Time—directed by Gotham Chopra (son of spiritual speaker Deepak Chopra)—looks closely at Brady's off-field life in 2017, including his efforts to stay healthy and on the gridiron. It will be interesting to see if it references the rumored infighting within the New England organization, sparked by an ESPN story that reported serious tensions between Brady, coach Bill Belichick and owner Robert Kraft.
A trailer for the series shows Brady spouting typically Brady-esque things, such as, "There's a warrior spirit about me, I'm always in competition with myself." It also offers intimate peeks into his personal life, with supermodel wife, Gisele Bündchen, and their two children.
The Times reported that the release of the documentary will be some time later this month, the exact date to be determined by the end of the Patriots' season ends.