Is Tom Brady Retiring in 2020? Breaking down the Patriots Star's Options next Season
The wild-card round of the NFL playoffs is in the history books and so is the New England Patriots' season.
The reigning Super Bowl champions' bid to win back-to-back titles ended tamely on Saturday night, as they lost 20-13 at home against the Tennessee Titans—their first defeat in a wild-card round game since a reverse against the Baltimore Ravens 10 years ago.
Not only did the loss to the Titans derail New England's hopes of winning back-to-back Super Bowls, it may have also brought the curtain down over the most successful dynasty in the NFL.
Tom Brady's future has been subject of speculation for years, but the guessing game over his next move has been dramatically ramped up this season.
The Patriots can't assign Brady a franchise tag and the veteran quarterback is scheduled to become a free agent on March 18, making the possibility the defeat against the Titans was his last-ever game for New England a concrete possibility.
Speaking on NFL on FOX on Sunday, Jay Glazer suggested that after years of keeping a lid on his financial expectations to allow the Patriots to retain a degree of flexibility, Brady could command a salary between $25 million and $30 million.
The quarterback has previously stated he intends to play until he is 45 and reiterated his desire to suit up again next season when he spoke after the loss to Tennessee, suggesting it was "pretty unlikely" that he would retire this offseason.
A Brady-less NFL is almost impossible to imagine, and bookmakers believe it may be a while yet before that particular scenario has to be confronted.
According to BetOnline, the 42-year-old is 6/1 to retire before the beginning of next season, while odds on him still being on an NFL roster are as short as 1/10. If the prospect of Brady extending his career for at least another season is almost fait accompli, a prolonged stay in New England is somewhat less straightforward.
Brady is 1/2 to remain with the Patriots and 6/4 to move to a different team for the first time in his career.
The four-time Super Bowl MVP gave little away over his future on Saturday, keeping both of his options open.
"I don't know what's going to happen," he said.
"I'm not going to predict it. No one needs to make choices at this point. I love playing football. I love playing for this team. I've loved playing for this team for two decades and winning a lot of games. I don't know what it looks like moving forward, so we'll just take it day to day."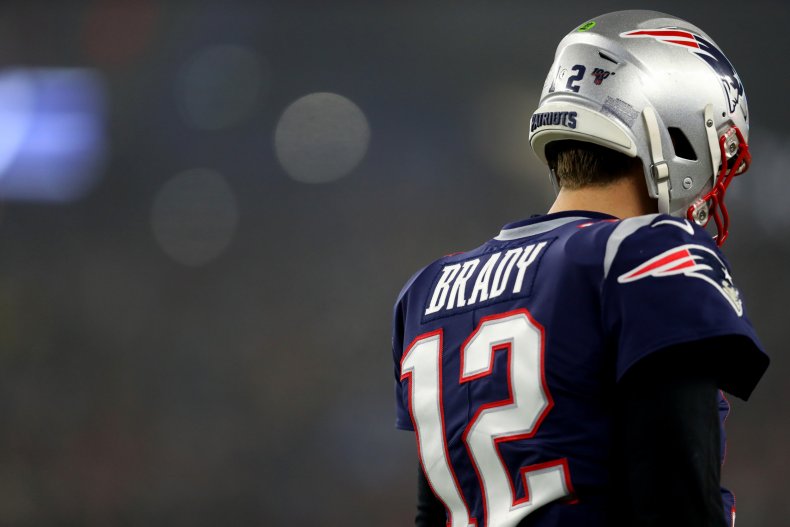 Patriots coach Bill Belichick was similarly tight-lipped over Brady's future when he spoke to reporters on Sunday afternoon.
Belichick acknowledged Brady's iconic stature within the organization, but insisted a timeline to discuss the quarterback's future had not been discussed yet.
"Any decision made is not an individual decision," he said, as per ESPN.
"There are other people involved. [...] One person can't just decide what everybody else is going to do. [...] There's a lot of time, thought and effort and communication that goes into that. Now is not the time."
While Brady will be 43 by the time next season starts, only a handful of teams—Baltimore, San Francisco, Kansas City, Houston and Green Bay—may not be interested in his services.
The 49ers have obvious appeal as they're the team Brady supported as a kid and would give him the chance to return to his home state. Romantic as the narrative sounds, the 49ers have committed their future to Jimmy Garoppolo, Brady's former understudy in New England, and it would be a major surprise to see them involved in negotiations should he leave the Patriots.
In the eyes of the bookmakers, the Cleveland Browns are 11/2 favorites to land Brady should he opt to leave New England. The Browns will interview Patriots offensive coordinator Josh McDaniels, but signing Brady would be a seismic change for a team that picked Baker Mayfield with the No. 1 overall pick in the 2018 NFL draft.
Behind Cleveland, the Carolina Panthers, Los Angeles Chargers and Las Vegas Raiders are all 6/1. Like the Browns, the Panthers will interview McDaniels, while the Chargers and the Raiders would both offer Brady the chance of being the face of a franchise moving into a new era—the Raiders moving to Vegas and the Chargers moving into a new stadium.
The Dallas Cowboys follow at 7/1, with the Indianapolis Colts at 8/1 and the Titans at 9/1, while the Denver Broncos and the Minnesota Viking are both 12/1.
Of those five teams, the Colts and the Broncos have issues at quarterback and would be intriguing destinations for Brady, who would get to play for one of Peyton Manning's former teams.