Tom Brady Rolls Over the Packers and Aaron Rodgers, Ends GOAT Debate
One of the most eagerly anticipated matchups of the NFL belonged to Tom Brady, as the New England Patriots rolled over Aaron Rodgers and the Green Bay Packers on Sunday night.
Ahead of the game, much had been made of two of the greatest quarterbacks to play football coming face-to-face for only the second time in their careers.
On the field, however, it was Brady who emerged as the clear winner, finishing 22-of-35 for 294 yards and a touchdown as the Patriots secured a 31-17 win in Foxborough to move to 7-2. Rodgers, on the other hand, threw for 259 yards and two touchdowns, completing 24 of 43 passes, but it wasn't enough to prevent the Patriots from clinching a sixth straight win.
Brady ended the game with a passer rating of 99.0, compared to Rodgers' 89.2, gaining revenge for the 26-21 defeat he suffered at Lambeau Field in 2014 in his first meeting against Rodgers.
The Packers' offensive line no longer offers the same threat it posed a few years ago and Green Bay notched up only 10 points in the first half, despite having 42 offensive plays. In the first quarter alone, Rodgers threw the ball 15 times—the most for him in the first period of a game over the last two seasons—yet the Packers only managed three points.
Brady and Rodgers have repeatedly featured in the debate over who is the best quarterback in NFL history. However, the Patriots star has won five Super Bowls and has a good chance of adding a sixth ring this season. Despite some fantastic performances throughout his career, Rodgers only has one Super Bowl to his name, and with the Packers at 3-4 this season, he's unlikely to add another title to his name in the foreseeable future.
For many, their meeting on Sunday night put any debate to rest.
On Sunday night, Brady broke a record held by Peyton Manning and became the first NFL player to record over 80,000 total yards—passing, rushing and receiving—over the course of his career, including postseason games.
"He's had an incredible career," Rodgers told ESPN when asked about Brady. "He has been the gold standard at quarterback for the better part of two decades, and he's a great player."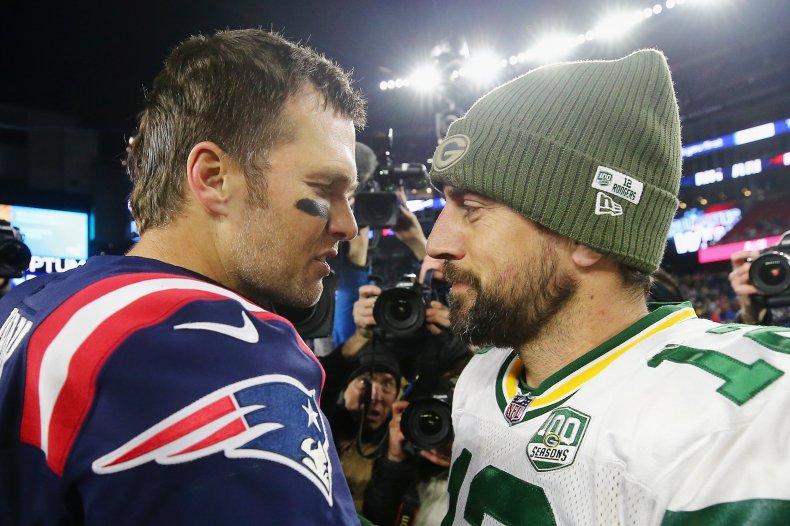 Patriots head coach Bill Belichick was similarly effusive in his praise for his quarterback after the game: "Nobody has given him anything. You're talking about a lot of great, great, great quarterbacks, great players that he's ahead of. It's certainly a testament to him and the longevity and productivity in his great career. Hopefully, he just keeps stacking them up."
Unless they meet in the Super Bowl before that, the Packers and the Patriots won't cross paths for another four years. By then Brady will be 45 and Rodgers just over 12 months shy of his 40th birthday. If Sunday was their last ever meeting, only one man came out of it on top.