As rumors of his retirement continued to circulate across social media, Tampa Bay Buccaneers quarterback Tom Brady stated Monday that he had not yet made a decision on hanging up his cleats.
Brady, 44, stated on his SiriusXM podcast Let's Go! that he was "still going through the process I said I was going through. I think when the time is right, I'll be able to make a decision one way or the other."
"We're in such an era of information and people want to be in front of the news often. I totally understand that," Brady continued. "I understand that's the environment we're in. I think for me, it's just literally day to day with me."
Brady added that he had not decided on a timeline for when his retirement decision would be made.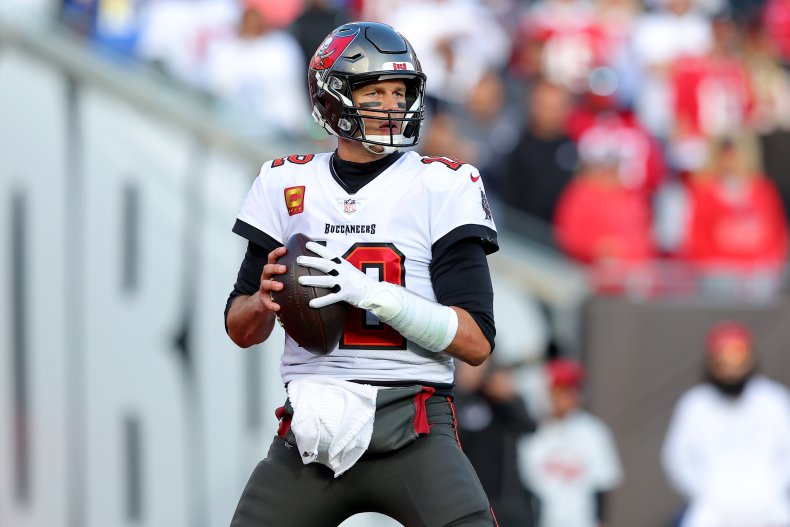 The sports world was sent reeling this past Saturday with the news that Brady, considered by most football analysts to be the greatest NFL quarterback ever, had decided to retire. The news was first broken by ESPN's Adam Schefter.
However, Schefter later tweeted a text that he appeared to receive from Brady's agent, Don Yee, which stated that: "Without getting into the accuracy or inaccuracy of what's being reported, Tom will be the only person to express his plans with complete accuracy."
"He knows the realities of the football business and planning calendar as well as anybody, so that should be soon," Yee continued.
Despite Schefter's walking back of Brady's retirement, numerous outlets picked up on the news. This includes the NFL itself, who even published a retrospective on their website looking back on Brady's career.
Brady's own athletic accessories company, TB12 Sports, tweeted out a tribute to their namesake and founder with a list of his numerous accomplishments. However, this tweet was deleted within an hour of Brady's retirement reports being put on ice.
Beyond the news world, a number of Brady's current and former teammates took to social media to express their best wishes for the "retired" quarterback.
"Thanks for the memories, babe," tweeted former New England Patriots wide receiver Julian Edelman. Brady and Edelman formed a dangerous duo during the latter's 12 years with New England.
While Edelman's tweet remained online as of Monday, other tributes to the quarterback were posted and then deleted by a few of his Buccaneers teammates. Tampa Bay wide receivers Mike Evans and Chris Godwin were two of the most notable names to pen tweets to Brady that soon after disappeared.
No matter the number of mistimed tributes, Brady made it clear Monday that he had not come to a decision regarding the future of his NFL career. This mirrored a sentiment that he expressed during a previous episode of Let's Go! released last week, in which he stated that his family's wishes would play a big part in his decision.
"It's not always what I want. It's what we want as a family," Brady had said. And I'm going to spend a lot of time with them and figure out in the future what's next."
Brady simply added that "I'll know when I know."
If he does decide to make the news official, Brady would retire as one of the most accomplished players in the history of the game.
Through 20 years with New England and the past two with Tampa, Brady never saw a losing season. He is the NFL's quarterback record-holder for numerous statistics, including completions, passing yards, and touchdown passes thrown.
Brady has appeared in a record 10 Super Bowl games, winning the big dance seven times and being named the game's MVP in five of them.
Newsweek has reached out to the Tampa Bay Buccaneers for comment.
Update (01/31/2022, 8 p.m. ET): This story has been updated with additional information.
Uncommon Knowledge
Newsweek is committed to challenging conventional wisdom and finding connections in the search for common ground.
Newsweek is committed to challenging conventional wisdom and finding connections in the search for common ground.