Tom Brady Solidifies Himself As One Of The Best Athletes in History
Tom Brady is a household name, no doubt. People who don't really care for football know that he's a football player. People who don't really watch sports know that he's good at sports.
In the last few years, people who closely follow sports have verbally jousted over whether Brady has been one of the best quarterbacks in the history of football. His name is often juggled with Montana, Elway and Marino.
After his win on Sunday night, Brady now has more Super Bowl than all of those other guys—combined.
To put his quarterback prowess into perspective, here are some quick facts:
Terry Bradshaw was the first quarterback to win four Super Bowls, and Joe Montana was the next. Brady has more Super Bowl MVP awards (5) than those guys have Super Bowl rings.
Brady has won seven Super Bowls now, and the one Sunday night was perhaps his most impressive. He went to a losing franchise, and folks debated on whether or not the New England Patriots were good because of Brady or head coach Bill Belichick. The Patriots missed the playoffs this year (with Belichick) while the Bucs raised the Lombardi Trophy with Brady.
Tom Brady has played in 46 postseason games, and he is 34-12 in that span. His 34 wins are more than the next two players combined (Joe Montana 16, 3 players tied at 14).
Brady is at, or near, most regular-season passing records as well. Even great quarterbacks call Brady the G.O.A.T. (Greatest of All Time). Brady has separated himself from all the greats that came before him in football, and on Sunday night he even separated himself further from those who are chasing him.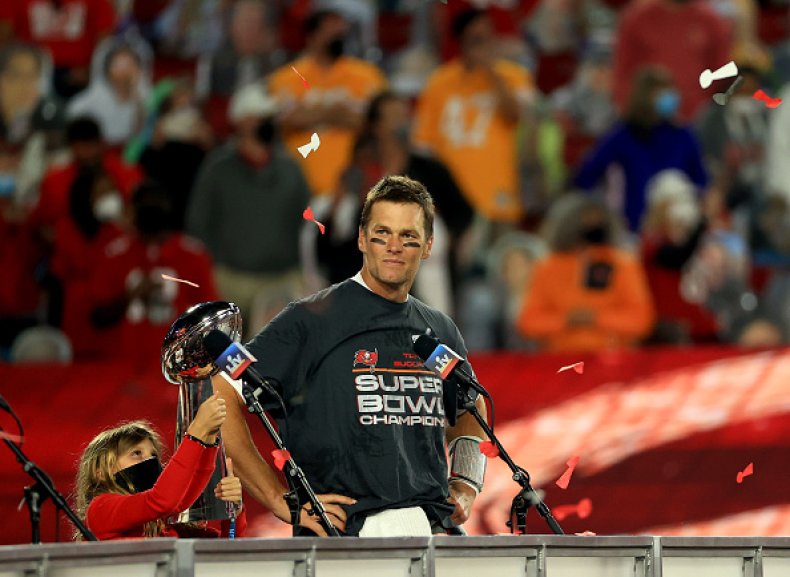 It's time to insert Brady's name among the greatest athletes in sports history. That means putting Brady's name on the Pantheon of sports legends that include Michael Jordan, Michael Phelps, Babe Ruth, Wayne Gretzky, Muhammed Ali and Jesse Owens.
Brady isn't perfect in big games. He has only won 10 of the 14 conference championships he's played. He's only won seven of the 10 Super Bowls he's taken his teams to play. In the 31-9 win over the Kansas City Chiefs on Sunday night during Super Bowl LV, Brady wasn't perfect on the field. He was 21-of-29 passing for a mere 201 yards. But he was the right field general at the right time—like so many times before.
Brady wasn't perfect this season as he lost five games during the regular season, and a playoff run seemed in jeopardy when the Buccaneers started the season with a 7-5 record.
Jordan wasn't perfect, either, except for the NBA Finals, where he was 6-for-6. Jordan won six NBA titles. Brady has seven Super Bowl titles.
LeBron James has been to 10 NBA Finals, and he has won four titles. Brady has been to 10 Super Bowls, winning seven times.
Gretzky played in the NHL for 20 years and will always be known as "The Great One." Gretzky won just four Stanley Cup titles in that span, and he lost in the finals twice. Gretzky was 4-2 in Stanley Cup Finals while Brady is 7-3 in Super Bowls.
Muhammed Ali went 56-5 in his career, and he's widely considered the greatest boxer who ever lived. ESPN named Ali the greatest athlete of the 20th century. Ali was most brilliant through the first part of his career while Brady has become better with age.
Babe Ruth was long known as baseball's home run king. He played 22 years in professional baseball and retired with 714 home runs, but he also had 1,330 career strikeouts—leading all of Major League five different times in that category. Ruth won seven World Series titles and lost three times. His record is 7-3, just like Brady.
Tom Brady left a winning organization that he helped build, and he went to a losing franchise at the beginning of a pandemic. Though they had no offseason training and no preseason games to learn the offense, Brady and the Bucs went 11-5 in the regular season and had a long road to just make the Super Bowl.
The Buccaneers, led by Brady, went on the road to beat Washington in the wild card round. That's when it got tougher, but Brady didn't budge.
Brady and the Bucs went to New Orleans and beat the Drew Brees-led Saints. Then they went to Green Bay and beat the Aaron Rodgers-led Packers, sending the Bucs home to become the first team to play a Super Bowl in their home stadium.
The hype leading to Super Bowl LV was Patrick Mahomes and the Kansas City Chiefs, who were all but anointed to be the next best team. This was the game where Mahomes was to overtake Brady as the next G.O.A.T.
Brady threw for three touchdowns Sunday night while Mahomes had zero touchdowns and two interceptions. Brady had as many touchdown passes as the Chiefs had field goals, which is the only way the Chiefs scored.
Football isn't always necessarily about who is the strongest and fastest athlete. As an NFL quarterback, it also comes down to who is the smartest. Brady is as smart an athlete it gets. He's outsmarted Peyton Manning on more than one occasion, he's outsmarted AFC defenses in his career and he's outsmarted the NFC quarterbacks. Now, he's outsmarted the next best thing who threatens any of his records.
Brady on Sunday night was like Michael Jordan beating Lebron. It was Gretzky beating Mario Lemieux. It was Ruth calling his shot. It was Jesse Owens winning four gold medals in front of Hitler at the 1936 Berlin Olympics. It was Phelps breaking all unattainable Olympic swimming records. It was Usain Bolt strutting toward the finish line.
Brady had his largest margin of victory ever in a Super Bowl on Sunday night. He won that game over a rising star who shines the brightest in big games. Brady won a game that no one gave him a chance to win, and he gave a proclamation as he hoisted the Lombardi Trophy.
"We're coming back for more," Brady told the hometown crowd.
If Brady never wins another championship, or even gets back to the big game, he went from a sixth-round draft pick to become the greatest football player in history. Now, his name should be mentioned among the greatest athletes in sports history.