Tom Brady's Super Bowl Record—How QB Performed in Each of His 9 Appearances
When Tom Brady left the New England Patriots as a free agent in March after two decades of unprecedented success many wondered whether the veteran quarterback had written a check he couldn't cash. Ten months later, Brady has predictably proved the doubters wrong, leading the Tampa Bay Buccaneers to their first Super Bowl appearance since they defeated the Oakland Raiders 18 years ago and only the second in franchise history.
Brady, on the other hand, is all too familiar with the environment and Super Bowl LV against the Kansas City Chiefs will be his 10th appearance in the big game, four more than any other player in NFL history—former Buffalo Bills and Denver Broncos defensive lineman Mike Lodish and Brady's former Patriots teammate Stephen Gostkowski have six each—and twice as many as the next quarterback—former Broncos signal caller John Elway played in five.
Brady will be six months short of his 44th birthday by the time the Bucs take on the Chiefs on February 7 in Super Bowl LV, making this his third appearance in the Super Bowl after turning 40. To put that into context, Brady will have as many Super Bowl starts in his 40s as Aaron Rodgers, Drew Brees and Dan Marino have in their combined careers. Brady's 10th Super Bowl start also means he will have played in the NFL title game more time than Rodgers, Brees, Peyton Manning and Ben Roethlisberger combined.
Here's how the 43-year-old has fared in his previous nine Super Bowls, which have returned a record six rings.
Super Bowl XXXVI—February 3, 2002
New England Patriots vs. St. Louis Rams 20-17
Making their first Super Bowl appearance under Bill Belichick, the Patriots were 14-point underdogs against the Rams—up until this year, the only time Brady has not gone into the Super Bowl as the favorite—but their defense shut down Kurt Warner and stifled "The Greatest Show on Turf." Brady, who had replaced Drew Bledsloe as New England's starting quarterback during the regular season, only completed 16 of his 27 passes for a modest 145 yards and a touchdown, but led the Patriots up the field with a last-minute drive to set up Adam Vinatieri's winning field-goal and secured the first of his Super Bowl MVP crowns.
Super Bowl XXXVIII—February 1, 2004
New England Patriots vs. Carolina Panthers 32-29
Two years on from his heroics against the Rams, Vinatieri kicked another walk-off field goal after Brady had again engineered a last-minute drive to give the Patriots a chance. Brady finished 32-for-48 for 354 yards, three touchdowns and one interception and claimed a second Super Bowl MVP award as the 14-2 Patriots clinched a second ring in three seasons.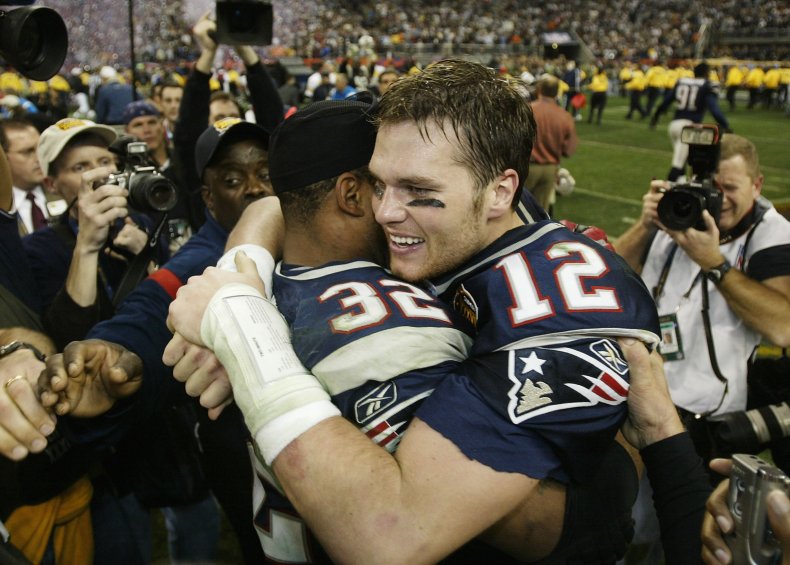 Super Bowl XXXIX—February 6, 2005
New England Patriots vs. Philadelphia Eagles 24-21
The Patriots became only the second team in NFL history to win three Super Bowls in four years as they edged the Eagles in a closely-contested affair in Jacksonville, Florida. Brady completed 23 of his 33 passes for 236 yards and two touchdowns, but missed out on a third Super Bowl MVP crown, with the accolade going to Patriots wideout Deion Branch, who tied a then-Super Bowl record with 11 catches.
The Patriots remain the last team to win back-to-back Super Bowls, a feat the Chiefs and Andy Reid, who was in charge of the Eagles in 2005, could emulate in Super Bowl LV next month.
Super Bowl XLII—February 3, 2008
New York Giants vs. New England Patriots 17-14
There was more than the Super Bowl at stake as the 18-0 Patriots were bidding for NFL's immortality against the 12-point underdogs Giants. By the time Brady hit Randy Moss for a six-yard touchdown with 2:42 left to play to put the Patriots 14-10 ahead, New England's first Super Bowl win in three years and a place in the history books looked to be a formality. That is until Eli Manning marched the Giants 83-yard down the field, on a drive that included David Tyree's "Helmet Catch," with the Giants quarterback evading a sack and connecting with the wideout to complete an improbable 32-yard completion that has gone down in NFL lore.
Manning then converted a third-and-11, before hitting Plaxico Burress for the winning 13-yard touchdown with 35 seconds left. Brady, who finished 29-for-48 and 266 yards touchdown, got the ball back with 29 seconds left but the Giants defense didn't allow a single yard.
Super Bowl XLVI—February 5, 2012
New York Giants vs. New England Patriots 21-17
For the second time in four years, Brady and the Patriots came unstuck against Manning and the Giants. Trailing 17-15, Manning led the Giants on an 88-yard drive which ended with running back Ahmad Bradshaw's six-yard game-winning rushing touchdown.
As had been the case four years earlier, the game-winning drive included another incredible play as Mario Mannigham produced one of the most famous catches in Super Bowl history, somehow remaining in play on the left sideline as he hauled in a pass from Manning to complete a 38-yard gain. Brady finished 27-for-41 for 276 yards, two touchdowns and one interception.
Super Bowl XLIX—February 1, 2015
New England Patriots vs. Seattle Seahawks 28-24
Ten years on since their last Super Bowl triumph, Brady and the Patriots hoisted the Vince Lombardi Trophy aloft again. With New England trailing by 10 points in the fourth quarter against the reigning Super Bowl champions, Brady threw touchdown passes to Danny Amendola and Julian Edelman to give the Patriots a 28-24 lead, which looked set to disappear as the Seahawks set up stall at New England's one-yard line. In one of the NFL's most infamous plays, Seattle opted against handing the ball to running Marshawn Lynch as Russell Wilson attempted a pass to Ricardo Lockette only for it to be intercepted by Patriots cornerback Malcolm Butler.
Brady completed 37 of his 50 passes for 328 yards, four touchdowns and two interceptions as he claimed a third Super Bowl MVP crown.
Super Bowl LI—February 5, 2017
New England Patriots vs. Atlanta Falcons 34-28 (OT)
Brady's piece de resistance and arguably the greatest comeback in Super Bowl history. Trailing 28-3 late in third quarter, the Patriots looked dead and buried until Brady engineered five straight scoring drives, which included touchdown passes to James White and Danny Amendola, as New England outscored Atlanta 19-0 in the final period to force the game into overtime. From the moment the Patriots received the ball in overtime, the outcome looked inevitable and so it proved, as Brady led an eight-play, 75-yard drive that culminated with White's third touchdown of the game to clinch New England's fifth ring.
Brady won his fourth Super Bowl MVP crown after completing 43 of his 66 passes for 466 yards, two touchdowns and one interception.
Super Bowl LII—February 4, 2018
Philadelphia Eagles vs. New England Patriots 41-33
The Patriots' bid for back-to-back rings came undone against the Eagles in the highest-scoring Super Bowl game in history. Brady finished 28-for-48 for 505 yards—the most in his nine Super Bowl appearances—and three touchdowns but the Patriots' defense had no answer for Nick Foles, who became only the second quarterback after Eli Manning to deny Brady a Super Bowl title as Philadelphia avenged the loss they suffered against New England 13 years earlier.
Super Bowl LIII—February 3, 2019
New England Patriots vs. Los Angeles Rams 13-3
Brady's final Super Bowl win with New England was highly reminiscent of his first, as the Patriots defense stifled the much-vaunted Rams offense. Brady completed 21 of his 35 passes for 262 yards, no touchdowns and one interception as he became the only player in NFL history with six Super Bowl rings.