Tom Brady Throws 600th TD Pass, Ball Gets Tossed to a Fan in the Stands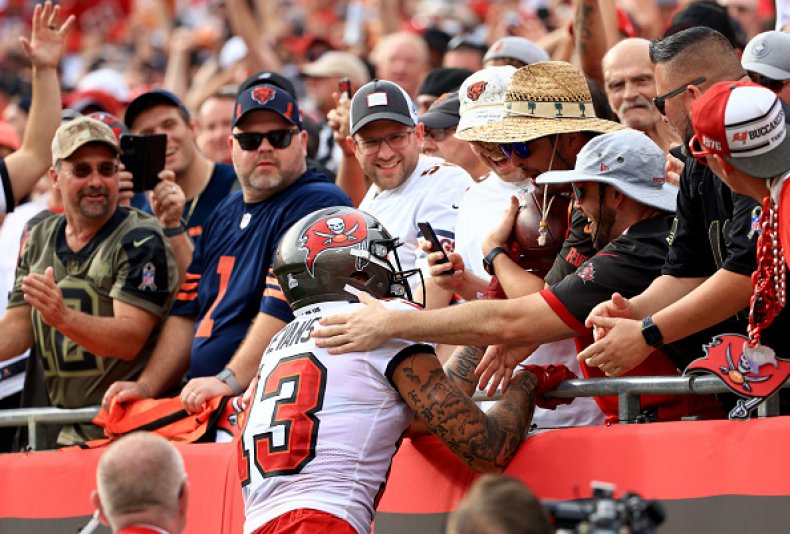 Tom Brady threw his 600th career touchdown pass on Sunday, becoming the first NFL player to hit that lofty milestone. The pass was a 9-yard toss to Mike Evans, who celebrated by giving that ball to a fan in the stands at Raymond James Stadium in Tampa.
That ball is projected to have a value of $500,000, according to Goldin Auctions.
Touchdown pass No. 600 happened with 10 seconds remaining in the first quarter to give the home team Tampa Bay Buccaneers a 21-0 lead over the Chicago Bears. Brady entered the game with 598 career touchdown passes. By halftime, Brady already had four TD pass to put him at 602—with three of those passes going to Evans.
Evans caught his first touchdown of the game and barely got into the end zone for Brady's 600th. Evans threw the ball on the ground, but then quickly retrieved it and ran over to the edge of the stands to give the ball to a fan. The fans and those around him celebrated wildly and took pictures.
The camera later focused on Evans, who was apparently told the mistake that had been made. Evans was caught by surprise.
An employee of the Buccaneers then went to the fan and asked for the ball back, of which the fan obliged. They gave him another football, and there's no telling what the Buccaneers could additionally give him in return. That could range from season tickets to a signed helmet, signed ball, a game-worn jersey or even a visit to meet Brady himself.
The next passer on the career touchdown passing list is Drew Brees, who retired after the 2020 season. The next after him? Peyton Manning with 539. The only other player in NFL history with at least 500 TD passes is Brett Favre.
Here are the top 10 all time leaders in career touchdown passes:
602 — Tom Brady
571 — Drew Brees
539 — Peyton Manning
508 — Brett Favre
424 — Aaron Rodgers
421 — Philip Rivers
420 — Dan Marino
403 — Ben Roethlisberger
366 — Eli Manning
357 — Matt Ryan
Only 12 quarterbacks in history have thrown for at least 300. Fran Tarkenton (342) and John Elway (300) are next on that list.
The Buccaneers would move to 6-1 with a win Sunday against the Bears, which would be the best start in team history—including the years they won Super Bowls.