The Funniest Reactions to Tom Brady's Unexpected Underwear Selfie
Tom Brady has shown that retirement could lead to a stripped-back way of life after posing in his underwear for a mirror selfie.
The former Tampa Bay Buccaneers quarterback, 45, was promoting his athleisure line, Brady Brand, as he posed in a pair of brown boxers, then shared the selfie to the clothing brand's Instagram page on Monday.
Of course, there was quite a reaction to the NFL legend stripping off just a week after announcing his retirement for the second time, when he said his decision was for good this time.
It seems that Brady was paying off a losing bet, which his clothing brand reminded him about after he had laid out the deal's details last June.
At the time, Brady said in a tweet he would re-create some underwear models' photos for his Brady Brand, if the tweet got 40,000 likes.
Brady Brand reminded him of this in a tweet earlier on Monday, saying, "Hey @TomBrady we haven't forgotten about this." It also quoted Brady's original tweet, which showed two male models wearing boxer briefs from his brand.
Brady had tweeted: "40k likes and I'll recreate these photos. Unrelated but can you guys send me some more of the socks @bradybrand".
The moment of truth arrived when the brand pointed out the tweet had gained nearly 49,000 likes.
Posing on the edge of an unmade bed, with the ocean seen outside a window, Brady tagged his NFL buddies Julian Edelman and Rob Gronkowski and asked whether he had re-created the poses correctly.
Brady wrote: "Did I do it right? @Edelman11 @RobGronkowski @bradybrand."
The comments came thick and fast, as many saw the funny side of Brady's attempt at modeling.
One person commented: "Tommy in his thirst trap era!"
Another suggested that Brady was hinting at joining OnlyFans to make a few bucks following his retirement from football, writing: "Damn Tom, what in the only fans you doin? You literally only been retired 5 days."
Another disdainfully wrote: "Dad put your clothes back on"
A fourth said action could be taken, commenting: "It's not too late to delete this Tom."
A fifth commenter seemed to sum it up with this (with the pun probably intended): "Takes a lot of balls (no pun intended) for a former nfl player to do this, #teamtom."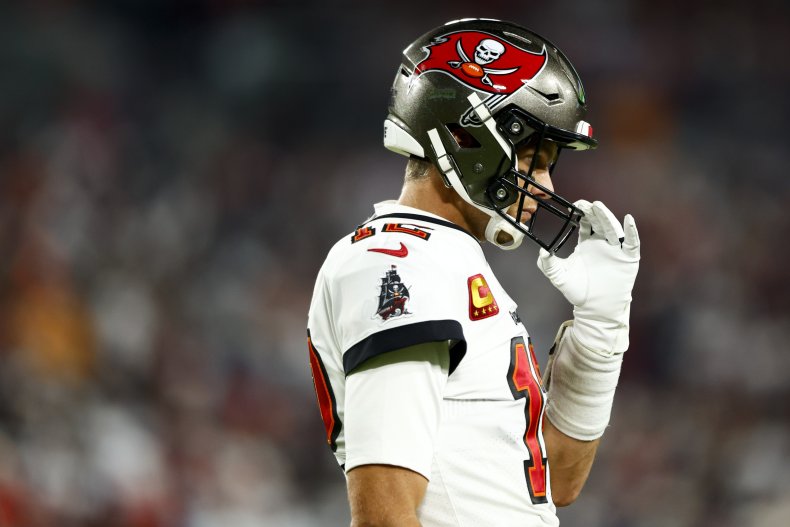 Among those liking the photo on Instagram was Slovakian model Veronika Rajek, who became linked to the NFL star in the wake of his divorce from Gisele Bündchen. Rajek made a very public play for Brady on her social media.
She shared her support for the Bucs QB by posing in a No. 12 shirt while watching Brady play. But her hopes of linking up with him never materialized, with Brady apparently not reciprocating her overtures.
On February 1, Brady announced he was retiring for a second time, posting a video on social media. He told his followers: "I'm retiring. For good. I know the process was a pretty big deal last time, so when I woke up this morning I figured I'd just press Record and let you guys know first."
He continued: "It won't be long-winded, you only get one super-emotional retirement essay, and I used mine up last year, so I...really thank you guys...so much.
"To every single one of you, for supporting me, my family, my friends, teammates, my competitors. I could go on forever. There's too many. Thank you guys for allowing me to live my absolute dream," he said.
Do you have a tip on a sports story that Newsweek should be covering? Do you have a question about the NFL? Let us know via entertainment@newsweek.com.