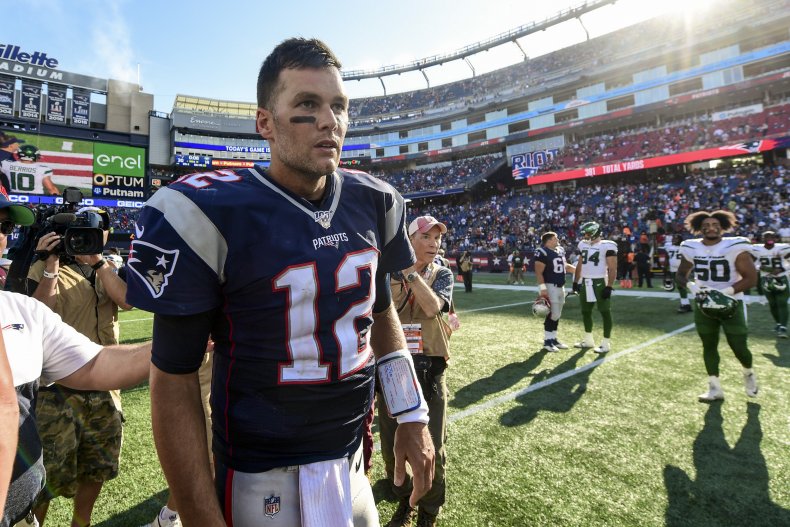 New England Patriot quarterback Tom Brady is one of the most accomplished and decorated NFL stars of all time, but Kyle Kusz, an associate professor of kinesiology at the University of Rhode Island has a much different take on the 42-year-old.
According to Campus Reform, Kusz does not think Brady's popularity stems from his six Superbowl titles but instead due to white supremacy and white male rage.
In Kusz's book, titled Making American White Men Great Again: Tom Brady, Donald Trump, and the Allure of White Male Omnipotence in Post-Obama America, he details his beliefs regarding Brady's fame.
"Quarterback Tom Brady has gained popularity due to the 'latest wave of white rage and white supremacy,'" wrote Kusz.
According to Kusz, this popularity began with the election of former President Barack Obama, parallel to "a disturbing racial reaction among white conservatives in response to the idea that a black man would be [president]."
In his book, Kusz focuses on a 2015 Under Armour commercial in which Brady appeared. The style of the ad "would not seem out of place in Leni Riefenstahl's infamous Nazi propaganda film, Triumph des Willens," Kusz wrote.
"I decided to research Trump and Brady's public performances of their white masculinities and how they connect with broader debates about race and gender politics after a student in one of my classes brought the UnderArmour commercial to my attention, and it piqued my interest," the professor said in an interview with Campus Reform.
Brady's apparent support of Trump began in 2015 when he placed a red Make America Great Again hat in his locker. "I have so many great friends in New England including Tom Brady and Coach Belichick" said Trump at a 2016 rally in New Hampshire, according to the Boston Globe. "How good is Tom? Remember last year, he had the red hats?"
Following severe public backlash, Brady attempted to step back in his support of Trump in 2017. The quarterback declined a trip to visit the White House which did not sit well with Trump. Prior to the 2016 election, Brady also told reporters that his wife, Gisele Bundchen, told him to avoid talking politics on the record.
After the Patriots 2017 Superbowl victory, Richard Spencer, President of The National Policy Institute and co-editor of Altright.com took to Twitter to congratulate Brady and the Patriots. "For the white race, it's never over," Spencer tweeted with a gif of Brady and his wife kissing.
These tweets by Spencer sparked many questions pertaining to Brady's support of Trump, especially from Professor Kusz. However, Brady has never expressed any support for any alt-right organizations or individuals. Additionally, after Brady declined the visit to the White House and his comments regarding not talking about politics on record, the relationship between Brady and Trump has been unclear.
In one chapter of his book, Kusz cites a tweet from Spencer, calling Brady an "Aryan Avatar" and closes the chapter with a personal anecdote about seeing a man in a Tom Brady Patriots jersey during a "far right 'free speech'" rally in Boston.
In addition to the different advertisements Kusz mentioned, he also noted Brady's friendships off the field. He described the quarterback as "a wealthy, white man who unapologetically enjoys, and has even made a habit out of, spending time with other wealthy white men who treasure time 'with the boys' over all others."
This is not the first time Kusz focused on the problem of white supremacy in sports. He published a scholarly article earlier this year in the Journal of Hate Studies titled, Winning Bigly: Sporting Fantasties of White Male Omnipotence in the Rise of Trump and Alt-Right White Supremacy.
In this article he focused on "how the Trump candidacy and presidency, the rise of the Alt-Right, and the appeal of New England Patriots quarterback, Tom Brady, to his fans who have nicknamed him as the 'Greatest Of All Time' (i.e., The G.O.A.T.), are all linked," according to the abstract notes.
In 2010 Kusz authored another article in the journal Sport in Society, titled Remasculinizing American white guys in/through new millennium American sport film.
In this article he detailed post 9/11 American culture and how sports movies featuring white men "is the re-centring of white masculinity and, by extension, refortifying white male privilege in American society," described in the abstract notes.
Kusz is currently teaching course titled On the Culture Politics of Man-Boy Narratives at the university this semester. In his official university biography, the professor is identified as an "expert on the intersection between sport, media, and contemporary cultural politics."