Tom Brady's Second Run as a Sports Underdog?
Before most American sports fans hated Tom Brady, they loved him. And they loved him because he was something fans adore: an underdog. I know it's hard to remember, but only two decades ago (a lifetime in football playing years), not a single sports analyst had the University of Michigan graduate pegged for NFL stardom, let alone G.O.A.T. status (the acronym for Greatest of All Time, for non-sports fans).
He was drafted 199th overall by the New England Patriots in the sixth round of the 2000 NFL draft. Mel Kiper, an analyst at ESPN who's been covering the NFL draft for decades, quipped, "Brady's selection should not affect backup quarterbacks John Friesz or Michael Bishop." As luck would have it for Brady, Friesz retired in 2000 and Bishop was released. But Brady found himself the backup to gridiron glamour boy Drew Bledsoe, who in 2001 signed a then record-breaking 10-year deal with the Patriots worth $103 million.
Not everyone in New England was convinced that the Patriots' front office had gotten things right when that deal was announced. Wide receiver David Patten recalls his first practice sessions with Brady at the helm. "I'm telling you," Patten told Yahoo Sports, "we are slicing the No. 1 defense. We are killin' them. And I remember going back to my hotel room feeling like, Shoot, they got the wrong one with the $100 million."
The world would soon know what Patten knew. So too would Patriot fans and NFL fans everywhere on September 23, 2001, the day Bledsoe was forced to the sidelines after a crushing blow that left him with a severe concussion.
Into the breach stepped Brady, trailing by a touchdown to the New York Jets, with only 2:16 minutes to play. With the calm of a 20-year pro, Brady drove his team down the field, only to have his final two touchdown attempts fail.
In the very next game, Brady's first career start, he led the Patriots to a 44-13 thrashing of Peyton Manning's Indianapolis Colts. Brady's career arc was forever changed that day. So too was the arc of the New England Patriots. The young quarterback with movie-star good looks led his team to an 11-3 record, and an upset win against the heavily favored Pittsburg Steelers in the AFC Championship.
In the 2002 Super Bowl, Brady's Patriots were 14-point underdogs, a point spread that hasn't been matched in a Super Bowl since. It's hard to remember that far back, but most of America was rooting for New England's underdog QB. He and his Patriots delivered a thrilling 20-17 victory. Brady was a mere 24 years old. The sports world swooned.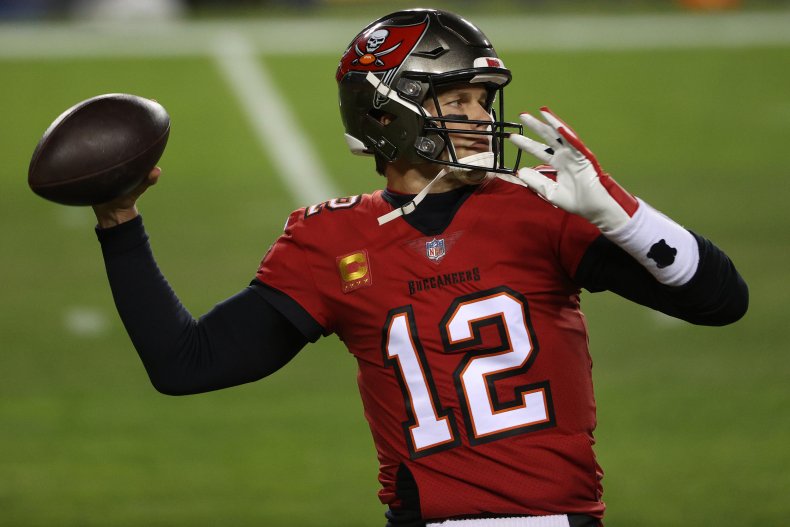 It's hard to remember the last time anyone thought of Tom Brady as an underdog. It's in his bloodline, though. Two of his great-great-grandparents on his father's side were Irish refugees from the Great Famine who moved to San Francisco from Boston before the Civil War.
Brady grew up near San Francisco, in San Mateo. That he would spend most of his NFL career in Boston—reversing his great-great grandparent's American pilgrimage—is something Brady and his family surely find satisfying, if not ironic.
The sports world didn't yet know Brady was a legend in the making, but another teammate, Mike Nugent, got a glimpse. At 5 a.m. on a Tuesday following their first Super Bowl win, Nugent heard a knock on his door. Brady was heading for an early-morning workout and wondered if Nugent wanted to join him. "Less than 36 hours after the most improbable of Super Bowl triumphs, the two cruised through frigid pre-sunrise air, headlights showing them the way toward a deserted Patriots facility; toward an hour of lifting; toward an exclusive and extraordinary look at a burgeoning legend," wrote Henry Bushnell for Yahoo Sports.
In 2004, after missing the Super Bowl the year before, the Patriots were once again underdogs in the NFL's final showdown—this time by 7 points—against a powerful Carolina Panthers team. In one of the best Super Bowls of all time (and a memorable halftime show featuring a brief appearance by Janet Jackson's nipple), the Patriots triumphed and Brady won his second Super Bowl MVP. The American love affair with the young QB, if anything, grew stronger.
Super Bowl XXXIX in 2005 pitted Brady's team against an excellent Philadelphia Eagles team. The Patriots were underdogs once again, with Vegas oddsmakers favoring the Eagles by 7 points. Once again, Brady led the Patriots to a narrow victory, 24-21.
But by the time Brady played in his fourth Super Bowl, the love affair was waning. What started as an underdog story had turned into a burgeoning dynasty story. And Americans don't much care for perennial winners, be it in baseball (think the Yankees), college basketball (think Duke) or college football (think Alabama).
Indeed, never again would football fans outside the Greater Boston area consider Brady and his Patriots anything but a team worth rooting against. As the team piled up more Super Bowl wins—six—and Brady piled up Super Bowl MVPs—four—they solidified their villain status.
Two run-ins with rules violations—including Deflategate—didn't help matters. Nor did the fact that Brady maintained his youthful good looks, made winning look easy and had a supermodel wife. There was so much to envy, so much not to like.
That is, until this year. Because once again, at the age of 43, Brady is viewed by many sports fans as the underdog. He's an underdog because he's 43, and old people across America—especially those of us who think we still have a few moves left in us, on and off the field—are pulling for him.
And he left a dynasty behind, and left Bill Belichick too. He'd played for the coach his entire professional career. Could he win without Belichick? Could Belichick win without him?
There were also stories about New England, as Wall Street Journal sportswriter Jason Gay described it, not being much fun to play for. "Do you mean to tell me that life on the Patriots—that salty sea vessel piloted by the Grumpy Lobster Boat Captain himself, Bill Belichick, a man whose smile appears once every 17 years, like a cicada—isn't a dance party full of ha-ha's and yukkety-yuk-yuk-yuks?" Gay wrote. "Let me sit down and reel from this shock!"
Maybe Brady left the Patriots for the Buccaneers to see if he could win and have fun. And escape the punishing winters of Boston for some tropical weather. In his decision to leave New England and head south to Tampa Bay, Brady revealed a human side. He was a real person. With real feelings.
The Buccaneers hadn't reached the playoffs since 2007, so Brady wasn't stepping into a dynasty. They had a 5-11 record in 2018 and a 7-9 record in 2019. Vegas oddsmakers set Tampa Bay's chances of reaching the Super Bowl at 100-1 in 2019. Those odds dropped to 14-1 when Brady signed on. The Patriots, by contrast, went from 4-1 odds in 2019 to 25-1 in 2020.
The oddsmakers were right. Up until last week's win in the NFL wild-card game, Brady led the Buccaneers to an 11-5 record. He'd completed 66 percent of his passes, piled up an impressive 40 TDs and secured a playoff berth for his new squad. The Grumpy Lobster Boat Captain's crew, the Patriots, was 7-9 and missed the playoffs for the first time since 2008.
How did Brady do it? The way he's always done it: hard work, preparation and raising the bar for everyone around him on things that matter. Things that turn losing teams into winning ones.
"Players learn from players, and when you walk into practice and watch how he conducts his business, you know that's how you do it there," Damon Huard, Brady's backup from 2001 to 2003, once said.
"Just look at Brady's instant influence on Tampa Bay's execution," wrote Sally Jenkins in a recent Washington Post column. "During a loss to Chicago, he was snap-jawed and furious over three sacks and a raft of penalties by his offensive line. 'It definitely wakes you up, big time; it makes you more alert, makes you get on your toes, and you just got to take it gracefully,' [Rob] Gronkowski says. The result: not a single penalty, turnover or sack the following week in a rout of the Green Bay Packers."
In 2019, Tampa Bay led the NFL in turnovers, with 41. In 2020, that number was down to 17. In 2019, Tampa Bay racked up 158 penalties. In 2020, that number dropped to 102. That's been a legacy of Brady's, because he knows that error-free football is winning football. Drive down the penalties, fumbles and interceptions, and wins pile up. It's easy to say but hard to do—in football and in life. Brady teams have been great at not beating themselves for as long as he's been in the league.
Talent can't explain such things. An attention to detail and fierce discipline does. "A lot of times I find that people who are blessed with the most talent don't ever develop that attitude, and the ones who aren't blessed in that way are the most competitive and have the biggest heart," Brady once told a reporter.
He's led his team to more division titles than any other QB in NFL history, at 17, and he's started in a record nine Super Bowls. For millions of football fans who loved Brady before we hated him, here's one fan rooting for the 43-year-old to start in his 10th Super Bowl and provide hope for anyone with something to prove to a former boss. And himself.
And here's hoping the underdog turned villain turned underdog wins his seventh Super Bowl victory for old times' sake. And for old-timers too.