Tom Brady's Successor? Tampa Bay Drafts Unheralded but Talented Kyle Trask
Tom Brady will retire as perhaps the greatest quarterback who ever played football. His story is remarkable as a low-round draft pick and backup who came in to replace an injured teammate. So it only makes sense that his potential successor is an overlooked player who sat behind a starter in high school and college for seven years.
The Tampa Bay Buccaneers used the final pick of the second round on Friday night's NFL Draft to select quarterback Kyle Trask from the University of Florida. Trask has the all the attributes of a great NFL quarterback except one—he wasn't a sexy pick coming out of college.
That's too bad for those who couldn't see through his gritty past.
Trask played high school ball at Manvel High School, which is located south and west of Houston close to where Nolan Ryan grew up playing sports in Texas. Trask didn't start as a varsity quarterback in high school because the coaches there deemed D'Eriq King their starter. As Trask and King grew their way through the Manvel Mavericks program, King garnered more scholarship offers.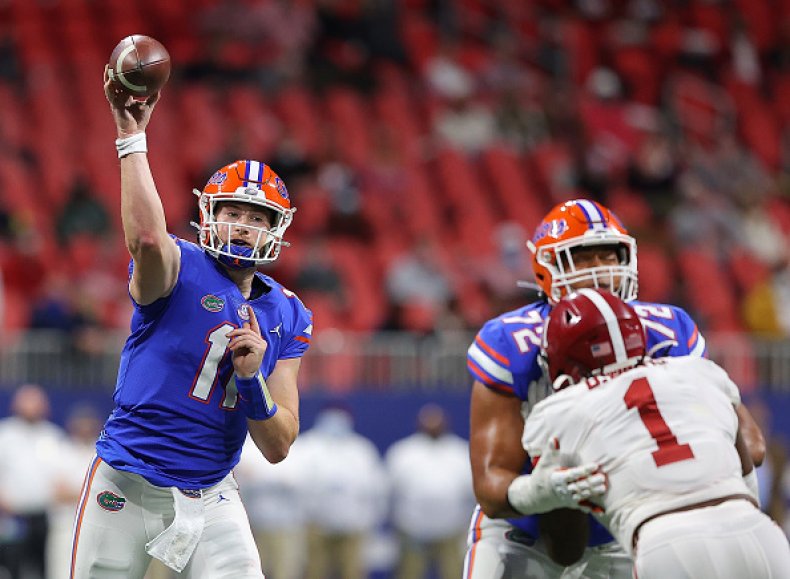 When a Florida scout visited a Manvel practice one day, Trask's talent was seen. The scout, who was Randy Shannon, recommended that Trask attend the Florida football camp. Trask not only went, but he impressed the coaches enough to get invited again. After his second camp, Trask got a scholarship offer from Florida.
Meanwhile, Trask played backup to King at Manvel, which has been a powerhouse in Texas.
Trask didn't start at Manvel, and he hardly saw the field at Florida while backing up starter Felipe Franks. That was until Franks had a season-ending injury at Kentucky in 2019, which turned the offense over to Trask.
Trask delivered.
Trask guided the Gators to a comeback win and starting job the next week. Trask finished the season as starter, and he went on to become a Heisman Trophy finalist in 2020 while guiding the Gators back to the SEC Championship game, where they lost to Alabama, 52-46. Trask led all players with 408 passing yards that game.
Trask led the Gators to an early 8-1 record during 2020—with the lone loss a 41-38 setback at Texas A&M on a last-second field goal by the Aggies. Florida lost a home game to LSU on a drizzly night capped by a Gators defensive player chunking an LSU player's shoe into the air after a tackle, which set up a game-winning LSU play. Then, Florida lost to Bama and eventually to Oklahoma in the Cotton Bowl.
Trask became a finalist for the 2020 Heisman Trophy, and he was one of the top six quarterbacks in the 2021 NFL Draft.
There were five quarterbacks drafted in the first round, including:
Trevor Lawrence, Clemson (Jacksonville)
Zach Wilson, BYU (NY Jets)
Trey Lance, North Dakota State (San Francisco)
Justin Fields, Ohio State (Chicago)
Mac Jones, Alabama (New England)
Trask kept dropping, similar to Tom Brady in the 2000 draft, where he was taken in the sixth round of the 2000 draft by the New England Patriots. Brady went on to win six Super Bowl titles in New England, and then a seventh in Tampa Bay earlier this year.
Brady looks to be in charge for another season or two ... or three. But for Bucs fans, it looks like they have a pretty darn good backup waiting in the wings.