There are "significant differences" between former President Richard Nixon's impeachment process and President Donald Trump's, according to journalist Tom Brokaw, including how the two leaders handled difficult times in office.
"Nixon was always aware of being presidential," Brokaw told MSNBC's Chris Matthews on Monday night. "Trump plays from the gutter frankly."
Last week, the House of Representatives voted along party lines to impeach Trump for abuse of power and obstructing Congress. Trump has maintained his innocence since the inquiry into his dealings with Ukraine was launched in September, calling the process a "witch hunt," and his supporters, including Republican legislators, have continued to support the president.
Brokaw told Matthews that this public display of support for Trump is a different situation from when Representatives pursued impeaching Nixon. At the time, Brokaw said, the Republican Party didn't speak out against impeaching the president the way they are today.
"Most of them stayed quietly in their office and took in the evidence as it came in," Brokaw said. "They didn't stick out their elbows and say, 'this is outrageous,' about how the president's being treated. They waited until they saw things."
Decades before legislators impeached Trump, the House Judiciary Committee approved three articles of impeachment against Nixon, including for obstructing Congress' investigation into the Watergate Scandal. Nixon resigned before a vote was taken on the articles and was never impeached.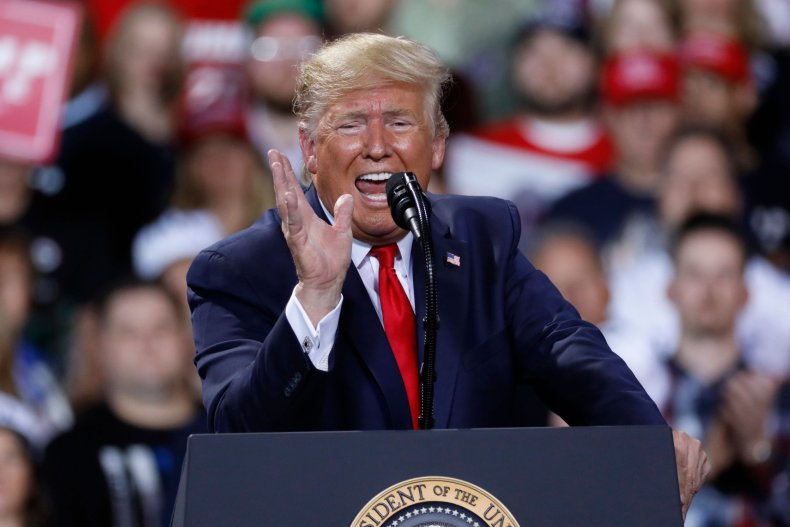 As a White House correspondent for NBC, Brokaw covered the scandal and Nixon's impending impeachment. When Nixon spoke about the impeachment process, either during a speech or fielding questions from reporters, Brokaw said he always maintained his role as president. Trump approaches it from a "ready, draw, shoot" position, making it a "different time."
Newsweek requested comment from the White House through email but did not receive a response in time for publication.
Unlike in 1974, when there were tape recordings and "much harder" evidence against Nixon, Brokaw said the case against Trump has become a "he said, she said," game.
Democratic lawmakers and supporters of Trump's impeachment claim that the July phone call between the president and Ukranian President Volodymyr Zelenskiy showed that Trump attempted to pressure Zelenskiy to investigate Vice President Joe Biden, a potential political opponent, and his son, Hunter Biden, while withholding foreign military funding from the country.
Trump defended himself on the basis that there was nothing improper about the call and that he never attempted to engage in an exchange with Zelenskiy for him announcing an investigation into the Bidens. No Republican representatives voted in favor of impeaching Trump and many have staunchly defended the president, saying the process is steeped in party politics.
"We're a much more divided country now than we were then," Brokaw said.