Senator Tom Cotton is trading blows with Democrats over key Department of Justice nominations. The Arkansas Republican said he's standing up for U.S. marshals being "hung out to dry," while Democrats say he's putting public safety at risk.
The two sides squared off on the Senate floor Wednesday as Illinois Democratic Senator Dick Durbin asked Cotton to drop his opposition to eight U.S. attorney and marshal nominees to serve in the Justice Department. The debate that followed Durbin's request highlighted rifts between the two parties on criminal justice, amid rising concerns over public safety.
Durbin said that Cotton's objections to nominees had nothing to do with their qualifications. He accused Cotton of preventing the nominees from starting their work prosecuting crimes, tracking down fugitives and preventing gun violence.
"That delay can cost lives," said Durbin, who chairs the Senate Judiciary Committee.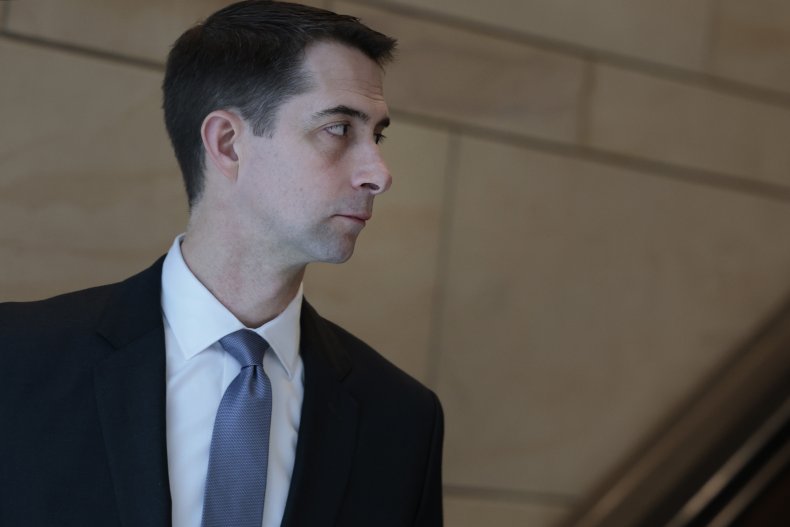 Cotton shot back, saying his opposition was about backing four U.S. marshals defending the federal courthouse in Portland during the riots of 2020 from "left-wing street militias associated with the ['Black Lives Matter'] movement and Antifa." He said marshals were targeted with laser beams meant to blind them, had fireworks fired at them and rioters attempted to barricade them in the building to burn them alive.
Since then, the U.S. marshals have faced lawsuits over their conduct during the riots. Cotton has previously written to the U.S. Attorney General Merrick Garland, asking why the Justice Department hasn't helped pay for their legal expenses.
"Anyone who says they support law enforcement should be defending these marshals," said Cotton. He added, "They face financial bankruptcy and ruin because the Department of Justice won't represent them."
Cotton said the department hasn't answered his questions.
The Justice Department responded to Cotton's claims, pointing to a letter it had sent earlier to the senator.
"The Department of Justice strongly supports the provision of representation for federal officers acting in the line of duty," the department said. "The Department has received numerous representation requests in connection with official law enforcement conduct relating to the Portland protests."
The department said in the letter it has provided direct representation or has paid for the private counsel for over 70 federal employees in response to these requests. So far, it has "denied only a single request for representation arising from these events, and three requests remain under review," according to the letter.
"Try to follow that logic, if you will," responded Durbin. "The senator is so committed to law enforcement—he is so committed to the U.S. marshals—he won't let us appoint people to fill vacancies."
Nevada Democratic Senator Catherine Marie Cortez Masto called Cotton's position "nonsensical."
"He can't continue to use the same talking point that he's defending law enforcement, when at the same time, he's harming law enforcement across the country," she said.
Cotton also took a broader swipe at how Democrats have handled criminal justice reform. He specifically mentioned the First Step Act, which seeks to reduce prison populations.
"It's your party who voted in lockstep for the First Step Act, that let thousands of violent felons on the street who have now committed innumerable violent crimes," said Cotton.
Durbin pointed out that legislation was signed into law by then-President Donald Trump in 2018 with Republican backing.
"The First Step Act, the Republicans were in the majority," said Durbin. "It was a bill sponsored by Senators [Chuck] Grassley, ... [Mike] Lee and many others," he added, referencing Republican senators.
Cotton said the First Step Act was the "worst mistake of the Trump administration" and a mistake for Republican senators to support it.
Newsweek has reached out to offices of Cotton, Durbin and Cortez Masto for comment.
Update (2/17, 4:40 p.m.): This story has been updated to include comment from Department of Justice.