Tom Cotton Faces Criticism from Colleagues in Congress for Describing Slavery as a 'Necessary Evil'
Senator Tom Cotton, an Arkansas Republican, was rebuked by a some colleagues in Congress after he referred to slavery as a "necessary evil" in an interview published over the weekend.
In an interview with the Arkansas Democrat Gazette, Cotton discussed the founding fathers' and former President Abraham Lincoln's views on slavery. Lincoln issued the Emancipation Proclamation, which ordered the end of slavery nationwide in 1863.
"We have to study the history of slavery and its role and impact on the development of our country because otherwise we can't understand our country," Cotton told the newspaper. "As the Founding Fathers said, it was the necessary evil upon which the union was built, but the union was built in a way, as Lincoln said, to put slavery on the course to its ultimate extinction."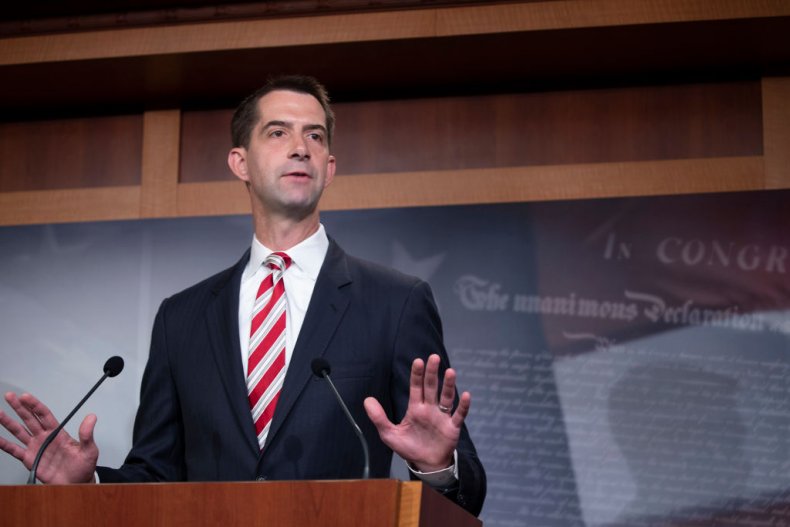 Speaking from the House floor on Monday, Representative Hakeem Jeffries, a Democrat from New York who chairs the House Democratic Caucus, fact-checked Cotton's remark.
"Slavery was not a 'necessary evil.' It was a crime against humanity, anchored in kidnap, rape, torture, lynching and the systematic oppression and enslavement of people of African descent, century after century after century," Jeffries said. "We are still living with its legacy today."
On Sunday, Representative Alma Adams, a Democrat from North Carolina, called on Cotton to either offer a "sincere" apology or resign.
"Slavery was unnecessary AND evil, @TomCottonAR. Either correct your statement with a sincere apology, or leave the Senate. Slavery apologists do not belong in the United States Congress," Adams tweeted.
Senator Jeff Merkley, an Oregon Democrat, called out Cotton's remark on Twitter.
"'Necessary evil' suggests slavery was worth it. Millions of white people achieved prosperity, so it's ok millions of Black people were bought, sold, raped, whipped? Let me be clear, slavery was not necessary in any context—& absolute evil in every context," Merkley wrote in a Monday post.
"Whitewashing history not only corrupts truth about our history, but slows progress to a better future," Merkley added in a follow-up post.
Earlier on Monday, Cotton appeared on Fox News morning show Fox & Friends and briefly addressed the controversy. After he was read his direct quote by co-host Brian Kilmeade, with the text appearing on the screen, the Republican senator laughed.
"Well, that is fake news Brian," Cotton said. "And that's not what I said."
Newsweek reached out to Cotton's office for clarification, to ask if he was suggesting he'd been misquoted by the Gazette.
"Senator Cotton's comments were directed at the fake news media coverage of the ADG [Arkansas Democrat Gazette] story which dishonestly characterized his statements and claimed they were 'insensitive,'" a spokesperson for the senator told Newsweek in an email.
Cotton also defended his remarks on Twitter, saying that he was not describing his personal views on slavery, just those of the founding fathers.
"This is the definition of fake news," he tweeted Sunday. "I said that *the Founders viewed slavery as a necessary evil* and described how they put the evil institution on the path to extinction, a point frequently made by Lincoln."
Cotton's comments about slavery were in reference to 1619 Project by The New York Times, which some conservatives and historians have argued is an attempt to re-write American history. The Pulitzer Prize-winning project aimed to reexamine the history of slavery in the U.S. and its repercussions until the present day. It was launched in 2019 on the 400-year anniversary of the first enslaved Africans arriving in the U.S.
At least 12 of the U.S.' early president's were themselves slave owners, including the Presidents George Washington, Thomas Jefferson, James Madison, James Monroe, Andrew Jackson, Martin Van Buren, William Henry Harrison, John Tyler, James K. Polk, Zachary Taylor, Andrew Johnson and Ulysses S. Grant.
The Constitution allowed for every three out of five to be counted as people, although they were not granted any legal rights. This was a compromise made at the 1787 Constitutional Convention with delegates from the south, where there were large plantations of enslaved people, to bolster their representation in the federal government.