Senator Tom Cotton Calls For 'Retaliatory Military Strike' Against Iran After Tanker Attacks
While President Donald Trump has stated that he does not want to go to war with Iran, one of his biggest supporters on Capitol Hill, Arkansas Republican Senator Tom Cotton, said on Sunday that he supports a military strike against Iran in the wake of attacks against commercial oil tankers in the Gulf of Oman last week.
Cotton, a Senate Armed Services Committee member and a U.S. Army veteran, said "unprovoked attacks" like the Thursday incident against vessels near the Strait of Oman are enough to warrant military action against the Islamic Republic of Iran. U.S. and U.K. naval forces assisted in helping the oil tanker crewmen after the attack intelligence agencies from both countries have blamed on Iran.
"These unprovoked attacks on commercial shipping warrant a retaliatory military strike," Cotton told CBS News' Margaret Brennan on Face The Nation Sunday.
The Arkansas senator acknowledged having "long been defined as a hawk on Iran" but compared his justification for military force to action taken by former President Ronald Reagan to defend oil tankers in the Gulf during the 1980s.
Cotton and U.S. Secretary of State Mike Pompeo, who also appeared on the network Sunday morning, both cited decades of aggressive behavior from Tehran and stated the U.S. "always [has] authorization to defend American economic interests," as Pompeo noted.
"We can make a military response in a time and a manner of our choosing," Cotton said. "Unprovoked attacks on commercial shipping warrant a retaliatory military strike against the Islamic Republic of Iran," he reiterated.
"The fastest way to get the fire and the fury of the U.S. military unleashed on you is to interfere with the freedom of navigation on the open seas and in the air," Cotton continued. "That's exactly what Iran is doing."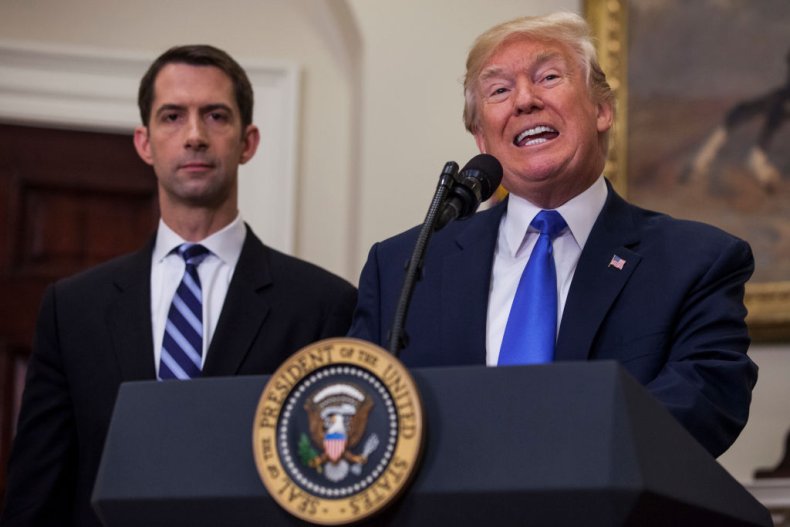 House Intelligence Chairman Adam Schiff, who also appeared on Face the Nation Sunday, said, "There's no question that Iran's behind the attacks...The problem is we're struggling, even in the midst of this strong evidence, to persuade our allies to join us in any kind of response. It shows just how isolated the U.S. has become."
The California Democrat and frequent Trump critic said he believes that Pompeo and National Security Adviser John Bolton are trying to undercut the president's attempts to stay out of another war in the region.
Cotton said a military strike against Iran today would differ from past and present U.S. military engagements in Afghanistan and Iraq. He noted the 2002 "Weapons of Mass Destruction" intelligence reports are what led the U.S. into Iraq and he defended an attack against the Iranians because the information implicating them is much clearer from last week's attack.
"A retaliatory military strike against Iran would make it clear we will not tolerate any kind of attacks on commercial shipping on the open seas," Cotton said, before being pressed about how he can claim military action would be "easy" despite the "vast underestimations" of U.S. force that ultimately was needed in Iraq and Afghanistan.
"Margaret, those are two very different things," Cotton said. "There's really not much to assess right here, everybody can see with their own two eyes those Iranian sailors go into the ship and taking a mine off of it."
Cotton referenced a video released by the Pentagon Friday that the Trump administration has claimed shows Iranian soldier removing an unexploded mine from a tanker. However, some intelligence experts have argued that this video alone is not yet sufficient evidence to definitively say that Iran was behind the tanker explosions.
"The video means nothing," William Church, a former military investigator for the United Nations Security Council told Newsweek last week. "We need to know how it was taken, when was it taken, what was the total sequence. Then you'd have to talk to the people in the video to get their view of what happened. I would check to see if the video was doctored. You would need to do everything that a trained investigator would do."
Germany's Foreign Minister Heiko Maas made a similar statement following the video's release.
"We can understand what is being shown, sure, but to make a final assessment, this is not enough for me," Maas told reporters on Friday. The boat's Japanese owner also cast doubt on the theory that a mine had been used to attack the ship, telling journalists that members of his crew had witnessed a flying object.
In a second Sunday appearance on Fox News Sunday, Pompeo attempted to counter the skeptics by claiming, "The intelligence community has lots of data, lots of evidence. The world will come to see much of it, but the American people should rest assured we have high confidence with respect to who conducted these attacks as well as half a dozen other attacks throughout the world over the past 40 days."
Regarding the looming possibility of entering into armed conflict, Pompeo told Face the Nation Sunday he "doesn't want to go to war" with Iran, but reiterated U.S. authority to defend their interests in the region.
"We're going to guarantee the freedom of navigation through the straits," Pompeo said Sunday. "This is an international challenge. This is important to the entire globe. The United States is going to make sure that we take all actions necessary, diplomatic and otherwise, to achieve that outcome."
On Saturday, Iran summoned the British ambassador to Tehran, according to reports, and U.K. Foreign Minister Jeremy Hunt said he is "almost certain" Iran was behind the attacks but urged foreign leaders against military escalation.
"We have done our own intelligence assessment and the phrase we used is almost certain," Hunt told BBC News Saturday. "We don't believe anyone else could have done this. We are urging all sides to de-escalate."
Russian state-run TV programs have continued to accuse the U.S. of trying to provoke another Middle East military conflict this week, saying the Gulf "is stuffed with U.S. Tomahawks. The Americans have their finger on the trigger. All they needed was an excuse to start a war. An excuse has now been engineered."