Tom Cotton Says D.C. Troops Should Stand Down As DHS Warns of Terror Threat
Arkansas Senator Tom Cotton has questioned why troop levels in Washington, D.C. remain so high, on the same day as the Department of Homeland Security (DHS) warned that the U.S. Capitol riots may have "emboldened" domestic terrorists.
On Wednesday, the DHS issued a "terror advisory" which warned the risk of violence and terrorism across the U.S. would continue in the weeks after the inauguration of President Joe Biden.
The bulletin, which did not specify any particular threat, said that it had information that "ideologically-motivated violent extremists" who objected to "governmental authority," as well as the presidential transition, "could continue to mobilize to incite or commit violence."
It also warned that domestic terrorists "may be emboldened" by the breach of the Capitol building on January 6 "to target elected officials and government facilities."
However, Cotton told Fox News that the troops in Washington, D.C. should be stood down. When asked about the security failings on January 6 that led to the storming of the U.S. Capitol by supporters of former President Donald Trump, Cotton said that despite specific threats, not enough properly-equipped officers were on duty.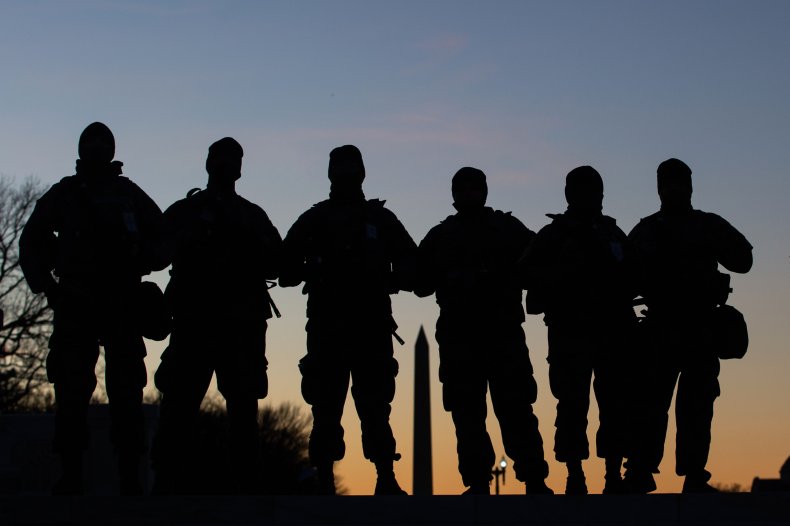 "Now, after the inauguration is over, Nancy Pelosi still has more than 5,000 troops at the Capitol with razor wire and fences up around the Capitol. I'm still not aware of any specific credible threat to the Capitol that warrants that kind of force posture," he told anchor Sean Hannity.
"We have hundreds of these National Guard troops coming down with the coronavirus, they need to be going home," he said, adding that if there were any future threat, federal law enforcement could be brought in later.
"Force posture always needs to be geared towards the actual threat," he said. Cotton later tweeted: "It's time to send the troops home."
Pentagon officials said on Monday that around 5,000 National Guard troops would stay in Washington, D.C., until mid-March. Meanwhile, the DHS alert that expires on April 30 is the first advisory since one was issued in January 2020 stemming from an Iran-related terrorism threat to the U.S., which has since expired.
Brian Harrell, former DHS assistant secretary for infrastructure protection, told CNN that the latest alert did not say anything new, but that "there's value in soliciting the public's assistance in identifying and alerting authorities about suspicious activity."
Federal prosecutors have charged at least 150 people in connection with the insurrection at the Capitol, which was linked to five deaths.
Last week, the U.S. House backed an article of impeachment against Trump for inciting the rioters. Newsweek has contacted Cotton's office for further comment.
The graphic below provided by Statista outlines how the impeachment process plays out.