Tom Cotton Suggests Systemic Racism Doesn't Exist, That Liberals Want to Blame the System
Arkansas Senator Tom Cotton suggested that systemic racism doesn't exist during a speech at the Conservative Political Action Conference on Friday.
"Whatever banner it flies under, it gets back to that anti-American idea." Cotton told the audience. "You can call it wokeness or political correctness, cancel culture, call it critical race theory, critical gender theory, critical whatever. Some people call it systemic racism, but here's their point: the key word is not racism, the key word is systemic."
Cotton argued that liberals are more concerned with finding a way to blame the system than they are with tackling racism in the country.
"It doesn't matter too much what the system is guilty of only that the system is guilty, and it needs to be burned to the ground," he said. "So many liberals think that about America, and how do they plan to do that? They plan to do it by rejecting our beautiful declaration of Independence, and the central promise of America, that we are all created equal in the eyes of God and we all have equal rights under the law, too many of them no longer believe that."
In his speech, the Arkansas senator contended that the rejection of traditional values is the biggest threat the country faces, as opposed to the dangers posed by foreign forces.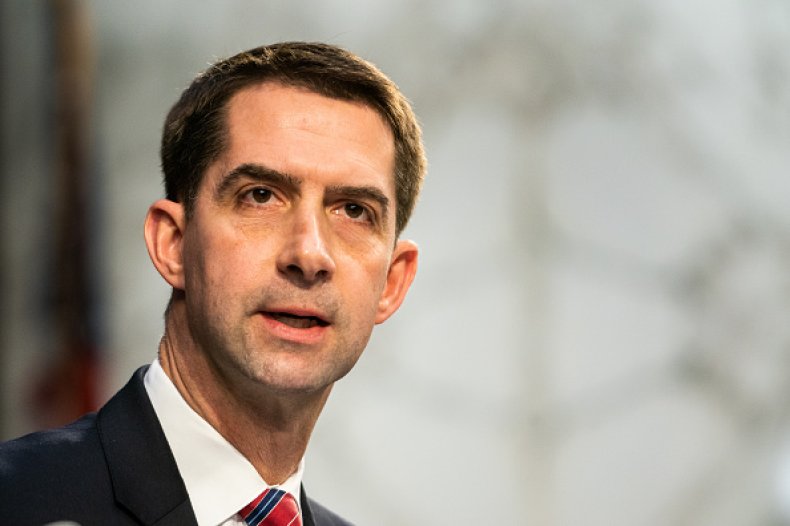 Cotton reiterated the message he sent over the summer amid the Black Lives Matter protests that swept the nation.
The senator controversially penned an op-ed published in The New York Times titled "Send in the Troops," in response to the racial justice protesters demanding an end to systemic racism and police brutality against Black Americans.
"It had a very simple message, very simple, very common-sense message grounded in American history and law, supported by a majority of Americans," Cotton said.
The piece was met with widespread backlash which resulted in an apology issued by the Times.
"[Critics] said things like, 'your words put my life at risk,' as if piping on their phones, sitting on their futons was as dangerous as being a cop trying to stop rioters in the streets, or 'your words are violence,'" Cotton recalled.
"Now I'm sorry kiddo, words are words. Violence is what your friends are doing out on the streets of America," he continued. "Of course, The New York Times editors, they caved and rolled over and they apologized. They said my work didn't meet their standards."
"That's one time, I actually agree with The New York Times, my work did not meet their standards," he added. "It far exceeded their normally lousy standards."
Cotton implied that the conference was not being held in Washington, D.C., this year because conservatives are not allowed to be near the capital, unlike the protesters that demonstrated on the Hill this summer. This year's annual political conference was hosted in Orlando, Florida.
"Even though cases are plummeting and vaccination rates are surging, we're still banned from getting anywhere near our nation's capital," Cotton said. "Contrast that with what happened last summer with the BLM protests there. Thousands of people in the streets as cases were surging. Did the Democratic politicians tried to lock that down? No, they went out march with them."
"Now, maybe if CPAC and promised to burn down buildings and tear down statues, they would have let us up there," he continued. "But there is nowhere there's nowhere I would rather be in here with my fellow patriots free than locked down in Washington, D.C."
Cotton, like many of his Republican colleagues at the conference, criticized the Democrats for "cancel culture" and "political correctness." He argued that liberals were focused on erasing American history by renaming schools and removing statues related to Confederate figures.
He also accused President Joe Biden of attempting to control speech in the country. Biden recently announced that the term illegal alien would be placed with noncitizen by the Department of Homeland Security.
Newsweek reached out to the Times for comment but did not hear back before publication.
Correction 3:12 p.m. An earlier version of this story said this year's conference was hosted in Maryland.